Tacky Arnold Schwarzenegger's Penis Story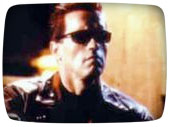 When we were working on the movie poster for Running Man Arnold was photographed in a skin tight rubber suit that covered him from neck to toe. He wore it in the film. It was so tight you could clearly see his package, or lack thereof. We had to airbrush out what looked like a button on his crotch.
Told you it was a tasteless story!
---