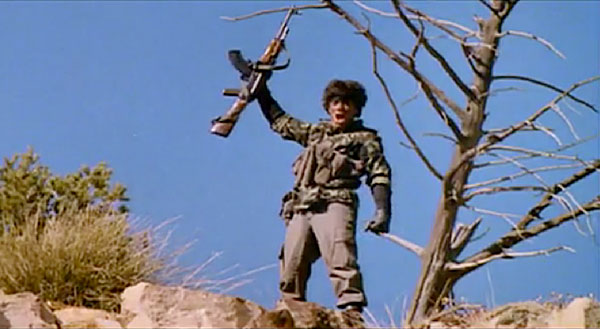 My Top Ten Guilty
Pleasure Action Movies
(The Ones I Can Watch Over & Over)
by Billy Ingram

1) Red Dawn: One of the most poorly acted, directed and written movies of the eighties, with more padding that a Serta Posturepedic Mattress and emotional scenes that fall flatter than Fannie Flagg's fanny. But it's what the filmmakers got right that makes Red Dawn a must-see. A plotline that sizzles (this is one remake, coming in 2012, destined to be better than the original) and what has since become an all-star leading cast; one that had not yet learned to act.
This action pic successfully pushes our Lizard Brain buttons with jingoism and schmaltz but it works thanks to powerful cameos from young actors Powers Booth and Harry Dean Stanton. Ben Johnson, a veteran of so many seminal westerns and a frequent John Wayne supporting player, anchors this film as the liberator's enabler. He always hits it over the fence.
2) The Patriot: Is this the perfect movie? The Patriot taps into that same vein of patriotism that Red Dawn does but does it with compelling characters and genuinely exciting action scenes. I'm crazy about just about any Mel Gibson action thriller, take your pick - Conspiracy, Ramsom, the Lethal Weapon series.
3) Gran Torino: Latest in a long line of Clint Eastwood films that works mainly because his character - an uncontrollable force of nature kept barely contained behind a forced stoic manner - when inevitably confronted with the unacceptable reacts the way we all wish we could. Eastwood is king of the mindless thriller - Space Cowboys, In The Line of Fire, the Dirty Harry series, I even enjoy watching The Gauntlet.
4) The Bourne trilogy: They're all three the same with wall to wall slam-bam-thank-you-Matt action.
5) 28 Weeks Later: The first of the two (28 Days Later) is the better film but I like the level of cowardice in this zombie shoot-em-up - 'Weeks' contains more gunfire and explosions so I'm in!
6) Toy Soldiers: Very similar to Red Dawn, in that it's a bunch of kids who have to man up and save the day, but this is a much better film with a great deal more action and suspense.
7) Terminator 2: This sci-fi classic broke the action movie mold, the first of the modern fast-paced, special effects laden, roller coater rides.
8) Live Free Die Hard: The last (so far, let's hope it's not) of the Bruce Willis action joints. Watch the unrated version (actually R rated) there's a bit more action and grittiness that wouldn't fit Hollywood's inexplicable need to bring in all their big budget action pics with a PG-13 rating. John MccLane can't even say, "Yippee Kie Yay Mother Fucker" any more...
9) Air Force One: You could substitute most of Harrison Ford's thrillers - The Fugitive, Firewall, Cowboys & Aliens, Patriot Games - but Air Force One was so effective as a patriotic thriller I believe it's the reason Bill Clinton remained in office after being impeached. This movie was playing in theaters to packed crowds who wished to believe the President of the United States was / is an honorable and capable individual. Pure bullshit but that's what a good MOVIE is.
10) Any John Wayne western: From John Ford's 1939 masterpiece Stagecoach to his last film The Shootist, John Wayne was the number one box office star for four decades running and there's a reason for that - rousing entertainment. From the serious (The Searchers) to the ridiculous (McClintock) I can think of few better ways to waste a Saturday afternoon. One of my faves is 1967's The War Wagon.
----
Honorable mention
The Great Buck Howard: How did this one get on here?!? Just as thrilling as any action movie listed due to John Malcovich's compelling portrayal of an over the hill Mentalist ala Kreskin. Sublime from start to finish, cringe-worthy comedy at its best.
There Will Be Blood: I've watched this deeply distrurbing period piece a dozen times and every time I get something new from it.
The Two Jakes: Not nearly the film Chinatown was but this sequel, mostly panned by critics, captures the oily ennui of Los Angeles in the 1940s with a compelling script and one of Jack Nicholson's slickest performances (he also directed).