SUGAR & SPIKE HALLOWEEN COVERS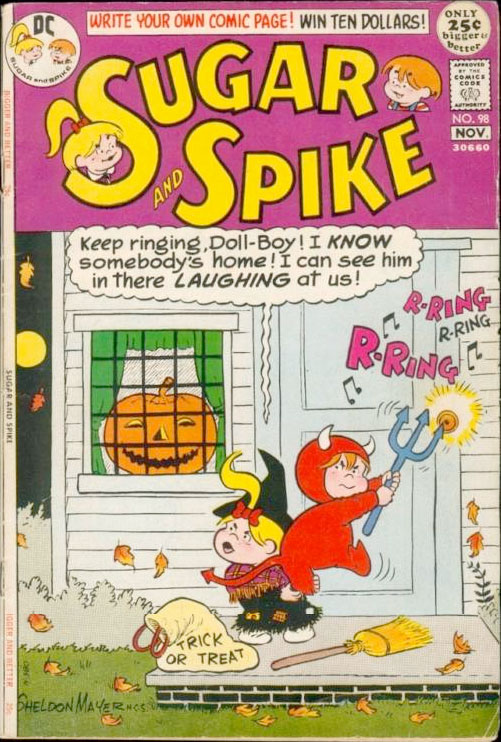 Here are some Halloween covers from Sugar & Spike comics, probably the finest humor comic being published while I was growing up - well, for a while anyway, Sugar & Spike ceased publication with #98 (above) in 1971.
What made Sugar & Spike comics so entertaining? The charming stories written and illustrated by Sheldon Mayer.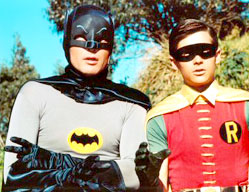 GOOD, BAD & THE UGLY
Someone's posted two-part Batman episodes as original broadcast from 1966, sans commercials. This one is with guest villain The Riddler (Frank Gorshin's third turn on Batman). The first two episodes are on You Tube asa well. Still no word on when the Batman TV series might be on DVD.
Mel Gibson's comeback cameo in 'The Hangover 2' has been called off, apparently some in the cast & crew objected.
Sunday, October 24, 2010 - 2:24pm
WOULD YOU LIKE TO RESPOND?
ANOTHER PASSING
Kevin S. Butler writes: Sadly, the TV cartoon world has suffered another loss.
Pioneer television animator Alex Anderson, Jr., the man who helped to co-create "Crusader Rabbit" TV's very first original cartoon series and "Rocky & Bullwinkle" with Jay Ward, died on Friday October 22, 2010 at his home in Carmel, CA. He was 90 years old and in failing health.
Born on September 5, 1920 in Berkeley, CA Mr. Anderson attended The University of California Berkeley and later The California School Of Fine Arts in San Francisco.
In 1938 he began his animation career by work for his uncle Paul Terry the creator of "The Terrytunes" movie cartoons at the latter's studio in New Rochelle,New York.
Anderson left to serve in the US Navy overseas as an uncover spy during WWII but after the war, returned to work at "Terrytunes" in 1946.
In 1948, Anderson tried to get his uncle to create a new series of cartoons for TV but he refused so Anderson left the studio to create his own series. Moving back to Berkeley, he was reunited with his boyhood friend Jay Ward and together the pair created and produced "Crusader Rabbit" films. Anderson was the creator of the films, Ward was the business exec of the partnership.
The series was picked up by NBC TV in 1949 and the films were soon seen in national syndication on many local stations airing on daily children's programs.
On WNBT/WRCA/WNBC TV 4 in NYC "Crusader" was seen on "Children's Theater" with Ray Forrest and the films were also screened on "The Merry Mailman" with Ray Heatherton, Milt Moss and Chic Darrow on WOR TV 9 and on "Kartoon Klub"/"Shari & Her Friends" first hosted by Ted Steel and later by Shari Lewis and her puppets Randy Rocket & Taffy Twinkle on WPIX TV11 in NYC during the 1940s and '50s.
The two men worked well together until the pair began work on another series for NBC "Rocky & Bullwinkle" the seriocomic adventures of a squirrel and moose along with "Dudley Do Right", the misadventures of a bumbling Canadian mountie.
When Ward found out that Anderson taken total control of the series as the main owner of the films copyright he angrily filed a lawsuit against his partner for copyright infringement. The law was never really settled until many years later, in 1996, when the matter was settled out of court with Anderson receiving credit as the creator of "Rocky & Bullwinkle".
Ward also found out that Anderson had sold the rights to "Crusader Rabbit" to TV Spots Inc. in 1957; enraged he ended his partnership with Anderson and he took on Bill Scott as his new partner.
Together Ward and Scott created and produced "Rocky & Bullwinkle" and other successful TV cartoons for ABC & NBC that aired on weekday evenings and on Sunday nights and weekends on the networks and in national syndication into the late-1960s.
There is very little information about Anderson's activities after his breakup with Ward. He worked in the advertising field creating commercials for Smuckers jellies, Skippy Peanut Butter and Berkeley Farms but not much else is known about his efforts past the 1950s.
Sunday, October 24, 2010 - 1:30pm
WOULD YOU LIKE TO RESPOND?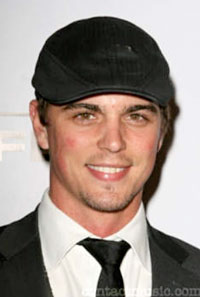 OVERHEARD CONVERSATIONS
The other day I talked with Darin Brooks who stars as Alex Moran on Blue Mountain State. If you haven't seen the Spike TV show it's a vulgar, sexy, college football comedy with more drunken depravity than you'll find anywhere on television. It's also pretty funny.
Darin was also seen on Days of our Lives for four years as teen heartthrob Max Brady. I'll have the entire interview in my new regular column for dtvusaforum.com next week but I thought you Soap fans might want to hear a bit where we talked about Days of our Lives.
And here's that Emmy win Darin talked about, it's pretty funny too.
Saturday, October 23, 2010 - 9:20am
WOULD YOU LIKE TO RESPOND?
LOOK WHAT YOU'RE GOING TO MISS...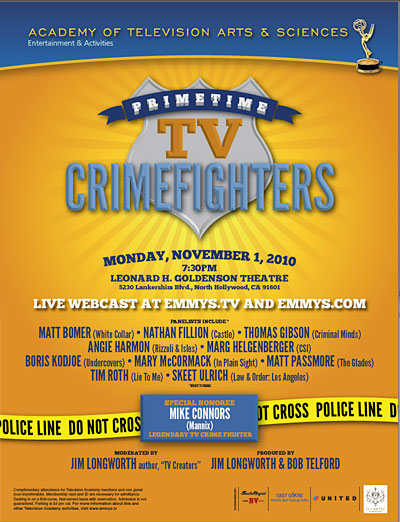 Saturday, October 23, 2010 - 9:00am
WOULD YOU LIKE TO RESPOND?

SHE'S JUST LIKE YOU
Elvira wants you to know she's not a witch.
Thursday, October 21, 2010 - 12:29pm
WOULD YOU LIKE TO RESPOND?


Read more TV Blog entries here!