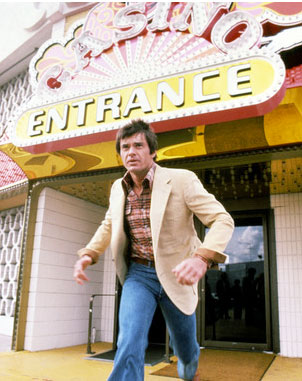 Vega$ - Starring
Robert Ulrich as Dan Tanna
Who can forget the series Vega$ (1978–1981) starring Robert Urich as Dan Tanna? I was definitely a 'buff' of the show, setting aside that prime-time hour every Monday night so I wouldn't miss a minute of it.
Vega$ was set in Las Vegas, Nevada and met all the requirements for a hit show; an absolutely gorgeous and charismatic lead actor (Robert Urich), suspense, truly nasty bad guys, fast cars (remember his red Corvette?), fast action, women and money. Lots of money.
As Dan Tanna walked thru the casinos on the Las Vegas strip one could hear the slots clanging for the jackpot winners, see the roulette wheels in action, get glimpses of the crap tables, and watch the poker chips fly at the card tables.
The series was geared for the young adult crowd and ultimately met a slow and agonizing death when the network moved it to Friday nights in the third season. Think about it; what self-respecting young adult stays home on Friday nights to watch a TV show?
I really missed the show when it was canceled, and made it a point to watch as many re-runs as I could. One thing for certain, this series sparked a new interest in Las Vegas and a quest for many to experience the thrill of winning money themselves.
I remember that around this time period my father had a group of friends that got together every Saturday night to play friendly home poker games. I also remember them kibitzing about the cheap plastic poker chips that were available at that time. Today that wouldn't be a problem. There are literally 100's of places to purchase good poker chips – with a little effort one can find the best pricing on poker chips available.
Robert Urich was a charismatic and extremely vibrant man. His acting career is studded with many shows, and his name still sparks interest in many people. Unfortunately, Robert Urich passed away in April of 2002, at the age of 55 after a bout with cancer. Many miss him, including myself.