Reviews of the newest DVD collections
of your favorite classic TV shows!
Click on the title to order - huge discounts and free shipping through Amazon.com!

---
This American Life - Season 1
This American Life is one of my favorite radio programs, produced by PRI, it airs on Public Radio stations on the weekends. I'm pleased to discover the program has been successfully transferred to television with this Showtime series starring Ira Glass.
This intelligent program is a pleasing pastiche of highly entertaining stories built loosely around a theme like 'Reality Check' or 'Growth Spurt.' The format is very similar to the radio version. Poignant, funny, thought provoking, it's like a 60 Minutes for today's sensibilities.
You'll be amazed by a bizarre Chicago restaurant that verbally abuses their customers, a news photographer who's haunted by some photos taken when tragedy struck, an atheist who paints magnificent paintings of Jesus, and other compelling short subjects about unusual people and places.
Mild mannered Ira Glass is a genial host, an attractive personality that doesn't intrude but colors between the lines. My only regret is that this carnival didn't go on longer; another winner from Showtime, a network on a roll with some of the best shows on TV today.
6 episodes of This American Life are included on this DVD release and I can't recommend it highly enough. This DVD is exclusive to Borders upon its release on January 29, 2008 so you'll have to go to a Borders store to buy this one until it goes into wider release later in the year.
---
TV on DVD Reviews:
TVparty! for TV Shows on DVD!
Patrick Duffy of Dallas Interview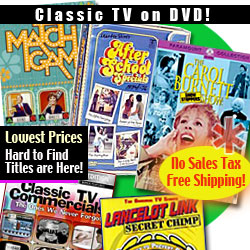 Classic TV!!
News Bites you can use!
| | |
| --- | --- |
| FEATURES YOU MIGHT ENJOY: | |
---
This American Life - Season 1
On January 29th, Paramount Home Entertainment will release the complete first season of the critically-acclaimed Showtime series THIS AMERICAN LIFE on DVD, exclusively in Borders stores throughout the country!
Based on the award-winning radio program of the same name, this unique and intelligent series captures the spirit, heart, and reality of some of the most captivating true stories of the century. Dramatic, heartwarming, and often laugh-out-loud funny, THIS AMERICAN LIFE has become a staple in the lives of millions for years through its radio incarnation (which is currently broadcast on over 500 stations nationwide) and Showtime's series helps bring these fantastic store to an even broader audience. Containing all six first-season episodes plus commentary by host Ira Glass and the show's director, Christopher Wilcha, this DVD is one not to be missed. Join the millions of people watching (and listening) as the highly-anticipated DVD release of THIS AMERICAN LIFE: THE COMPLETE FIRST SEASON comes exclusively to Borders stores on January 29, 2008!
PR4 & PR5 Pages for ads - CHEAP!
Carol Burnett Show on DVD

The focus is on Greensboro, NC!
1970's TV shows on DVD
1960's TV Shows on DVD
Everything you're looking for is here: