"Today 16 players are here trying to win $50,000. Every one of them holds a different riddle, but only one of them holds the Jackpot riddle. At any moment someone in the game could stand up and yell - JACKPOT!"
Geoff Edwards was the MC as a gang of players competed on one crowded stage. $50,000 was the possible final prize - big money for a game show, even now.
Edwards (who started as a game show host in 1973 on CBS' Hollywood's Talking) also had a popular series in nighttime syndication in 1974 called The New Treasure Hunt.
Based on a game show from the Fifties (Treasure Hunt), this Chuck Barris production is my favorite game show of all time. This was Geoff Edwards' shining moment - emotionally torturing his overly-excited contestants for laughs.
No skill or knowledge was needed on The New Treasure Hunt. Two contestants on each episode got to choose from thirty wrapped packages displayed centerstage. They had a shot at the usual game show prizes (washer-dryers and Turtle Wax), or a chance at the grand prize - a check for $25,000 (that's about $125,000 in today's dough). Quite a few people found the check, as I recall.
To heighten the suspense, Edwards would peek into the box before the contestant got a look and go through a number of fake-outs before he sprung the actual prize on them.
In so many cases, the contestant was a large black woman who went absolutely berserk at the prospect of winning a big prize, jumping up and down, screaming at the top of her lungs and pummeling the poor host. This was part game show, part wrestling match - Geoff Edwards often ended the show on the floor or off to the side of the stage!
Very funny and incredibly exciting, The New Treasure Hunt ran for three years but received a lot of criticism for being too exploitative (?!?).
Chuck Barris wrote the show's lovely, melodic end theme (this clip from the original music master).
---
Alex Trebek hosted this casino-style dice game. The music for this show was loud Las Vegas lounge with a game show gloss.
High Rollers had the lovely Ruta Lee along as co-host, one of the classiest and most beautiful game show models of all time. This engaging program began in the summer of 1974 and ran until 1976 (both in daytime and in syndication) and was revived a number of times.
---
Now You See It
Ran from April 1974 - June 1975. Jack Narz was host as contestants tried to decipher words hidden inside a puzzle grid.
The theme to Now You See It was called "Chump Change" by Quincy Jones which was first heard the Q's 1972 album entitled "You've Got It Bad Girl" - and was also the theme for The New Bill Cosby Show in 1972.
Beginning in 1973, Jack Narz hosted another puzzle game (running in syndication) called Concentration.
Concentration ran continuously from 1958-1979, making it the longest running game show of all time - until that record was shattered in 1994 by The Price Is Right.
Here's another audio capture of the funky opening and closing themes to Now You See It. Thanks to Michael Thom for the clip!
---
Newlywed Game
The Newlywed Game ended an eight-year run in December of 1974. Bob Eubanks hosted.
I never understood why couples would fracture their fragile relationships on national television for a washing machine - but compared to what people will do on television today, I guess it's pretty tame stuff. It sure was funny.
Producer Chuck Barris explained it this way: "We purposely stay away from the big prizes on those shows. If we introduced yachts it would be horrible. They'd kill each other." A multi-faceted individual, Chuck Barris wrote the theme song for this show as well as the Dating Game end theme.
The Newlywed Game was cancelled in December of 1974, here's the emotional goodbye.
A new version of the show was launched in syndication in 1997 with Bob Eubanks looking pretty much the same 25 years later.
---
Bill Cullen (the original MC of The Price is Right in the 60s) was one of the most popular game show hosts of all time.
After his three years as host of NBC's Three On A Match (71-74), Cullen turned up on a plethora of short-lived games, never finding another big daytime hit of his own (in syndication, however, he hosted several long-running game shows, including the $25,000 Pyramid).
Funny, remarkably sharp but not at all harsh, Cullen had a gentle humor that made him very easy to watch, he always made you smile. He didn't fit the mold of the typical '70s flashy game show host and it was very refreshing.
Bill Cullen was an old hand in the biz by 1974, beginning his career in 1949. NBC felt he was getting a bit too stodgy and updated his look for Winning Streak with longer hair, mod glasses and flashy clothes.
Winning Streak ran from July 1974 - January 1975, the announcer was Don Pardo (Jeopardy). Bill Cullen's previous gig was 3 On A Match which he hosted from 1971 until June of 1974.
Cullen took over hosting The Joker's Wild for two years after Jack Barry died in 1984. Bill Cullen died in 1990 from lung cancer.

---
In this game, the audience would set the odds on whether a particular celebrity could answer a tough question.
Uber-bimbo Carol Wayne was a hilarious frequent guest, rarely getting a vote of confidence from the studio audience - but she often had the correct answer. Jim McKrell hosted.

---
Fred Holliday helmed a show devoted to rewarding women that did good deeds. It lasted a little over a year - audiences clearly preferred to watch women jumping up and down and screaming maniacally for their home appliances. This show replaced the Dating Game starting in the summer of '73.
---
"Game shows are an unappreciated lot - I'd rather watch a bunch of winners on game shows than a bunch of losers on those talk shows!" - Russell Wells
Match Game '74 was based on The Match Game that ran on NBC from 1962-1969.
Revived in 1973, Match Game quickly became the number-one rated daytime show for the next five years. The premise: six celebrities answered salacious questions posed by host Gene Rayburn, who was nominated for five Daytime Emmy awards during the series' run.
Regular panelists included Charles Nelson Reilly, Richard Dawson, Brett Somers, Fannie Flagg and Betty White with the other three slots occupied by random visiting stars like Jo Ann Pflug, Connie Stevens and Dick Martin.
Every January, the title changed to reflect the new year - all the way up to Match Game '79.
There was also Match Game PM, new episodes that ran in syndication from 1975 -1982 with the same cast. The announcer was Johnny Olson.
An entire week's shows were taped all in one day, and a buffet with alcohol was served between shows; Brett Somers preferred sipping vodka and soda between shots. By the fifth taping, the cast would get pretty buzzed, including Gene!
Gene Rayburn's short-lived show before Match Game, The Amateur's Guide to Love (Jan - Sept. 1972), was a clever mixture of game show and Candid Camera. This audio fragment was recorded from one of the last telecasts. Gene Rayburn passed away on November 29, 1999.
---
"Keep your eye on this spot! You are about to see one celebrity and one contestant step into this circle with a chance to win $10,000 in less than a minute! Ladies and gentlemen, this - is the $10,000 Pyramid!!"
This was one of the few successful game shows of the Seventies that wasn't based on a program from the '50s or '60s - resulting in a genuinely exciting game that I'm not going to even attempt to describe and a franchise that lasted for decades. The world's oldest teenager, Dick Clark, hosted. By 1987, the series had given away over $25,000,000.
It is believed that less than a dozen episodes of the original $10,000 Pyramid still exist, so Columbia/Tri-Star has generously allowed us to use the audio clip of the series' second theme song.
Home versions of game shows could be purchased in stores and were given away as a consilation prize.

---
The Joker's Wild
This daytime series ran from 1972 - 1975 on CBS and later in a nighttime syndication slot into the Eighties. The game revolved around a giant slot machine that contestants must spin to determine the cash they'll be playing for.
Hosted by Jack Barry (Winky-Dink & You), The Joker's Wild was his comeback vehicle after getting caught up in the quiz show scandals of the sixties.
There was a children's version of the show called Joker! Joker! Joker! in 1979.
"The end-theme for The Joker's Wild is called "The Savers" and it's written and composed by those early pioneers of synthesizer music Jean-Jacques Perrey and Gershon Kingsley. (Hip rock bands and techno artists name-drop P&K all the time!) They did some cute synth albums in the Sixties and early Seventies, as well as lots of TV incidental music. You can hear "The Savers" on the recently reissued "The Essential Perrey & Kingsley" on Vanguard Records."
-Mike Daddino

---
The reward for winning this game was a chance to try a key in one of the five automobiles on-stage. If the key didn't work, the contestant came back the next day to try to win another key.
Every day the champion returned a car would be removed from the stage - increasing the odds of winning that coveted '74 Vega hatchback with 8-track stereo and whitewall tires.
Here's an audio clip from Split Second captured by Michael Thom - and here's another three minutes of audio from Stuart Gitlow.
---
Contestants tried to get 21 with a giant deck of cards. The lovely (but wooden) Elaine Stewart turned the cards, with Wink Martindale hosting.
---
Name That Tune
Game show perennial with Dennis James as the host (Tom Kennedy hosted the long-running syndicated version). This NBC version only lasted half a season (June 1974 - January 1975).
---
The Hollywood Squares
In 1974, Paul Lynde was voted the funniest man in America in a nationwide opinion poll. It was largely for his snappy answers as the center square on The Hollywood Squares.
Everyone believed that Lynde came up with these pithy comments off the cuff - in fact most of those quips were scripted. All the old people in the seventies loved Paul Lynde, but I doubt if anyone could have told you why.
Lynde was joined over the years by regulars Charley Weaver, Rose Marie, Wally Cox, George Gobel and John Davidson - guest-stars on the big Tic-Tac-Toe board included literally hundreds of TV and movie stars (the great and near-great).
There was a prime-time version of the show that served as the mid-season replacement for 'Accidental Family' on Friday nights after 'Star Trek' in January, 1968. The primetime version was dropped in the fall of 1968, but returned the next summer for a few weeks.
There was also a children's version of the show called Storybook Squares that ran from January to August, 1969 on Saturday mornings, with kids competing for fabulous toys and the stars dressed as storybook characters.
All but a dozen episodes of the entire daytime network run of Hollywood Squares were burned by the producers. They didn't think there would ever be a market for them. A short time later, the Game Show Network contacted them about rerunning the shows!
Fortunately, a long run of the 1970's syndicated nightime version was unearthed and GSN began rerunning those in 1999.
Here's a rare audio clip - seven minutes of a 1970 daytime telecast. The quality is terrible, but that's all there is!
Sample question and answer:
Peter Marshall: "What are "dual-purpose cattle" good for that other cattle aren't?"
Paul Lynde: "They give milk...and cookies, but I don't recommend the cookies."
---
Thanks to Peter Kenter for supplying photos from his collection!
"A fortune in fabulous prizes may go to these people today if they know when... the price is right!"
The Mack Daddy of all game shows, with Bob Barker as host of the CBS version from 1972-2007. Introduced the phrases "Come on Down!" and "Barker's Beauties" to the vernacular.
The New Price is Right (as it was first called) was an immediate hit when it was revived in 1972 (Dennis James hosted the nighttime syndicated version that also started in 1972).
In 1974, TPIR was still its original half-hour format. It became the first hour-long game show in the fall of 1975 after a special week of one-hour episodes was aired; CBS happily discovered the show got more popular during the second half-hour (and that's been true ever since). In November, 1975 the change was made permanent.
The original announcer was Johnny Olson who died in 1985 and was replaced by Rod Roddy. Rich Fields replaced Rod Roddy when he died in 2003.
More than three decades later, The Price is Right is still the highest-rated network daytime series. Bob Barker, who retired in 2007, had a great way of bringing out the best in people on-camera, a skill he developed as the host of Truth or Consequences (also airing in syndication in 1974).
The Price Is Right, now hosted by Drew Carey, is one of the only network shows where real people are seen reacting spontaneously in a positive way.
---
Matt writes:
"I think of all the hosts that hosted TPIR besides Barker, Dennis James did the best job. Tom Kennedy also did a fine job with the show. (Although Tom himself said in an interview that he wasn't too pleased with his hosting of TPIR, he said Bob made it look so easy)."
"Doug Davidson (host of the 1994 syndicated version) on the other hand- well, I don't fully blame Doug for his lackluster effort. The extreme change in format and timing contributed to it, I always felt he was moving the show WAY too fast. However, there were some things about that version I also liked. The new camera that gave a bird's eye view of the audience and the big wheel RULED. I also like how he built up the suspense when a car was being offered. He once had a contestant close her eyes and he went backstage and climbed into the back of a truck, and the truck entered with him standing on it. With Barker, it's always predictable when a contestant is about to win a car."
---
The original theme to Jeopardy! (from '64-'75) was called "Take Ten" by Julann Griffin (Merv's then wife who originally came up with the show's format).
Starring Art Fleming, Jeopardy was on the NBC daytime schedule from 1964-1975, returning in 1978 for another season.
In the 1978 version, only one contestant went on to the Final Jeopardy round. Other than that, the show has stayed pretty much the same as the current syndicated version, now hosted by Alex Trebek (High Rollers).
I was at a Hollywood party one night in 1984, and one of the producers of the new Jeopardy and I were talking. I asked him why they were using Alex Trebek instead of Art Fleming. He told me that Fleming was too old, and they had plans for Jeopardy to run for a long, long time. I informed him the show would never last, it was too intellectual for modern audiences and people would miss Art Fleming too much - he WAS Jeopardy! Guess I told him...
---
Password All-Stars
Ran from 1971-1975 on ABC (1961-67 on CBS).
In 1974, this all celebrity version of the show debuted, with two pairs of TV stars sparring against each other in a word association game.
Password was hosted by Allan Ludden.
---
Three celebrities and their wives join host Bert Convy in a Goodson-Todman version of 'The Newlywed Game'.
Running from 1974-1978, you would see couples like Bobby Van and Elaine Joyce, Bob and Jenny Newhart, Dick and Dolly Martin, Mitzi McCall and Charley Brill, Anne Meara and Jerry Stiller, Bill and Elaine Cullen, Wink and Sandy Martindale, Allan Ludden and Betty White, Jim and Henny Backus, Gary and Janet Burghoff, Sammy and Tita Cahn, John and Patty Duke-Astin, Charlie Brill and Mitzi McCall, Hal and Fran Linden, along with other celebrities and their wives. (I wonder how many are still married today.)
The audience was divided into red, blue and yellow sections and the star couples won cash and prizes for their third of the audience. It usually amounted to only a few hundred dollars for each audience member - some celebrities didn't know their trophy wives well enough to rack up any big money!
---
From DAVID C. SUDBURY:
America's Top Trader, TV's Big Dealer, Monty Hall and an audience of contestants in zany costumes just begging for attention (she Tarzan, he Jane, etc.) wheeled and dealed their way towards a new car. Or, literally, a barrel of monkeys.
Let's Make A Deal ran weekdays on ABC and also in weekly nighttime syndication, coming over from NBC towards the end of 1968 where it aired for five years beginning in late 1963. Joining Hall in the daily shenanigans were ever-present announcer Jay Stewart and the ever-lovely Carol Merrill modeling the gifts.
Hall and Stefan Hatos created and produced it as well. This unconventional but very popular show made Monty Hall a household name for all time. Hall used the element of surprise to perfection and tested the limits of just how far a guy in a bear suit will go for that coveted pool table.
"Do you want to keep the pool table, or go for what's behind curtain #3?" What was behind curtain #3? "You traded the pool table and you got instead..." and then the curtain opens to reveal a stuffed dog too big for the living room or any one of the "zonks" that made the show so funny.
There was no joking about the "Big Deal" that ended each show. Some lucky contestant who traded away some decent stuff earlier in the show sometimes ended up with a grand prize/cash package worth at or close to $10,000 --- big money by 1974 standards!
And, unlike TPIR's Bob Barker, Hall had no qualms about giving away mink coats, from Dicker & Dicker of Beverly Hills. (On the other hand, LMAD's grocery price guessing games may have inspired TPIR to come up with their own.)
Following its cancellation on ABC in 1976, the show moved on to Las Vegas for one final year in syndication before closing up shop. It returned in 1980, again in 1984 as The All-New Let's Make A Deal, back on NBC daytime in 1990, and very briefly on NBC's prime-time schedule in 2003.
LMAD was parodied on an episode of Sanford And Son that aired sometime in the fall of '74. It was called 'Wheel And Deal' and was hosted by Harry Monte (played by John Barbour, who almost got to emcee The Gong Show but ended up on Real People instead).
---
SCORE PRODUCTIONS
One of the things I liked most about these shows was the background music, especially the themes composed by Score productions for Goodson-Todman.

Listening to them now, I realize it had a hypnotic quality, not unlike trance dance music of the 1990s. Here are two examples (with the late, great announcer Johnny Olsen providing the play-by-play).

from The Price Is Right

from Concentration
---
1970's Game Shows:
1950's Game Shows:
What's My Line / Kay Kyser's Kollege of Musical Knowledge
There's no gambling with this great book
about the Go-Go 1970s in Las Vegas and Beyond!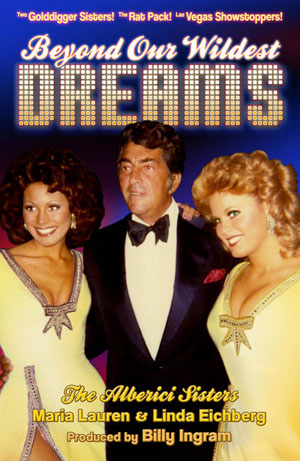 New book produced by TVparty's Billy Ingram!

Classic TV Game Show: Let's Make A Deal