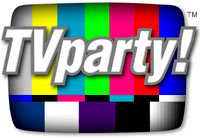 LOCAL KIDS SHOWS:
SAN FRANCISCO in the 1960's and '70's
Captain Fortune
"When I was in third grade at Jefferson Elementary in San Francisco, I had my first girlfriend, the very talented Karen Hirsch. She gave me my first chaste kiss in the cloak room at Jefferson.
"She used her considerable artistic skills to make a shoe box diorama for me that somehow got entered into a city library contest as my work (Oh, gawd, now it comes out at last, I didn't make the darn diorama myself, OK, shoot me, take away my prized copy of King Herrela's Quest autographed by Captain Fortune himself. Karen made it for me.) . . . in any case, I won this contest and with some other kids ended up a guest on Captain Fortune's TV show on KPIX. I think it was a weekly show, Saturday mornings. In glorious Black & White.
"My mom took me to their studios at Van New & Greenwich Streets. I remember kids would draw a squiggly line on a large paper poster and Captain Fortune would turn it into a cartoon drawing.
"I remember looking up at the big glass window on the north wall and wondering what was going on in the control room . . . I could see the faces of the crew through the double walls of glass.
"That must have been the trigger for my subsequent love of broadcasting. I later went on to work at KSFO in high school answering phones at night and getting pizza for Al Collins. After college at SF State as a broadcast major, I found work as a TV Director at KPIX in the same building I had visited when I was 8 years old. (also worked at KFRC, KRON, and KTVU)
"I was always amazed that 20+ years later I got paid to work in that very same studio where I had first seen how live TV shows were made. I had finally made it into the secret control room.
"I remember Captain Fortune was played by a guy name of Peter Abenheim (?) and it was front page news in the local papers when he was brought up on paternity charges by a woman and subsequently run out of town (or at least off the air, as babies out of wedlock were actually scandalous in those days)."
- Norm Gilbert
---
"Ahhh...memories. I remember Captain Fortune (Peter Abemheim), who was quite a talented cartoonist. I don't remember too much about his show, except that there was a shtick he did with a puppet in a barrel. He would knock on it, and the puppet would respond in a shrill voice "Who's that knocking on my barrel?" He later authored and illustrated a children's book "Captain Impossible at Sea" that became one of my favorites as a youngster. I think he was on KRON before Mayor Art.
"As to Mayor Art, he was on channel 13 KOVR fro Stockton before coming to San Francisco. He always had as a guest, about once a week, Dr. Horatio Q. Birdbath, who ran the toy store at the Nut Tree. Dr. Birdbath's real name was Purvis Pullen (Google him), and he worked with the Spike Jones band doing bird imitations. I actually met him once at the Nut Tree, and the first thing he did was a bird call to introduce himself.
Somewhere in my VERY distant memories, I remember a host called Fireman Frank, but I don't remember what he did.
"Over on channel 2, my all-time favorite was Mr. Bob, who introduced me to the world of the Three Stooges. Seems to me he had a dummy named "Happy", and another character named "Leroy the Dragon". This would have been around 1957-1958.
"How about King Norman, and the beautiful Page Joy? Norman was the owner of King Norman's Kingdom of Toys. I think there were 2 locations, perhaps Concord and somewhere else in the East Bay. I think he was on Saturday afternoons. His shtick was shilling toys for his stores between cartoons of some sort.
"Brief note on Sid Sedley (Skipper, then Sir Sedley). He was an channel 4 as Skipper Sedley, and I believe he was Mayor Art's predecessor. His ship was the "KRON-Tiki)...pretty clever, eh?
"Well,, that's all I can remember for now. If I think of anything else not mentioned on this great site, I will add what I remember. Thanks for the trip down memory lane."
- Ron Cali Saratoga (South Bay resident for 58 years)
---