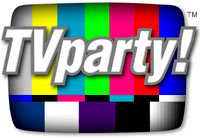 Catalog of all
Classic TV Shows
on DVD
PR4 & PR5 Pages for ads - CHEAP!
Johnny Jupiter
March 21, 1953 - May 29, 1954
DUMONT and ABC networks
Vaughn Taylor: Ernest P. Duckworth
Wright King: Ernest P. Duckworth (ABC version)
Pat Peardon: Duckworth's Girlfriend
Cliff Hall: Her father, Duckworth's boss
Jerry Coopersmith,
writer and producer
When I was a kid there was a Saturday morning show called "Johnny Jupiter". I don't know if it was national or regional. The concept was that a boy on Earth could communicate with another planet via a large television screen. Jupiter was a "planet of robots" as I recall it, and as viewed through Johnny's television screen all the robots were actually string puppets. But when one of the robots traveled down to Earth to visit Johnny, it became a large "Tobor-like" man in a suit.
I have not seen anything about this TV show since. I was wondering if you have any record of it in either words or pictures.
- stowsley
"I remember Johnny Jupiter. The eccentric genius with the interplanetary television was named "Duckworth" and one robot that Johnny Jupiter frequently sent down to help Duckworth out of one jam or another was "Reject the Robot." Duckworth worked in a TV repair shop and his interplanetary TV was a bootleg project he kept hidden in plain sight in a back room.
"Nobody but Duckworth could ever see either Johnny Jupiter on the super TV or the robots sent down to earth, except in one episode, which turned out to be a dream of some kind. If Duckworth tried to show off his interplanetary TV, mysteriously timely failures of the electronics would always occur. Some kind of "obscurity principle" involved, same principle that shows up in a wide variety of realworld human borderland experience--"
- Bill L.
(Whatever you say, Bill!)
---
"Philly kid show host Gene London was the second head puppeteer on the show. The first puppeteer/puppet-maker, Carl Harms, left the series following it's cancellation from The Dumount TV Network.
"Gene worked the puppets on the show under the name of Phil London. While Gil Mack did the voices for the puppets, Gene also played: "Reject The Robot" (in an early version of a Henson/Kroft Bros. puppet costume). The other puppets character were fine. But According to Mr. London: "Reject was clearly The Star!". That's because Gene was able to give the character pathos and a lovable bumbling quality that allowed the puppet to have a kinship with the viewers."
- Kevin S.Butler.
Johnny Jupiter was sponsored by M&Ms
Lost Kid Shows Homepage / Shock Theater's Zacherle / Sesame Street / Andy's Gang / Sandy Becker / TV Pow! / Hilarious House of Frightenstein / The Friendly Giant / Madison's Cowboy Eddie / Who Was Doodles Weaver? / Lost Kid Show Recordings / Winky-Dink and You / Remembering Winky-Dink / Captain Kangaroo / The Old Rebel Show / The Soupy Sales Show / Walt Disney's Shows / The Magic Garden / Mad Mad Monster Party / Houston Local Kid Shows / Boston Local Kid Shows / Fabulous Sally Starr / New York City Locals / More New York City Locals / Tooter the Turtle / Crusader Rabbit / Paul Winchell and Jerry Mahoney / Alex Toth's Television Work / Diver Dan and Whirlybirds / Sonny Fox's Wonderama / The Pinky Lee Show / Bizarre Kid Shows / Chicago's Kid Shows / Chicago's Ray Rayner Show / Garfield Goose and Friends / Bob Bell's Bozo Show on WGN / Bill Jackson's Shows / Gigglesnort Hotel Memories / Bob McAllister's Wonderama / Cincinnati Local Kid Shows / More Cincinnati Locals / Make A Wish / Hot Dog / Supermarionation Puppet Shows / Philadelphia Kid Shows / Philly's Captain Noah / The Chief Halftown Show / Philly's Gene London / Bertie the Bunyip / Dickory Doc / Adam Android / LA Kid Shows / The Merry Mailman / Do Do The Kid From Outer Space / Romper Room / Romper Room Around the USA / St. Louis Kiddie Shows / Religious Kid Shows / San Francisco Local Kid Shows / Johnny Jellybean / Johnny Jupiter / Shrimpenstein / Uncle Fred Sayles / Raleigh's Uncle Paul / Shenanigans and Video Village / Pip the Piper / Thanksgiving Day Cartoon Specials of the 70s / Monster Movie Matinee / Big Blue Marble / STM Club / Popeye on TV / Cleveland Local Kid Shows / Wixie's Wonderland / Jet Jackson and Sky King / The Original Animated Hercules / Ruff & Reddy