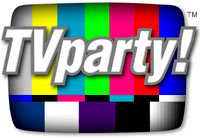 Los Angeles Locals
"I grew up watching Sheriff John, Hobo Kelly and Wonderama with Bob McAllister. But do you or anyone remember Skip and Woofer? They replaced 'Hobo Kelly' on KCOP.
"Skip was a guy in his 20s with round glasses and Woofer was his hand puppet dog. They were on sometime in the mid 70's.
"Something that is imbedded in my memory was the time that Skip got sick and vomited off camera! (They abruptly cut to a cartoon - ah, live television.) When they made an appearance at Marineland, I helpfully reminded him of that infamous show.
"Does anyone have any information on the actor who played "Skip"?
- Tony
Toys to be given away on the last show included the 'Cycling Cheri' doll, "The amazing doll who really rides her own bycicle."

---
"If you want to print my E-mail address on your site, I'll be glad to send a copy of this picture to any of the "boomers" who request it.
"Use this address: SkipNWoofer@aol.com.
Hopefully, I'll hear from some of the 'kids' who remember the show."
Thanks, Skip Ludwig
The Skip 'n Woofer Show
9-72 - 1-75 - KCOP / Los Angeles
Monday - Friday 7:30am - 9:00am
Skip Ludwig had an illustrious career in Los Angeles kid TV. He started out working on a number of popular programs for KTLA Channel 5 during the 1963-64 season, including Skipper Frank, Bozo The Clown, Popeye's Pier 5 Club (starring the wonderful, legendary Tom Hatten) and The Walker Edminston Show.
All of these shows were broadcast live, back in the days before local news coverage became big business for local TV stations. It was the kiddie fare that was driving TV set sales in the Fifties and Sixties, so locals expended their energy attracting housewives with stay at home kids.
In September of 1964, Ludwig defected to KTTV Channel 11, where his busy schedule included the Winchell-Mahoney Time syndicated series, Sheriff John's Lunch Brigade and a local version of Wonderama.
Skip Ludwig tells us, "In 1965, KTTV Channel 11 tried a West Coast version of Wonderama hosted by Paul Winchell. It only lasted 26 weeks and then they just bought the syndicated show from New York with Bob McAllister.
"Paul continued with Winchell-Mahoney Time which was syndicated, for another four years. I was a manipulator for Paul so he could walk away from the dummies while doing other characters. Paul did all the voices of all the characters while we (there were two of us) manipulated puppets and dummies for him."
In 1969, Skip Ludwig joined the staff of KCOP's syndicated kidvid The Hobo Kelly Show. There he played various roles, including Mr. Postman and the voice of Georgie Giraffe.
"When Winchell-Mahoney Time production ended in 1969" Ludwig writes us, "I started working for Hobo Kelly at KCOP-TV Channel 13. I was the Arte Johnson or Harvey Korman of the kiddie show set. I was the cast of thousands, doing all of the on camera characters except Hobo Kelly plus different puppet characters.
"In fact, you have a picture of Hobo Kelly and Georgie Giraffe on your current website....guess who was the Giraffe? The show was done live which made for some very interesting moments."
"I have no idea why KCOP Management wanted to cancel the Hobo Kelly Show. It's my assumption that it had to do with expenses. They were going through budget constraints at the time."
Hobo Kelly left the air in 1972, and KCOP gave Ludwig his own starring vehicle, The Skip 'n Woofer Show.
Ninety minutes in length, the program was part morning show, part kiddie show and part game show. Weather and traffic information was a big part of the show - to keep adults informed as the kids got busy with the cartoons (Hanna-Barbera and Warner Bros. shorts, naturally). His motto: "Keep Trying."
The premise was unusual, Skip was the maintenance man for KCOP, and as such he got to roam the halls and have all kinds of fun in the station. The show used remote cameras, featured station employees and Skip often visited other programs being taped.
Skip's pal Woofer (a puppet played by Skip Ludwig) provided the life lessons and weather conditions. There was also the off-screen sound effects guy named Gurney Filpotts, who could never get his cues right, leading to lots of comical situations. The tone of the show was gentle, and guests came from the many great area atrractions (Disneyland, Marineland) and touring companies from the LA area.
Audience interaction was encouraged with entries for toy prizes coming from kids all over the Southland. The postcards were rotated in a giant caged wheel and winners were selected at random for prizes ranging from bikes to dolls - to dolls that rode bikes! Pictures submitted by audience members were also shown when Skip brought out his scrapbook of friends.
"I will admit to recieving lots of letters from teachers thanking me for not talking down to children and allowing them creativity to explore and keep trying new things."
By the mid-seventies, stations all over the country were canceling their morning and midday local kiddie fare, replacing them with syndicated sitcoms and afternoon talk shows that were growing in popularity (and didn't take up studio space). By the end of the decade, there were only a handful of local kid shows left anywhere in the country.
And so it was. The last show came for Skip and Woofer on January 3, 1975.
The final telecast had Skip explaining to his young audience that he's been promoted at the station, but he'll no longer have time to do the TV show. I guess that beats telling them that the station just discovered that four-year olds don't spend money, but mommy does - so your show's been canceled.
On the last episode, Skip took his audience down memory lane with photos from the past. It wasn't the practice of stations to keep video copies of their local shows, because of this (and a fire in Skip Ludwig's home) this last episode may be the only existing video of the series.
Skip Ludwig summed it up for us: "I was the last 'live' daily kid show host here in L.A. When Skip 'n Woofer went off the air, an era came to an end."
"Since I went off the air, apart from various theatre productions and TV commercials here in LA, I have been the President and CEO of the AFTRA-SAG Federal Credit Union. I went back to UCLA and got a degree in Business Management.
"I'll celebrate 25 years with the Credit Union in 2001. (AFTRA-SAG is an acronym for American Federation of Television and Radio Artists and Screen Actors Guild.) I still see lots of my show biz friends because they are Members of the Credit Union. (By the way, just spoke to Tom Hatten last week)."
At the end of each show, Skip would say: "Make a new friend today... just for the fun of it." Good advice no matter how old you are.

LA's LOCAL KID SHOWS
Overview of the 50s and 60s / Sheriff John / Chucko, the Birthday Clown / Engineer Bill / Hobo Kelly / Shrimpenstein / Baby Daphne / Skip and Woofer's Last Show / More LA Locals / 'Shotgun Tom' Kelly's Words-A-Poppin'