Another
request
From:
Bradley Thomas
Any chance you might have info on Shindig and Hullabaloo, two dance/music shows of the early sixties?
The Shindig Theme performed by the Shin-diggers!

---
"During the 1960s on the TV series 'The Flintstones', one episode featured Fred Flintstone on a show simular to "Shindig" where Fred accidentally hurt his foot and invented a new dance.
Jimmy O Neill provided the voice for his animated version of the host for the episode."
- arnold
---
"While you mention that the show had different hosts every week, it did have a recurring announcer -- Johnny Holliday, who at the time was working as a disk jockey on KYA, the leading top 40 rock station in San Francisco. He would regale his listeners with stories about flying down to Los Angeles to do the show, then flying back to San Francisco to do his radio gig."
- Rick Kitchen
---
"How nice it was to run across your website and see some info on Shindig and Hullaballoo... which I happened to be the Announcer for.
Someone had written that I flew down to LA from SF each week to to the voice over work... not quite. I flew back to New York once a week... after WINS went to all news in 1965, I accepted a job at KYA San Francisco... which meant I would leave SF at 8 AM... arrive in NYC at 4 something.. car waiting... would head to NBC either Manhattan or Brooklyn... tape two shows... and be back on a flight to SF at11.. arriving at 2:30 AM... we did tis almost every week... once in a while, we'd originate the show from NBC Burbank.
Yes I would tell my KYA listeners about the show.. guest host... guest artists etc. I also had the pleasure of being the announcer for the Roger Miller show on NBC which was produced by Gary Smith, who also did Hullaballoo. Great days, great memories.
Hullabaloo has been released, 8 volumes on vhs - of the shows which they sent to me... talk about some laughs.. My youngest daughter who s rapidly aproaching 21, could not believe the outfits the dancers wore.. white boots, etc. I told her those were special times when good ole Dad was a hot shot Dee Jay. She still finds it hard to believe I did that, since all she knows I've done is Sports."
All the best,
- Johnny Holliday, ABC Sports Washington D.C.
---
I was very interested in learning about two shows that I never saw when I was a kid (I was just two years old at the time!!). Shindig and Hullabaloo seemed to be exciting shows from the description of your article.
I decided to check for reference materials by doing a serach on Amazon.com to see if there were any books on these shows. However, when the search terms came back, I was shocked to see that there were actual videos of these shows available. There is a 12 volume set of entire Hullabaloo shows and a number of Shindig highlight shows featuring different talent (British Invasion, Girl Groups, etc.). A must have for people who want to find out what the music scene was like in 1965-66.
Efrem
Shindig was the first of a kind - a prime-time rock music show that featured live (at least not lip-synced to records) performances by the top acts of the early Sixties.
The show, hosted by LA disc jockey Jimmy O'Neill, was broadcast live on ABC September 16, 1964, with house band the Shin-diggers (later the Shindogs) and the Shindigger dancers (the reason anyone over twenty-five might be watching the show). Most of the 'Shindig' shows were broadcast in glorious black and white.
'Shindig' started out life as a half-hour show, but by January of 1965 it was expanded to a full hour. If you were watching back then you would have seen Darlene Love, Jean King and The Blossoms, Bobby Sherman, Fats Domino, (even Orson Welles) and others performing while the Shindigger dancers did their groovy thing. In the Fall of 1965, the show was split into two half-hour shows, broadcasting on Thursday and Saturday nights. On the Fall 1965 premiere show, broadcast from London (this would continue periodically), guests included The Kinks, The Rolling Stones, The Byrds and The Everly Brothers.
The Who and every other British invasion band played on 'Shindig', and the show spawned a plethora of imitators, including a hoarde of local music shows.
On January of 1966, a year and a half after the series debuted, it was cancelled to make room on ABC's schedule for 'Batman', which was also scheduled to run on two nights a week.
'Hullabaloo' was a lot like 'Shindig', and lasted only a year and a half as well, debuting in January of 1965, and continuing until the Fall of 1966.
First broadcast as a half hour series, then as an hour show in the spring, then switching back again to a half hour in the fall of 1965, 'Hullabaloo' featured the Hullabaloo Dancers, The Peter Matz Orchestra ('The Carol Burnett Show' band), and (on the first few hour shows) Brian Epstein, the Beatles' manager, introducing new British acts in black and white segments (the rest of the show was in color). Instead of just one host, different guest-hosts were recruited each week for this NBC show.
Both of these shows, especially 'Shindig', captured some of the finest live performances by the best rock bands and soul performers coming up in the mid sixties, including Diana Ross and the Supremes, Otis Redding, the Beach Boys, and James Brown, and inspired the other music/dance shows that followed like 'Hollywood a Go Go', 'Where The Action Is' and 'Happenin' 68' (which took the format to the beach). Many of the videos we see of 60's performers come from these cool and campy series.
The first show, broadcast live from London, was in fact an episode of "Ready, Steady, Go!," also produced by Jack Good but with titles substituted for the American (ABC-TV) market. All subsequent shows were taped for later broadcast, the music and vocal tracks recorded a day or two before the "live taping" (read: lip synch) at Gold Star Recording Studios in West Hollywood. There was a live "walk through" during the afternoon of the taping, with the actual show performed before a live audience in the early evening.
How do I know this? I was hired by Selmur Productions, the show's production company, in late 1964 as the "talent buyer." Later I was moved to Publicity and served in that capacity until the show's demise, when I transferred to a position in Network Film for ABC-TV (my first assignment was the "bicycling" of "Batman").
- Rod Barken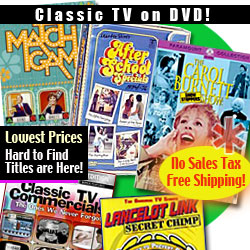 TV on DVD / / Holiday Specials on DVD
TV Commercials on DVD
TV Shows on BLU-RAY