Your Host Billy Ingram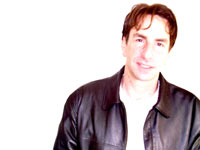 Some of our press:
"Cheekily organized and impressively deep... a beautiful and comprehensive tribute to the box that formerly ruled our lives."
- Dave Nuttycombe, Washington Post
"It's too good to be true. TVparty.com has gossip, scandal, sex, singing, dancing, action, drama and celebrities with their 'original parts'."
- Krissy Harris, LA Times
"There's so much to see here... TVparty is like a huge mall stocked with everything you never knew you needed!"
- Wild Web TV show
"An ingenious tribute that elevates the TV past to artlike proportions. Site guru Billy Ingram has... compiled features both over-the-top and museum worthy, the site is blissful nostalgia for those born in the '40s or the '80s." A+
- Entertainment Weekly
"This slick and splashy site created by writer Billy Ingram is easily the best TV-related site out there. Take it from us: TVparty is the ultimate Web site for anyone who has ever picked up a remote control." (Grade A+)
- Brian Hartigan,
TV Guide (Canadian edition)
All websurfers over 30 who peek at this TV nostalgia site will get sucked in faster than they can hit their Back buttons. Return to those days of yore with a loved one or three, mouse in hand, proud to have defeated time, amazed by all you missed, at TVparty.
- Netsurfer Digest
"If you love TV, you'll die for TVparty! TVparty host Billy Ingram used to work in the industry, and this is definitive proof of how much he loves it. Set aside lots of time for TVparty - you're gonna get lost here."
- Diane Wertz, Newsday
"Essential trivia" - McCalls Magazine
"Best of the Net" - The Village Voice
Also seen in: The Toronto Star, Delaware Record, Dallas Morning News, Rock Hill Herald, The Salt Lake Tribune, Birmingham News, Miami Herald, Palm Beach Post, CNN, CNBC, TVLand - and as a guest on Star 1047, 1075KZL, WFMY Good Morning Show, 98.7 The Point, WGN radio, WABC radio and others!
ABOUT TVparty:
After many years in Los Angeles working in the entertainment industry (television and motion pictures), Billy Ingram returned to his hometown in North Carolina to do some writing. He created a website (Homeroom) in 1994 to get some sense of what kind of book the public might respond to.
The TVparty section of Homeroom started getting national press almost immediately. In early 1997, TVparty.com was born. Together with the contributions of people far and wide, Ingram has made TVparty the internet's premiere television history website, a celebration of man's electronic achievement.
TVparty.com has been featured on CNBC, CNN, and in major newspapers all over the country including the Houston Chronicle, Newsday, San Jose Mercury News, USA Today, Los Angeles Times, Washington Post, The Hollywood Reporter, and in nationally syndicated columns.
Web Magazine gave TVparty a 5 out of 5, Entertainment Weekly gave us an A+, Yahoo magazine listed it as one of the 100 best of 2001, and the Village Voice called TVparty the "Best of the Net". Billy Ingram has also appeared as a guest on "The Steve and Johnnie Show" (WGN in Chicago), 98.7thepoint, 1047 in Charlotte, WABC's Rocky Allen Morning Program, The Murphy in the Morning Show in Greensboro, NC and the nationally syndicated Wild Web TV show among others.
TVparty was the first to bring the TV experience to the internet! Millions of people enjoy TVparty each year, we get over 350,000 visits a month. In October, 2002, the first TVparty book and CD-ROM package was unleashed on an unsuspecting public.
Billy sez: "I'm extremely grateful to everyone who has been supportive, especially to those of you who have added your wonderful memories and contributed articles, pictures and rare video footage to the site. Enjoy your TVparty website!"
---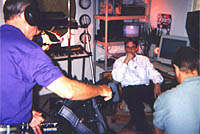 Billy Ingram has over 20 years experience in advertising and public relations as a strategic planner, writer, artist, creative specialist, art director, and advertising agency administrator. He has broad experience in all aspects of consumer, trade, automotive, furniture and broadcast/film industry advertising and is a specialist in the planning, concepting, marketing, and communications requirements for the entertainment industry. Billy Ingram was a consultant for Forrester Research's recent report on webcasting and ecommerce.

In addition to numerous award-winning print ads and broadcast commercials, Billy has planned, designed, and implemented direct mail advertising programs, audio-visual programs, retail sales promotion efforts, movie poster and CD cover designs, Academy Award campaigns for major film stars, and he is one of the nation's leading experts in internet/website broadcast communications and business applications. He has also created numerous quarterly and financial reports and corporate ID programs for Fortune 500 companies. He currently lives in London and North Carolina.

Past and present print/broadcast/internet clients include:
Walt Disney Company / Paramount Pictures / Universal Studios / Bassett Furniture / Acura Motors / American Honda / Sony Entertainment / Seiniger Advertising / Gilbarco / Hyundai Motors / CBS Television / Dick Broadcasting / Ultimix Records / Staub Leadership / Eastern Music Festival / Columbia House / Philips/Magnavox

Listen to a bit of a radio
interview on WGN, Chicago.
---
Press Inquiries:
e-mail BILLY INGRAM