Your favorite classic television shows from the golden age of TV!
New in the TVparty TV Blog!


Dan Schneider Video Interview #135:
The Death Of Saturday Morning Television
Interview with Billy Ingram and Timothy Burke was recorded on Saturday, 9/24/16, via Skype, using Litecam.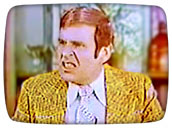 What happened to Paul Lynde?
Occupying the center square on The Hollywood Squares delivered Paul Lynde into American living rooms five mornings a week beginning in 1966. Housewives delighted in his witty repartee:
Peter Marshall: According to the old song, "At night, when you're asleep, into your tent I'll creep." Who am I?
Paul Lynde: The scoutmaster?
ALSO: The Paul Lynde Halloween Special?
Read more...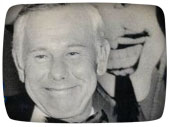 Johnny Carson
Johnny Carson didn't just rule late night television he was a dominant force on the Las Vegas Strip as well. He played Vegas often and the crowds, especially the folks from the midwest, adored Johnny. The affable comic began playing Las Vegas in ernest in the 1960s at the Sahara hotel and continued to headline the big room there for 13 years. He liked the area so much he bought a TV station in Vegas.
Read and watch more...


The First Live Action Interactive Video Game
This is the previously untold story behind the very first interactive video game. It was created 30 years ago this year, in 1983, by Busustow Entertainment for Disney. The format? A Laser Disc.
Read and watch more...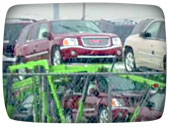 The Last Truck: Closing of a GM Plant
If you ask me (and I know you didn't but you're here) the ruination of this country stems from the fact that we don't make tangible products anymore, we've become a service economy gone mad with a rapidly shrinking customer base.
The Last Truck exposes this problem in human terms as the last vehicle rolls off an assembly line at the Moraine, Ohio GM plant and hundreds of proud workers are sidelined - not because of their lack of productivity but due to the arrogance and incompetence of management and unbridled corporate greed.
Read more...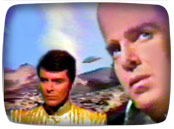 Irwin Allen's Lost Sci-Fi Pilot
After Time Tunnel was cancelled in 1967, there was another remaining season for Lost in Space and Voyage To The Bottom of the Sea before they were hustled off the air in 1968. Allen was hopeful that he could launch his 'new' idea for 1969-70 - The Man from the 25th Century.
Read and watch more...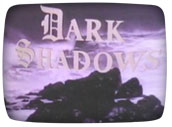 1960's Soap Opera Themes
The Edge of Night came on CBS in the afternoons so this is the Soap Opera theme I remember best as a young kid, just getting home from school. It reminds me of laundry being done and dinner on the stove (the kids ate early at our house). There's something eerie about this theme, the show had a dark undertow and a generally seedy nature. And then there was Dark Shadows.
Read and watch more...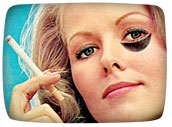 Have a Smoke and Be Somebody!
Talk about Government mandated health care, our nation's leaders decided almost forty years ago that Tobacco and TV don't mix. Before that, stars like John Wayne appeared on TV selling cigarettes, speaking highly of the product: "Mild and good tasting pack after pack. And I know, I've been smokin' em for twenty years." Coincidentally, some of the last commercials the Duke filmed were to ask people to stop smoking. Watch some of TV's wildest commercials like the dancing cigarette pack!
Read and watch more...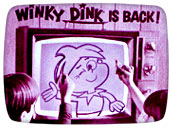 Winky Dink and You
"I used to watch Winky Dink... I had the kit, but I would intentionally draw the wrong things. When Winky needed a ladder to get out of a hole, I would draw a cover on the hole. When he needed a parachute, I would draw an anvil to pull him down, etc. I would tease my younger sister and tell her that I was making Winky die! Whenever she left the room crying, I would laugh and laugh. Winky was cool!"
Read and watch more...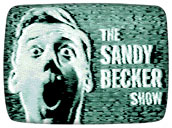 Sandy Becker!
"Anyone who grew up in New York in the 50's and 60's had to know Sandy Becker. He shaped a lot of our personalities. Along with Hambone, Norton Nork, and The Old Professor, I remember his lovable puppets, Geeba Geeba and Marvin Mouse. Sandy Becker was one of a kind. He really seemed to care about his audience and about the welfare of the younger generation. We could sure use a Sandy Becker today."
Read and watch more...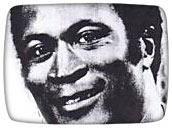 My TV Dads
I realized how important fathers truly were. And I didn't have one. In television terms, my father had been written out of my life when I was three years old, like James had been written out of "Good Times," although my father hadn't been killed off. One day, he simply went away and didn't return. Too bad life isn't more like television, or else there would've been a sassy maid in my home to help guide us children, but in real life most families can't afford a live-in maid.
Read more...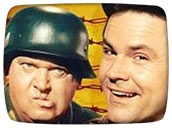 Classic TV on DVD - Archived Reviews!
Tom Jones, Twin Peaks, Stargate Atlantis, Voyage to the Bottom of the Sea, Dallas, Men Behaving Badly, Captain N, Hootenanny, ER, Wanda Sykes, Adventures of Superman, Battlestar Galactica, F Troop,
and so many more hot DVD releases.
And they're all deep discounted - for you!
Read more...
Classic TV Shows on DVD?
An extensive catalogue of every classic program available on DVD! See what's available today - with big discounts for you!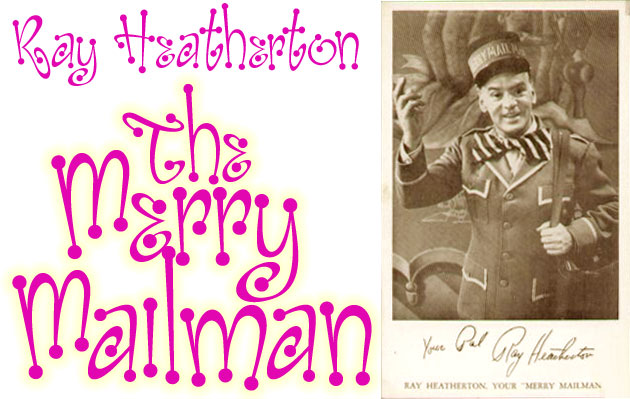 ---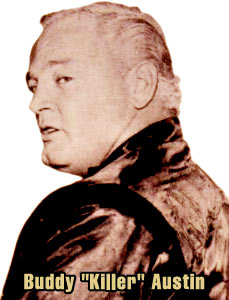 1980's TV Wrestling - Greats and Near Greats!
NOW WITH ADDED RARE VIDEO!
John Hitchcock's look back at the heart of Mid-Atlantic Wrestling - with grapplers known and unknown. Wahoo McDaniel! Ric Flair! Dusty Rhodes! Jim Cornette! Magnum TA! Buddy "Killer" Austin! Johnny Weaver! Johnny Valentine! Harley Race! Dick Murdock! Jimmy Garvin! Nikita Koloff!
Have you ever heard of these guys?!?
Read and watch more...
---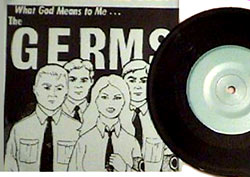 1980's PUNK ROCK
In the early-eighties, young people in Los Angeles were flocking to makeshift clubs in droves to see new, up and coming bands. Live new music, not DJs, was what they craved. These writings provide a sketchy look at the underground club scene in Los Angeles during the time that groups like X, Missing Persons, The Go-Go's, The Minutemen and Wall of Voodoo entered the public consciousness.
Read and see more...
'TVparty is hands down the
best site on the Web for classic TV.'
- Discovery Channel
Please consider a donation
so we can continue this work!

TVparty! is CLASSIC TV
Our 20th year online!
NEW SECTION:
More Modern TV Shows!


TV DVD REVIEWS:
Adam-12 / Godzilla movies
Doris Day Show / Gangbusters
Gunsmoke / Decoy / Victor Borge
- Peanuts 1960s Specials
NEW! TVparty Classic
Television Blog!
Welcome to TVparty.com the internet's premier classic TV Web site featuring your favorite television shows from the golden age of entertainment!
---
- Terminator: The Sarah Connor Chronicles
- Thank You Mr. President - Helen Thomas At The White House
Nation's Most Loved Online Bingo Adverts
---
YOU'VE BEEN WANTING THIS!
Amazon Prime - unlimited streaming of your fave TV shows and movies! Get your FREE 30 Day Trial!
---
TV's Greatest Games! Remember the game show boom of the 1970s? We have all your favorite shows!
binary trading at binaryoptionrobotinfo.com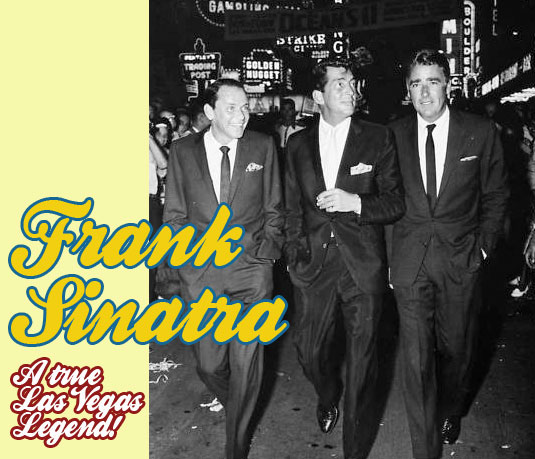 Learn more about playing the best progressive jackpot slots for real money at the best USA online casinos listed on PlaySlots4RealMoney.com
---
MORE CLASSIC TELEVISION:
Gene Roddenberry
1950's TV Shows
1960's Classic Television
1970's Variety Shows
Classic Local TV Shows
Saturday Morning TV
Free website monitoring donated by UptimePal.
Our huge catalog of
Classic TV Shows on DVD
Now you can own your favorite classic television programs!
---
Classic TV on DVD!
- I'm Dickens He's Fenster
- Designing Women Season 5

---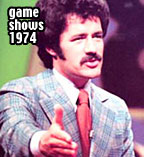 FEATURED CLASSIC TV
GAME SHOWS:
Hollywood Squares
TV Shows on Blu-Ray
TV never looked so great!
---
TV Blog: Tommy Bond / Discovered George Carlin Routine / John Wayne Loves America / Kenneth Williams / Filthy Rich /2 Questions with Kathy Bates / Sonny & Cher Outakes / My Mother the Car / 1973 CBS Fall Shows /1970's TV Game Show Fails / Vivian Vance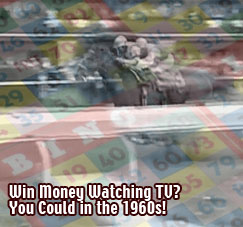 TVparty! Advertising
Privacy Policy
---
- Voyage to the
Bottom of the Sea
---
---
OTHER TV ODDITIES
Saturday Morning Serials
1970s TV Shows
Gene Roddenberry
After Star Trek
Camp Runamuck
---
COMIC BOOKS ON TV
---
"A twisted walk
down memory lane!"
- Sharon Edry, TV Guide
"Top Five Sites! Interviews and articles... are must reads."
- London Sunday Times
"It's too good to be true. Put together by Billy Ingram, TVparty.com has gossip, scandal, sex, singing, dancing, action, drama and celebrities with their 'original parts.''
- LA Times
"An ingenious tribute that elevates the TV past to artlike proportions. Site guru Billy Ingram has compiled features both over-the-top and museum worthy, blissful nostalgia for those born in the '40s or the '80s." A+
- Entertainment Weekly
"Get the inside scoop on all your favorite classic TV shows at TVParty."
- USA Today