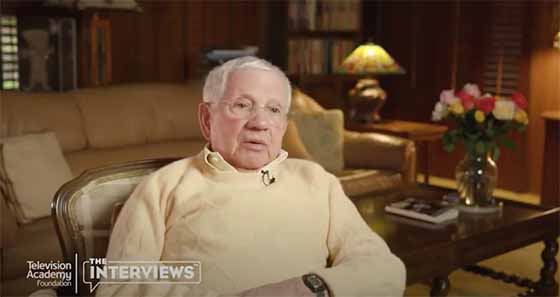 Robert Clary on His Hogan's Heroes Co-stars
By Billy Ingram
The 1960s was a decade partially defined by the sheer number of goofy television shows like Gilligan's Island, Bewitched, I Dream of Jeanie, The Munsters, and dozens of other oddball programs.
Perhaps the weirdest concept of all was Hogan's Heroes (1965-1971), a sitcom set in a Nazi Prisoner of War camp. Bob Crane starred as Colonel Robert E. Hogan, leader of the Allied resistance behind (and underneath) the barbed wire encampment known as Stalag 13.
The public was receptive from the beginning, a top 10 hit in the first season and, although numbers dropped significantly thereafter, a solid audience draw for CBS for 6 seasons.
The show was so popular it spawned a 'Hogan's Heroes' record album featuring cast members Robert Clary, Richard Dawson, Larry Hovis (Carter), and Ivan Dixon (Kinchloe) singing songs from WWII. Werner Klemperer (Klink), John Banner (Schultz), Leon Askin (Burkhalter), and Howard Caine (Hochstetter) were all Jewish, all but Caine had fled Nazi occupation and immigrated to the USA during the war.
Robert Clary, who played French corporal LeBeau, had actually been interned in a concentration camp for three years. Clary told the Los Angeles Times, "Singing, entertaining, and being in kind of good health at my age, that's why I survived. I was very immature and young and not really fully realizing what situation I was involved with... I don't know if I would have survived if I really knew that."
In this interview for the Television Academy, Robert Clary discusses his Hogan's Heroes co-stars. When asked about Bob Crane he replied, "As Colonel Hogan he was very good, as I said before, I would say that the rest of the car was very liberal Democrats and he was not. He was a Republican, which is fine, I mean, that's his problem. (Laughs.) I'm talking as a liberal person. And it was fine because we didn't talk about politics. And Robert Crane was ready, he knew his... everybody knew their dialogue, nobody said, 'What's my line?' Nobody. I was just a joy, a great joy."
Asked about Larry Hovis with whom Clary was often teamed, "Loved him. Good singer. He used to sing between takes, we used to sing... Wonderful, I can not complain about the cast. My close friends that time were Werner Klemperer and John Banner." The interview continues below.
It was 1992 before Hogan's Heroes aired in Germany, retitled Stacheldraht und Fersengeld (Barbed Wire and Heels) then retitled again to Ein Käfig voller Helden (A Cage Full of Heroes).