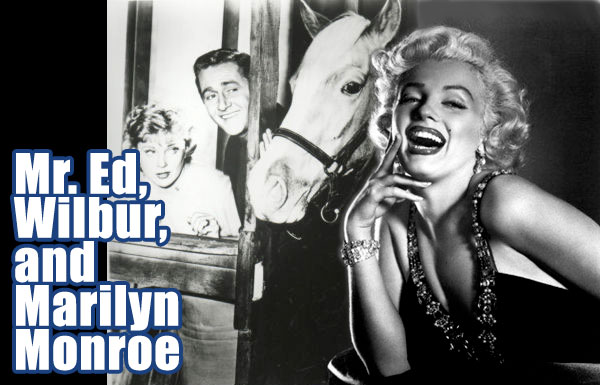 by Jim Longworth

On January 5, 1961, Alan Young was having dinner with friends, when they all stopped to watch the premiere of his new comedy, "Mr. Ed". Afterward, actor William Conrad (later, TV's "Cannon") said to Alan, "Congratulations, you've got a hit on your hands". Conrad was right, and today "Mr. Ed" is still in re-runs and celebrating its 50th anniversary. Next weekend, Alan Young celebrates his own personal milestone when he turns 92. I interviewed Alan by phone recently, and we talked about his life and career.

Born Angus Young, the Scotsman later changed his name to Alan and found great success as a comedic actor, first on radio, then as the star of his own television program. "The Alan Young Show" was hailed by critics for its combination of high brow sketches and variety acts, but in 1952, CBS demanded that the format be changed to a traditional sitcom. "The show was no longer funny, so I quit", said Young.

Alan had come out to Los Angeles from New York City in 1946, and once in Hollywood, found himself appearing in films and dating a future sex symbol.
"I was to be featured in the Santa Claus parade, but I didn't know what to put on my float, so the casting director at FOX said, 'I'll decorate it for you'. He arranged for all these girls to ride on my float. I noticed this cute girl, a redhead. She was so quiet, and afterwards, everyone was heading off to have a drink, but I didn't drink and neither did she, so I said, 'Would you like to join me in a cup of cocoa?', and she said, 'Sure'. So we sat in the Brown Derby and drank cocoa. Her name was Norma Jeane Dougherty. We went out a couple of times after that, and I even took her home to meet my folks. A couple of years later I was at RKO being made up for a part, and in walked this blonde who said, 'Hello Al'. And she rushed up to me and kissed me on the cheek. She said, 'How are your mother and father?' I said 'Fine', and she kissed me on the cheek again and left. The make-up man said, 'How long have you known Marilyn Monroe?', and I replied, 'for about a minute and a half '".

Alan stayed busy in films and on television throughout the 1950's, and in 1960 starred in the sci fi classic "The Time Machine". The popular actor was then tapped for the role of Wilbur Post in a new TV series about a horse who only talks to his owner. Young was fond of Mr Ed (real name "Bamboo Harvester") both on and off screen, and the pair went riding in Griffith Park every day after work.

Wilbur and his steed were America's hottest comedy team, so much so that celebrities clamored to make cameo appearances on "Mr. Ed". One of them was a young Clint Eastwood, who was starring in the TV oater "Rawhide". "I had no idea Clint would grow into becoming a super star. Back then he was very quiet. A nice fella", said Young.

Ed soon became an iconic figure in American culture, and part of his mystique was the closely guarded secret of how he was able to move his mouth on cue. A number of stories circulated around Hollywood as to the actual technique used. One legend states that Ed just naturally moved his lips whenever someone next to him stopped talking, as if to join in the conversation. Another theory is that trainer Les Hilton would touch Ed's hoof whenever he wanted the horse to speak.
It was also widely reported that Hilton used thin nylon string attached to Ed's halter to effect the mouth movements. And then there's the peanut butter story.
"I started that one", said Young. I implored Alan to reveal the real trick, but all he would say is, "It was not painful, it didn't hurt the horse. He didn't mind it. I think Les' assistant is still using the method today with horses, so I don't want to reveal it because it's his secret now".
Young was willing to reveal something else, though. Unlike many TV stars of the last century, Alan was well compensated for playing Wilbur, at least, once he put his foot down. "I was getting paid so little for 'Mr. Ed', so once when I asked for a raise and they said they wouldn't give it to me, I said I was going to quit. My lawyer then met with the studio, and came back and said, 'You don't own any part of the show, but you're going to get 15% of the Producer's profits'. That was much better than owning a piece of the show, because the Producers weren't going to play around with creative bookkeeping with their own money (like they did with Jim Garner and others). I had a great lawyer".

Young must have had a great publicist, too, because the versatile actor ended up being honored with a star on the Hollywood Walk of Fame. "Back in those days NBC ran Hollywood Blvd., and started the stars on the walk. They gave you your star back then, but now a days it costs up to $15,000 to get a star". Young's equine co-star, however, was never so honored. "After 'Mr. Ed' went off the air, I asked the studio to sponsor a star for Ed, but they weren't interested. It would have been nice to have his name there", said Alan.

"Mr. Ed" ended its run on CBS after six years, and Young's talents have been in demand ever since, both as an actor, and as the voice of Disney's Scrooge McDuff. I guess talking animals are just naturally attracted to Alan, but then, so are the rest of us. Here's to Wilbur and Ed, the best partnership on six legs.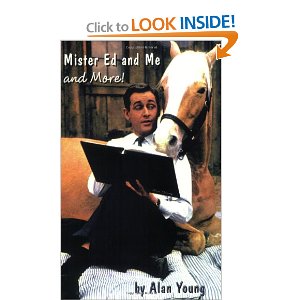 (Alan Young is the author of "Mr. Ed and Me', and "There's No Business Like Show Business")

Jim Longworth is a columnist for YESWeekly.com, and author of the "TV Creators" series of books. He also serves as judge for the primetime EMMYs, and hosts a weekly TV show for Sinclair stations.

Auto huren makes it possible to compare all car rental companies all over the world!

Compare the top sellers of Instagram followers on Buy instagram followers reviews!

An overwiew of guides and gutscheincode with the best tips and tricks to save money! on Ebookers.