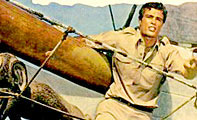 1961 TV Season
Top 25 shows, Bob Newhart,
The Hathaways, Dobie Gillis, Bachelor Father, more!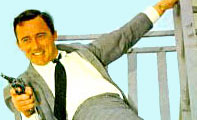 1964 Fall Season
Top 25 TV shows, Jack Paar,
'That was the Week that Was',
cool commercials & more!
LIFE WITH LINKLETTER
Kevin S. Butler writes: "TV host Jack Linkletter, the son of radio and television personality Art Linkletter died on December 10, 2007 having lost his battle with cancer.
"Jack Linkletter hosted such 1960's shows as Hootenanny, a folk music series on ABC Saturday nights, and talk shows like On The Go and Here's Hollywood on NBC.
"Among the many performers that he interviewed on Here's Hollywood were Bud Abbott and The Three Stooges (he also interviewed the Stooges for On The Go). He co-hosted Life With Linkletter with his famous father during the 1969-70 season. This is the second tragic loss for Mr. Art Linkletter, his daughter Diane died from a drug induced suicide in the 1970s."
Jack Linkletter was a very talented interviewer, Hootenanny was remarkable and, for some reason, I have fond memories of watching Life With Linkletter as a kid. I suppose it stems from watching it as a young boy while taking a break sledding on a snowy, school-closed day. I can still remember drying our frozen gloves on the radiator and watching Life With Linkletter and thinking how modern it seemed for daytime TV.
Life With Linkletter
Art Linkletter hosted the very popular CBS afternoon talk show House Party from 1952 until the fall of 1969. On December 29th, 1969 NBC launched Life With Linkletter pairing Art with his son Jack, who had hosted Hootenanny a few years earlier on ABC.
This new program (airing 1:30-2:00pm) was more high tech and up to date than stodgy House Party had been, with an emphasis on politics and world events along with the expected celebrity interviews.
Here are two segments from Life With Linkletter from January of 1970. The opening and first commercial break:
Sugar Ray Robinson was a guest, he talked about going broke and there is extensive footage of his 1950 bout in Paris with Jean Stock.
REAL PLAYER CLIPS:
In this sample, Art and Jack welcomes guests Herb Klein, communications director for the Nixon administration and boxing champion Sugar Ray Leonard. (Art Linkletter was a Nixon friend and insider.)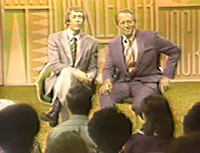 In this clip, Herb Klein remarks about one of the first things Nixon did upon taking office - it has to do with television.
Life With Linkletter never caught on and was cancelled in the fall of 1970. Despite a run of 18 years on network daytime TV, Art Linkletter never hosted another network TV series, in part due to his fervent, heart-breaking anti-drug crusade following his daughter's death. In October of 1969 Art's daughter Diane Linkletter (who was featured on the last season of the previous series when it was re-titled The Linkletter Show) made headlines when she committed suicide by jumping to her death during an acid trip.
Chances are this is the only surviving episode. Thanks to A.J. McWhorter from Television Archives for the ultra-rare footage!