Which is not to say that she has ever been lost….
by Cary O'Dell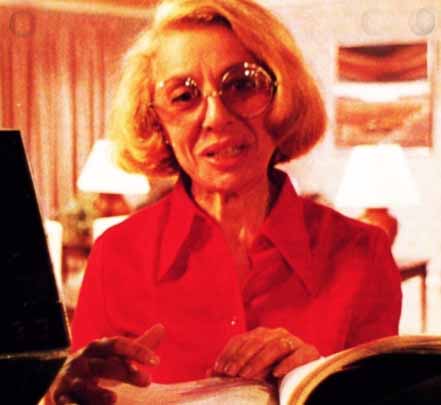 It is just that Lela Swift, one of the television medium's earliest female directors and quite possibly the only woman director during the early days of live TV, is just too often unseen and, therefore, sometimes unsung.
Swift may not have been the very first woman director in network TV (that honor probably belongs to Thelma Prescott), but Swift was talented and prolific in the years when TV directing was almost always strictly a man's game. She was part of that very small vanguard of women—Frances Buss Buch, Betty Turbiville and, later, Ida Lupino—that were strong enough and lucky enough to slide into TV before it was big business was taken over by the guys.
In some ways, actually, Swift is rather fortunate. Over the course of her extensive career, she worked on some highly respected individual productions and in some feverishly cultish ones as well which has helped her retain currency within the medium's exponentially expanding present day.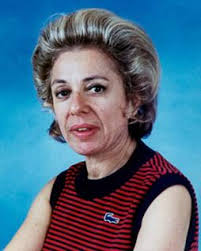 Lela Swift was born Lillian Siwoff in New York City in 1919. Though she began her post-college life working as a "steno" (as many women did in those days), she showed an early leaning toward popular entertainment; while still in her teens, she sold scripts to various, successful radio shows. It was a sideline she would continue with. In 1944, she wrote a radio play, "Forget-Me-Nots for Fran," which was performed over the airwaves and starred Barbara Lundy and Olan Soule.
Eventually, Swift went to work as a secretary to Dr. Peter Goldmark, the genius engineer of recording and broadcasting technology. She said about her early entry into TV broadcasting, "[I was there] when everybody did everything." Here nascent duties, specific to programs, was acting as a floor director or an assistant director on such shows as TV's "The Goldbergs."
But her ascent beyond that position was slow. Swift said once, "When I was an assistant director they passed over me five times, because I was a woman." Later as she attempted to break the glass ceiling of directing she was told, "You'll never get to direct anything but cooking shows."
Later, Swift placed herself under the tutelage of legendary TV producer Worthington C. Minor. Minor was the creator and producer of, among other shows, the early television anthology "Studio One."
It was on "Studio One" that Swift garnered her first directing credit. She would go on to helm at least eight installments of the acclaimed, live series including a 1950 two-part production of "Little Women." After "Studio One," Swift was one of the resident directors for the respected live CBS suspense series "The Web."
It was to Swift's great good fortune that one of the installments she was in charge of for the "Web" series—titled "Sleeping Dogs"--featured a young, slightly rebellious actor by the name of James Dean. Legend has it that when Dean proved rowdy on the set, Swift fought to keep him with the production and not be fired. Of course, Dean's appearance in this early career installment has, in the intervening years, been the subject of great audience interest.
Other programs that Swift directed included "The DuPont Show of the Week" and "Suspense."
But, by the end of the 1950s though, live TV production started to be replaced by filmed productions and the entire broadcasting industry began to migrate to the west coast. Rather than uproot her family—Swift's husband was Dr. Gilbert Schwartz and, by this time, she was the mother of two sons—Swift stayed in the Big Apple and segued into working in daytime TV where the requirements to deliver a show fast (and with little opportunity for retakes) mirrored many of the tenants of live TV production.
Swift proved a natural for the soaps. Her first work in the genre was for ABC's daytime's "The Young Marrieds," which aired from 1966 to 1967.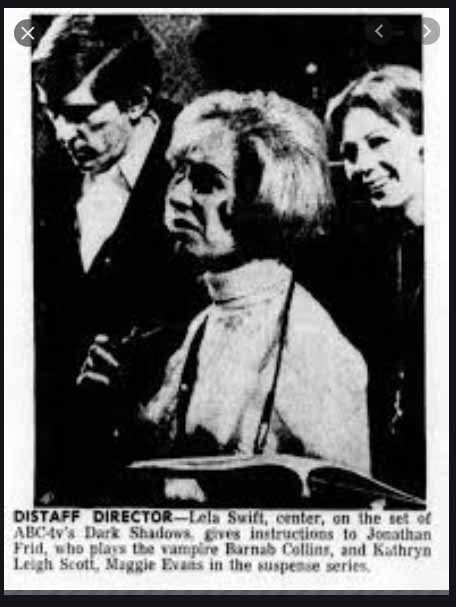 But her next major credit was far more enduring. "Dark Shadows" was producer's Dan Curtis's legendary daytime gothic soap which, after a slow start, eventually became a phenomenon thanks to Jonathan Frid's menacing presence as a vampire Barnabas Collins. "Shadows" began on the air in 1966 and Swift would be associated with it for many years, eventually producing 563 installments of the legendary soap, more than any other director ever affiliated with the series. Eventually, she'd gain a co-producer credit on the program as well and enjoy a long working partnership with Curtis and his production company.
As can be imagined, a woman in the director's chair—especially directing almost every day such dark material—drew publicity and press interest. In a 1969 newspaper profile on her, Swift said, "I believe women are capable of anything." But she went on to add, "My family comes first. There is no comparison between my work and my family."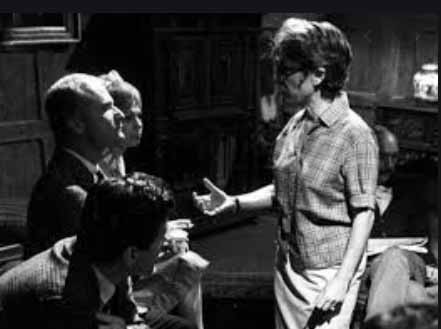 That same article noted that her workday for the show usually began around 7:30 in the morning to meet with the crew setting up the lights. By mid-morning she'd have the actors and the show up on its feet.
She added, in the same article, "You know, I never have directed a cooking show."
Once again, Swift was somewhat lucky to become affiliated with such a well-loved and remembered programs as "Dark Shadows." While almost every single other episode of every single other soap opera from that era has been relegated to a back, dusty shelf somewhere, "Shadows" is still the subject of a large and devoted fanbase.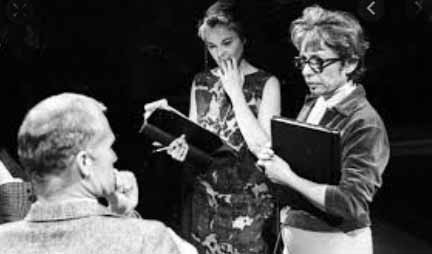 After the coffin closed for the last time on daytime's "Dark Shadows" in 1971, Swift helmed three installments for the Canadian anthology, "Norman Corwin Presents" and two installments of the "ABC Afternoon Playbreak" series. She also directed a handful of very obscure horror-themed, made-for-TV movies that, at the very least, had some very interesting cast members: Jill Clayburgh, Gwen Vernon, and Perry King, among others.
She reteamed with Dan Curtis to direct six episodes of his ABC late-night offering "The Wide World of Mystery" from 1973-1975. Along with Curtis, on that program, Swift worked again with some of her old "Dark Shadows" stock company including Grayson Hall and John Karlen. Perhaps Swift's best-remembered production from this series is "Alien Lover" from 1975 starring a young Kate Mulgrew.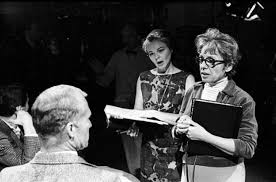 Then, in 1975, Swift began a long working relationship with ABC soap "Ryan's Hope." She would go on to direct 830 episodes of the show. In a 1979 article, she explained the difference between directing "Shadows" and "Hope": "One ['Dark Shadows'] was about what happens, 'Ryan's Hope' is about why things happen. 'RH' is based on reality, not melodrama. And the writing is astonishingly good. I can respect the material rather than look down my nose at it."
In the same article, she explained about her process, "My greatest challenge is to determine staging and movement that suggests the emotion. I hate flat pictures and folks lined up horizontally on the screen…. Also, the challenge is working with actors is giving them the courage not to be afraid to take chances. I don't want puppets as actors on my show."
However, she went about it, Swift was frightfully good at it. She won a trove of Emmy Awards for her work directing of that show where six out of every 10 episodes of the program were hers to make.
"Ryan's Hope" ended in 1989. And, Swift's long, legendary career mostly concluded with it. There would though be one more program which proved an exceptional way to take a final bow.
In 1989, A&E (at that time still clinging to its "Arts & Entertainment" origins) aired a series titled "American Playwrights Theater" where it presented notable one-acts by famous authors. Swift's installment was a treatment of Eugene O'Neill's 1918 play "The Rope." The distinguished cast under her direction included Jose Ferrer, Elizabeth Ashley, and Brad Davis.
After that, it was, assumedly, into retirement for Lela Swift, no doubt to spend time with her husband, and growing number of grandchildren, eventually to number a total of five. (Though she did attend at least one "Dark Shadows" convention at one time, taking her place among cast members and fans.)
Lela's husband, Gilbert Schwartz, passed away in 2015, only a few months before Lela's passing in September of that year. Upon her death, various newspapers printed obituaries, recognizing her as the pioneer that she was.
1960's TV Seasons: 1961 / 1964 / ABC 1966 / 1967 / 1968 / 1969 / Fall Previews / Sharon Tate on The Beverly Hillbillies / Dark, Unseen Monkees Pilot / Pistols 'N' Petticoats / Best Episodes of Every 'Lucy Show' Season / How Lee Meriwether Became Catwoman / The Star Trek Spinoff That Didn't Happen / Why Ginger Was Almost Fired From Gilligan's Island / Every Batman (1966) Fight Scene / Whatever Happened to the Beverly Hillbillies' Mansion? / Remembering "Mary Ann" - Dawn Wells Interview / Catching Up With Lucy & Desi's 'Son' / The Ronny Howard Show?!? / Death of Bonanza's Dan Blocker / Broadside / In Defense of Bewitched (and Jeannie) / Sad Ironic Death of Crazy Guggenheim / Larry Mathers (Beaver Cleaver) on the Rumor That He Was Killed in Vietnam / The Monkees / Jimi Hendrix 1967 Tour - The Only Night It Clicked Was In Greensboro! / William Shatner on the Origin of Star Trek / Remembering Newton Minow / The Nurses / The Debbie Reynolds Show / The Riddler Was Batman's First TV Super-Villain / Betty Lynn aka Thelma Lou / Remembering The Rifleman's Johnny Crawford / Clu Gulager Obituary / Leonard Nimoy on NBC Hating Spock / Sinatra Wanted To Play Joker on Batman? Yes! / Directing the Batman Pilot / Elinor Donahue on The Andy Griffith Show / Lucy After Ricky / Robert Clary on His Hogan's Heroes Co-stars / Jeopardy! in the 60s & 70s / Stunts Gone Wrong on The Wild Wild West / Whatever Happened To Lost In Space's Guy Williams? / Best of Julie Newmar Catwoman Season 2 / The New People / Dark Shadows Director Lela Swift / Pioneer Newswoman Lisa Howard / The Jim Nabors Hour / The UN Goes to the Movies / Stories About Filming Batman from Burt Ward / Life With Linkletter / The Green Hornet / Best of The Joker / 1961 CBS Fall Season / Bette Davis TV show: The Decorator / The Hathaways / He & She / Eartha Kitt as Catwoman / The Good Guys / James Drury of The Virginian / The Ron Hicklin Singers / Man From U.N.C.L.E. on DVD / Behind the Scenes at The Andy Griffith Show / Pat Buttram & Green Acres / TV's Tarzan / Grocery Shopping in 1962 / Carol Channing on TV / 1960's Nightclub Comic Rusty Warren / Johnny Carson Tonight Show 1964 / That Girl / The Amazing Randi / TV's Greatest Car Stars / Best of Batgirl 1967-68 / TV Shows to Movies / Batman Season 2 / Supermarionation / The Virginian's Clu Gulager / Cast Changes on Bewitched and Green Acres / Sammy Davis Jr. Show / Sunday Morning Cartoons / Naked City / Joe E. Ross / Alan Young Interview / Sherwood Schwartz Interview / Walter Cronkite Moon Landing / The Farmer's Daughter / Petula-Clark /