Leonard Nimoy on Mr. Spock on Star Trek
- And How NBC Hated the Character
by Billy Ingram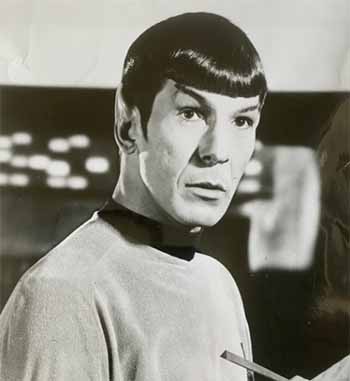 Here is raw footage of an interview conducted by John Blackstone for CBS Sunday Morning in 2005 with Leonard Nimoy talking about his iconic character Mr. Spock from Star Trek.
Nimoy was cast in the second Star Trek pilot. As for the first, "Somebody else," Nimoy says, "A lady was second in command and Jeffrey Hunter was the captain, and then Bill [Shatner] came on as the captain. Then suddenly to my pleasant surprise, and everybody else's surprise, Spock."
Getting cast on a network series was a big breakthrough for Leonard Nimoy. "It was a gigantic blessing," he says. "I had a dressing room with my name on it, [written] in something other than chalk. I thought, 'Really, wow! Found a home!' Then I never had to worry about work after that. Never had to worry about work since. Never. Never, never, never worried if I was going to work or could make a living."
The network hated Spock, they believed he looked demonic and Americans would never embrace such a character. In ads for the show, Spock's ears were airbrushed over to look normal.
"The network didn't even want Spock on the show," Nimoy recalls. "The network said, 'We are very dependent on the numbers in the Bible belt, and they will not accept in their homes, a character who looks devilish with the pointed ears. So get rid of the pointed ears, or get rid of the character.' This was the network attitude. I was in jeopardy, my character was in jeopardy the very beginning.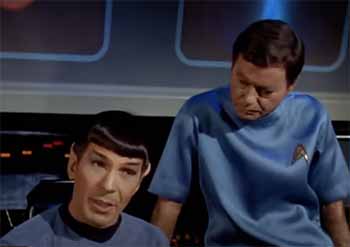 When the series began airing, Mr. Spock was a titular character, meant to be more of a supporting player. After the show had been on the air a few weeks the network was getting so much mail for Spock that they changed their tune.
"Then the dictum came down from NBC. 'Oh, give us more of that guy, they love that guy.' Well, that can be a problem for the leading man who was hired as the star of the show. And I understood that. Bill was hired as the star of the show and suddenly here's this guy with ears. What's this? My part was growing. My time on camera was growing. I can understand that there was a challenge going on with the chemistry suddenly, but at the same time that chemistry was working. We found a way, and particularly with DeForest Kelley in the mix, there was a wonderful chemistry working."
The series was cancelled in 1969 after three seasons on NBC. "By the time we'd finished the third season," Nimoy says, "I was anxious to be finished because the first season we were adrift, the scripts were not good. The stories were not good. We had occasionally a decent script, but we had a lot of clinkers in the third season. We hit our best stride halfway through the first season, and all the way through the second season. By the third season, we had a change of management, change of writers and we weren't doing so well."
The series never enjoyed high ratings in primetime but took off in popularity in syndication a few years cancellation. "Then the conventions started. But for 11 years, we were in this strange kind of no man's land where we were all about Star Trek, but there was no Star Trek production."
The first convention was held in New York. "I wrote back," Nimoy says. "And I said, 'I might be in New York at the time, and if I am, I'll drop in.' It was one of those things, I thought, 'How charming, a bunch of Star Trek fans are going to get together and talk to each other about Star Trek and we'll do some tapes or something.' On the day I called them and I said, 'Where are you? Where should I come to?' And they said, 'Well, meet us by the freight reception and they will bring you in.' And I'm, 'Why can't we walk in the front door?'"
Nimoy encountered 3000 rabid fans waiting. "They wouldn't stop screaming. Then a few weeks later we were in Chicago. There was a convention that was scheduled to be three days. The hotel said they could accommodate 10,000 people a day. So they sold 30,000 tickets. So Friday, Saturday and Sunday. On Saturday, 20,000 people showed up and they had to shut down. The fire department came. It became a news story. The news people were carrying the story about what was happening with Star Trek."
There's more, watch the raw footage from this interview:
Spock - McCoy banter and friendship