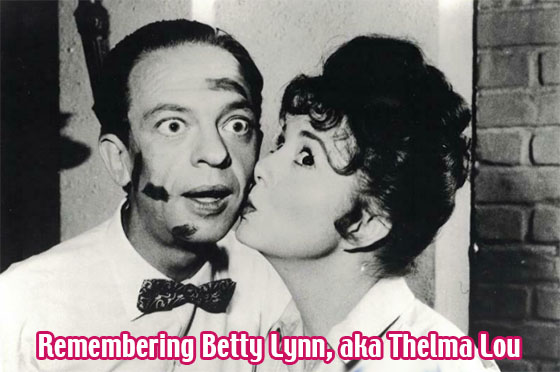 by Jim Longworth


No doubt Andy Griffith is Mt. Airy's most famous native son. Afterall, he created "The Andy Griffith Show", a TV series set in a fictional version of his hometown, which has aired continuously since 1960. Andy is also revered in Mt. Airy because when NAFTA all but killed the furniture and textile industries there, the town fathers parlayed the popularity of Andy's iconic television show into a life-imitating-art tourism destination. There are Mayberry-themed shops and diners along Main street. There's a life-like statue of Andy and Opie adorning the grounds of the Andy Griffith Playhouse and museum. And, every year the Mayberry Days festival attracts fans from all over the world. Yet for all that his namesake has done for Mt. Airy, Andy himself was never a hands-on cheerleader for his hometown. He never attended a single Mayberry Days festival, and rarely returned to Surry County for public events. Instead, the title of Mt. Airy's cultural ambassador belongs to Betty Lynn, an unassuming actress who played Thelma Lou, the girlfriend of Sheriff Andy's Deputy Barney Fife.

Born in Kansas City Missouri, Betty Lynn followed in her mother's footsteps and pursued a career in show business, first by traveling with a USO tour, then landing supporting roles on Broadway. The entire country finally got their first look at Betty in 1948 when she had a small role in the film "Sitting Pretty", and, after that, more movie appearances followed. She also found regular work in episodic television before being cast as Thelma Lou, a character who came to symbolize the ideal girlfriend for every knuckle-headed guy in America.

Over the years, Betty had visited Mt. Airy several times, and had fallen in love with the town and its people. So, after her house in Los Angeles kept getting burglarized, she relocated to the town that inspired Thelma Lou's Mayberry.
That was in 2007, and ever since, she has given of her time and talents to promote the TV show and her adopted hometown. That commitment included attending every Mayberry Days Festival, and appearing once a week at the Andy Griffith Museum where she signed autographs for adoring fans. Mt. Airy's ambassador continued to give of herself until illness and old age would no longer permit it. Betty Lynn passed away on October 16. She was 95 years old.

I first met Betty in 2008 when she enthusiastically agreed to appear on my "Triad Today" show (video available at www.jimlongworth.com ). Here are a few highlights of our conversation:

JL: Some folks think that your career began with "The Andy Griffith Show", but you were already a seasoned actress before that, both on stage and in film.

BL: That's right. 20th Century Fox brought me out from a show I did on Broadway. They tested me in New York on 8th avenue.

JL: I was tested once on 8th avenue, but that's another story.

BL: (laughs) So that's how I came out to California.

JL: How did you land the job as Thelma Lou?

BL: By then it was 1961, and I was under contract to Walt Disney studios, doing a series called, "Texas John Slaughter", a western with Tom Tryon. While we were on hiatus, I got a call from the casting director, and she wanted me to come and read for a part on "The Andy Griffith Show". Well, I had only seen the show twice before, and I was so impressed. I laughed out loud watching it, and I was all alone in the house. And I thought, "Oh my gosh, this is a funny show. They are really good." So, I went in and I read for Bob Sweeney the director and Aaron Ruben the producer, and when I finished they said, "We'd love to have you do this role". And I said, "Well I'd love to, but I'm under contract with Walt Disney," but in the meantime Disney dropped our show.

Disney's loss was Mayberry's gain, yet Betty confessed that she never had a contract with the Griffith show, and instead just kept getting called back as a recurring character. Her portrayal of Thelma Lou was so beloved and memorable, however, that it seemed as though she was in our living rooms every week. In truth Betty Lynn only appeared in 26 episodes, but for the next 60 years, she embraced that iconic role and used it to help promote America's favorite fictional town, and the real town that inspired it.

Thelma Lou and Barney finally got married in 1986 on "Return to Mayberry", a highly rated TV reunion movie, but in real life, Betty Lynn never tied the knot. Nevertheless, she was blessed with a huge family of fans and friends who adored her. At the end of our interview I said, "I hope you don't mind when I slip and call you Thelma Lou." Betty leaned over, kissed me on the cheek and said, "Oh no. I love Thelma Lou". So do we, Betty. Rest in peace my friend.
1960's TV Seasons: 1961 / 1964 / ABC 1966 / 1967 / 1968 / 1969 / Fall Previews / Sharon Tate on The Beverly Hillbillies / Dark, Unseen Monkees Pilot / Pistols 'N' Petticoats / Best Episodes of Every 'Lucy Show' Season / How Lee Meriwether Became Catwoman / The Star Trek Spinoff That Didn't Happen / Why Ginger Was Almost Fired From Gilligan's Island / Every Batman (1966) Fight Scene / Whatever Happened to the Beverly Hillbillies' Mansion? / Remembering "Mary Ann" - Dawn Wells Interview / The Ronny Howard Show?!? / Death of Bonanza's Dan Blocker / Broadside / The Monkees / Jimi Hendrix 1967 Tour - The Only Night It Clicked Was In Greensboro! / William Shatner on the Origin of Star Trek / The Nurses / The Riddler Was Batman's First TV Super-Villain / Betty Lynn aka Thelma Lou / Remembering The Rifleman's Johnny Crawford / Clu Gulager Obituary / Leonard Nimoy on NBC Hating Spock / Sinatra Wanted To Play Joker on Batman? Yes! / Directing the Batman Pilot / Elinor Donahue on The Andy Griffith Show / Lucy After Ricky / Robert Clary on His Hogan's Heroes Co-stars / Jeopardy! in the 60s & 70s / Stunts Gone Wrong on The Wild Wild West / Whatever Happened To Lost In Space's Guy Williams? / Best of Julie Newmar Catwoman Season 2 / The New People / Dark Shadows Director Lela Swift / Pioneer Newswoman Lisa Howard / The Jim Nabors Hour / The UN Goes to the Movies / Stories About Filming Batman from Burt Ward / Life With Linkletter / The Green Hornet / Best of The Joker / Matt Weiner Interview / Lost in Space: Mark Goddard Interview / 1961 CBS Fall Season / Bette Davis TV show: The Decorator / The Hathaways / He & She / Eartha Kitt as Catwoman / The Good Guys / James Drury of The Virginian / The Ron Hicklin Singers / Man From U.N.C.L.E. on DVD / Behind the Scenes at The Andy Griffith Show / Pat Buttram & Green Acres / Remembering Clint Walker / Cheyenne / Camp Runamuck / Gilligan's Mary Ann - Dawn Wells / 1960's Nightclub Comic Rusty Warren / Johnny Carson Tonight Show 1964 / That Girl / The Amazing Randi / TV's Greatest Car Stars / Best of Batgirl 1967-68 / TV Shows to Movies / Batman Season 2 / Supermarionation / The Virginian's Clu Gulager / William Windom / New Bewitched Book / Court Martial / Cast Changes on Bewitched and Green Acres / Sammy Davis Jr. Show / Sunday Morning Cartoons / Naked City / Joe E. Ross / Alan Young Interview / Sherwood Schwartz Interview / Walter Cronkite Moon Landing / The Farmer's Daughter / Petula-Clark /