Jeopardy! In The 60s and 70s
by Billy Ingram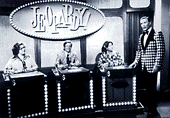 Let me tell you a story about Jeopardy!...
I watched Jeopardy! with host Art Fleming as a kid in the late-60s / early-70s, it came on at noon on NBC when there wasn't really anything of interest on the other 2 channels.
I wasn't a big fan, the questions were really hard - I was 7 years old when the game show debuted in 1964 - even more difficult than today because people overall were more educated in the classical sense decades ago.
I remember watching the final episode in 1975 and thinking, 'This is the end of an era.' Jeopardy had always been on at noon for as long as I could remember; that jaunty theme song and Don Pardo's voiceover signaled high noon for me during the summers, like church bells chiming the hour.
Jeopardy! at 12:00 was like a national habit, a perfect timeslot for housewives on a break or students eating lunch.
I was attending high school when NBC switched the game from noon to 10:30 a.m. on January 7, 1974, to go up against CBS' hit show The $10,000 Pyramid. Away from that noon time slot, where the show was consistently doing well in the ratings, it didn't stand a chance and was canceled within a few months.
In the fall of 1978, NBC revived the game as The All-New Jeopardy!, returning to that 10:30 a.m. time slot (with even less success) before moving back to noon once again. The series was canceled within a few weeks. The public was drawn to more exciting daytime games like Pyramid, Match Game, and The Price Is Right.
Flash forward to 1984. I was attending a Hollywood cocktail party where I got into a conversation with a TV producer who worked for King World Productions. He told me they were developing a new version of Jeopardy! and I asked, "You're getting Art Fleming to come back as host?" Fleming was the original, one and only host of Jeopardy at that point.
He said no, they planned for this new syndicated version to run for many years, a younger guy was needed so they were going with Alex Trebek (High Rollers). I told him I thought it would never work, that Jeopardy! and Art Fleming were as one in the American psyche.
Just goes to show you how wrong a guy can be! Jeopardy with Alex Trebek remains one of the longest-running, most profitable game shows in TV history and holds the record as the most honored program in that Emmy award category. Doh!
In the mid-1990s, folks in the know told me that NBC had erased Jeopardy!'s 2,753 episodes, all but one. Fortunately, since then, collectors have come forward with a few 1970s shows they taped or somehow came into possession of. Including the final episode. Enjoy!
- - - -
Jeopardy!'s 2000th episode in 1972 with the 3 highest money winners in the show's history competing. Fleming states here that Jeopardy!'s audience was mostly female and almost 2 times as many women appeared on the show compared to men.
1974 episode of Jeopardy! with Art Fleming.
Last episode of the original run of Jeopardy!.
Jeopardy! 1984 pilot opening - note they (basically) brought over the original theme song ('Take Ten' by Julann Griffin, Merv's wife) and also the music written by Merv Griffin that played during the 30-second Final Jeopardy answer period.
1960's TV Seasons: 1961 / 1964 / ABC 1966 / 1967 / 1968 / 1969 / Fall Previews / Sharon Tate on The Beverly Hillbillies / Dark, Unseen Monkees Pilot / Pistols 'N' Petticoats / Best Episodes of Every 'Lucy Show' Season / How Lee Meriwether Became Catwoman / The Star Trek Spinoff That Didn't Happen / Why Ginger Was Almost Fired From Gilligan's Island / Every Batman (1966) Fight Scene / Whatever Happened to the Beverly Hillbillies' Mansion? / Remembering "Mary Ann" - Dawn Wells Interview / Catching Up With Lucy & Desi's 'Son' / The Ronny Howard Show?!? / Death of Bonanza's Dan Blocker / Broadside / In Defense of Bewitched (and Jeannie) / Sad Ironic Death of Crazy Guggenheim / Larry Mathers (Beaver Cleaver) on the Rumor That He Was Killed in Vietnam / The Monkees / Jimi Hendrix 1967 Tour - The Only Night It Clicked Was In Greensboro! / William Shatner on the Origin of Star Trek / Remembering Newton Minow / The Nurses / The Debbie Reynolds Show / The Riddler Was Batman's First TV Super-Villain / Betty Lynn aka Thelma Lou / Remembering The Rifleman's Johnny Crawford / Clu Gulager Obituary / Leonard Nimoy on NBC Hating Spock / Sinatra Wanted To Play Joker on Batman? Yes! / Directing the Batman Pilot / Elinor Donahue on The Andy Griffith Show / Lucy After Ricky / Robert Clary on His Hogan's Heroes Co-stars / Jeopardy! in the 60s & 70s / Stunts Gone Wrong on The Wild Wild West / Whatever Happened To Lost In Space's Guy Williams? / Best of Julie Newmar Catwoman Season 2 / The New People / Dark Shadows Director Lela Swift / Pioneer Newswoman Lisa Howard / The Jim Nabors Hour / The UN Goes to the Movies / Stories About Filming Batman from Burt Ward / Life With Linkletter / The Green Hornet / Best of The Joker / Matt Weiner Interview / Lost in Space: Mark Goddard Interview / 1961 CBS Fall Season / Bette Davis TV show: The Decorator / The Hathaways / He & She / Eartha Kitt as Catwoman / The Good Guys / James Drury of The Virginian / The Ron Hicklin Singers / Man From U.N.C.L.E. on DVD / Behind the Scenes at The Andy Griffith Show / Pat Buttram & Green Acres / TV's Tarzan / Grocery Shopping in 1962 / Carol Channing on TV / 1960's Nightclub Comic Rusty Warren / Johnny Carson Tonight Show 1964 / That Girl / The Amazing Randi / TV's Greatest Car Stars / Best of Batgirl 1967-68 / TV Shows to Movies / Batman Season 2 / Supermarionation / The Virginian's Clu Gulager / William Windom / New Bewitched Book / Court Martial / Cast Changes on Bewitched and Green Acres / Sammy Davis Jr. Show / Sunday Morning Cartoons / Naked City / Joe E. Ross / Alan Young Interview / Sherwood Schwartz Interview / Walter Cronkite Moon Landing / The Farmer's Daughter / Petula-Clark /