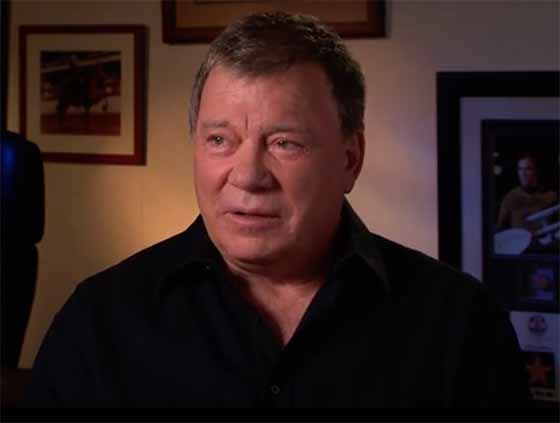 William Shatner on the Origin of Star Trek
by Billy Ingram
Star Trek is a true TV phenomenon not just because of the three years it died on NBC in primetime but the tremendous success the series enjoyed in syndication in the mid-1970s. The industry had never seen anything like that before.
Star Trek conventions led to a blockbuster movie franchise that continues to thrive today, albeit with a different cast. But how did William Shatner land the role of Captain Kirk? His career in 1966, when the show went into production, was d-e-a-d.
Prior to Star Trek, Shatner filmed a pilot for a period drama in 1964 as the lead in Alexander the Great alongside Adam West as Cleander. The series never materialized but the pilot was shown in primetime as a TV movie in 1968 after Shatner and West became major television stars.
In this 2017 interview with the Television Academy Foundation, Shatner talks about the earliest days of this seminal sci-fi classic.
"I remember when I saw the pilot that they had made and it was wonderful," William Shatner said of the first network presentation that he wasn't involved in. "A wondrous pilot, wondrous story, magical and so entertaining the pilot with Jeffrey Hunter, that I thought, wow. I had done a pilot the year before on Alexander the Great in which we ran around in little skirts and rode horses in the desert. And that looked like it was going to go and then it failed and didn't sell. So when this pilot came up, I thought, I don't think I have many more chances here. And I got to choose very carefully and this just appealed to me. And so I was caught up in the magic of Star Trek."
Once the series was picked up by NBC the shooting schedule was hectic. "But my actor's instinct was to feel," Shatner said. "To make palpable the things that were written. And since we had no rehearsal and you'd get the scenes, or sometimes you'd get the whole play [script], the whole hour in your hand at one time, but frequently you didn't as the season progressed and as the years went by. They were coming in, the plays were coming in later and later. So sometimes you'd go in with just a scene. What do you play? So you try and do everything, you try and make the words count because you don't quite know what the story is, or you can't quite remember the words. 10 pages a day, and then at lunch hour publicity, and then at night, something else going on, it's a harrowing thing. And the Kirk character had to speak a lot of words."
Indeed, as Captain Kirk he was in practically every scene, often not knowing what the scene was about. "So it was the actor's instinct to try and make the moments," Shatner said. "And again, if you had to do it over again, what would I be different, I don't know. No, you never film, you don't do a film in sequence because of cost. And so scenes are laid in to give you a day's work in one or two locations. One location if you have to go someplace and maybe two, three locations if they're built on the stage.
"So you're essentially not going on location, but in order to amortize the cost of shooting, the drama is written into certain locales. So a scene will return to a locale to fill out the day, even though you'd rather, it doesn't logically necessarily, it doesn't necessarily have to be there. It may strain logic to be placed in an office, but the office has only got one scene in it."
When asked what Gene Roddenberry's role in the day to day operation Shatner replied, "In the beginning Gene was very hands-on. It's Gene Roddenberry's creation no question about that. People added to it, and after the first 13 shows more people added more to it, but he set it in motion. He cast it, he got the talents, he hired the talents, and had the concepts. That was his, it was his."
His reaction to the first completed Star Trek episode? "I thought it was really good. I liked the first episode. I thought it was good drama. I know that we got knocked about a bit in some of the trades, but I think generally it was received all right. There was nothing to… nothing bad about it."
Asked if it took a season or two to 'getting into' or inhabiting the role he played. "No, I don't think in those terms" he said. "I had been conditioned to do a play a week, and getting the next job and being an actor… a working actor. And so I was working. I never felt that my big, I'd had so many big breaks, this is your big break. I never knew what that meant. Really? What's going to happen? Generally, nothing happened or the same thing happened, or life went on. I mean, I just, I began to realize there was no big break."
Was there any sense of vindication at having the leading role in a network TV series Shatner replied, "The fact that income was coming in on a steady basis, certainly appeased my father. I began now, not to think so much of going back to Montreal as going back to Toronto if everything else failed. I just didn't think in terms of playing the lead in a series, I was working. And, but as the years went by and the 14, 16, 18 hour days went by, my marriage began to break up and that was very painful. And so by the end of the series, I had reached the end of my marriage."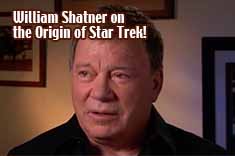 William Shatner on the Origin of Star Trek
DID YOU KNOW:
Richard Dawson has stated that Shatner was Mark Goodson's first choice to host the Family Feud pilot in 1976, at the height of Star Trek's success in syndication.