Jim Nabors Left the Number One Sitcom on TV for This?
by Billy Ingram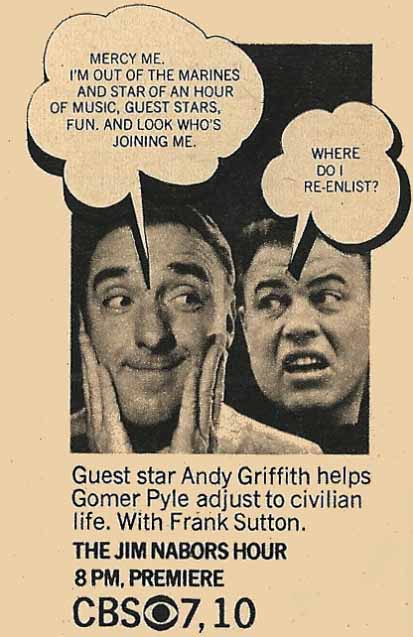 In 1969, Jim Nabors was the star of the top-rated sitcom in America, Gomer Pyle U.S.M.C, number 2 for the season behind Rowan & Martin's Laugh-in. He was bored after 5 seasons playing the bumbling Marine who never made it past Private First Class. That year he informed CBS that he would not return as Gomer Pyle, he wanted a variety show in a similar format to The Carol Burnett Show.
The network was not pleased. Gomer could easily run another 4 years with the ratings and viewer loyalty the program was garnering. They knew, and were correct, that a Jim Nabors variety hour would take a huge hit in the ratings but they also knew if Nabors left CBS he'd end up on ABC or NBC with the variety show he wanted so what could they do?
It was a smart premiere episode, with an opening number that explains how 'Gomer Pyle' is now a musical-variety star, bringing along with him two castmates from the sitcom, Frank Sutton and Ronnie Schell. The special guest was Andy Griffith, on who's show Nabors became a superstar. Even Don Knotts makes a cameo appearance.
Airing during the late-1960, the Nabors show had their choice of amazing Hollywood actors and musical artists including: Kate Smith, Carol Burnett, Glen Campbell, Barbara McNair, Tennessee Ernie Ford, Rock Hudson (rumor was Hudson and Nabors had been lovers at some point), Vicki Carr, Don Rickles, Anthony Newley during season one; Gary Puckett, Ricky Nelson, Totie Fields, Jane Wyman, Shirley Jones, Johnny and June Cash and to hers during season two.
The Jim Nabors Hour did quite well considering, finishing the season at #12; ratings for season 2 were consistently in the top 30 and would have led to automatic renewal (Carol Burnett was at #25) but the series was cancelled when CBS purged all of their 'rural' shows - anything with a tree or a Southern accent basically - regardless of ratings.

Existing episodes of The Jim Nabors Hour are very rare, here's the first 15 minutes of that first episode, sponsored by Marlboro. Notice the gay jokes, Nabors and Sutton were both gay despite Frank Sutton's gruff exterior on screen (apparently he was a pussycat in real life).
Portion of an episode of The Jim Nabors Hour with guests The Jackson 5:
Portion of a comedy segment from the first episode of The Jim Nabors Hour with guest Andy Griffith and a cameo by Don Knotts shot on the Mayberry courthouse set (the Nabor's show was broadcast in color despite this B&W clip):
DID YOU KNOW: In the pilot episode of Gomer Pyle U.S.M.C, broadcast as an episode of The Andy Griffith Show, Andy Taylor meets Sgt. Carter and convinces him Gomer is related to Gen. Pyle. But in episode 2.26 Opie runs away to join the Marines, when Andy arrives to retrieve him neither he nor Sgt. Carter remember they'd met before.