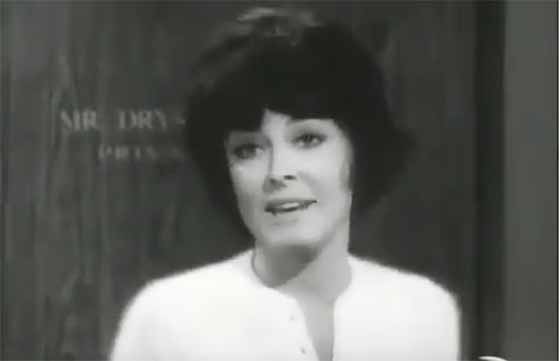 Sharon Tate on The Beverly Hillbillies
Did you know Sharon Tate was a semi-regular on The Beverly Hillbillies beginning in the second season, in a black wig playing Janet Trego, an employee of the Commerce Bank where the Clampetts kept their millions?
Her first guest star role was as 'Sharon' in the episode "Elly Starts To School", the fourth episode of the second season. Thereafter she would return to portray Mr. Drysdale's minion Janet.
"The Possum Parade," (episode # 4.6) 10/20/1965
"Possum Day" (episode # 4.5) 10/13/1965
"Clampetts vs. Automation, The" (episode # 3.30) 5/12/1965
"Double Naught Jethro" (episode # 3.21) 3/3/1965
"Dash Riprock, You Cad" (episode # 3.17) 1/27/1965
"Back To Marineland" (episode # 3.7) 11/4/1964
"The Giant Jackrabbit" (episode # 2.16) 1/8/1964
"The Clampetts Get Culture" (episode # 2.13) 12/18/1963
"Elly Needs A Maw" (episode # 2.12) 12/11/1963
"The Garden Party" (episode # 2.11) 12/4/1963
"The Clampetts Go Hollywood" (episode # 2.9) 11/20/1963
"The Clampetts Are Overdrawn" (episode # 2.8) 11/13/1963
"Chickadee Returns" (episode # 2.7) 11/6/1963
"Jethro's First Love" (episode # 2.6) 10/30/1963
Her final appearance was on another very funny episode entitled "Possum Parade" (episode # 4.6) airing 10/20/1965. Max Baer (Jethro) hinted on a talk show in the 1980s that he had dated Sharon Tate on a couple of occasions.
Sharon Tate and four others were murdered by members of the Manson Family on August 9, 1969, in a home she shared with her husband, director Roman Polanski. At the time of her death, she was eight-and-a-half months pregnant with the couple's son.

---
1960's TV Seasons: 1961 / 1964 / ABC 1966 / 1967 / 1968 / 1969 / Fall Previews / Sharon Tate on The Beverly Hillbillies / Dark, Unseen Monkees Pilot / Pistols 'N' Petticoats / Best Episodes of Every 'Lucy Show' Season / How Lee Meriwether Became Catwoman / The Star Trek Spinoff That Didn't Happen / Why Ginger Was Almost Fired From Gilligan's Island / Every Batman (1966) Fight Scene / Whatever Happened to the Beverly Hillbillies' Mansion? / Remembering "Mary Ann" - Dawn Wells Interview / Catching Up With Lucy & Desi's 'Son' / The Ronny Howard Show?!? / Death of Bonanza's Dan Blocker / Broadside / In Defense of Bewitched (and Jeannie) / Sad Ironic Death of Crazy Guggenheim / Larry Mathers (Beaver Cleaver) on the Rumor That He Was Killed in Vietnam / The Monkees / Jimi Hendrix 1967 Tour - The Only Night It Clicked Was In Greensboro! / William Shatner on the Origin of Star Trek / Remembering Newton Minow / The Nurses / The Debbie Reynolds Show / The Riddler Was Batman's First TV Super-Villain / Betty Lynn aka Thelma Lou / Remembering The Rifleman's Johnny Crawford / Clu Gulager Obituary / Leonard Nimoy on NBC Hating Spock / Sinatra Wanted To Play Joker on Batman? Yes! / Directing the Batman Pilot / Elinor Donahue on The Andy Griffith Show / Lucy After Ricky / Robert Clary on His Hogan's Heroes Co-stars / Jeopardy! in the 60s & 70s / Stunts Gone Wrong on The Wild Wild West / Whatever Happened To Lost In Space's Guy Williams? / Best of Julie Newmar Catwoman Season 2 / The New People / Dark Shadows Director Lela Swift / Pioneer Newswoman Lisa Howard / The Jim Nabors Hour / The UN Goes to the Movies / Stories About Filming Batman from Burt Ward / Life With Linkletter / The Green Hornet / Best of The Joker / 1961 CBS Fall Season / Bette Davis TV show: The Decorator / The Hathaways / He & She / Eartha Kitt as Catwoman / The Good Guys / James Drury of The Virginian / The Ron Hicklin Singers / Man From U.N.C.L.E. on DVD / Behind the Scenes at The Andy Griffith Show / Pat Buttram & Green Acres / TV's Tarzan / Grocery Shopping in 1962 / Carol Channing on TV / 1960's Nightclub Comic Rusty Warren / Johnny Carson Tonight Show 1964 / That Girl / The Amazing Randi / TV's Greatest Car Stars / Best of Batgirl 1967-68 / TV Shows to Movies / Batman Season 2 / Supermarionation / The Virginian's Clu Gulager / Cast Changes on Bewitched and Green Acres / Sammy Davis Jr. Show / Sunday Morning Cartoons / Naked City / Joe E. Ross / Alan Young Interview / Sherwood Schwartz Interview / Walter Cronkite Moon Landing / The Farmer's Daughter / Petula-Clark /
---