The Good Guys
by Billy Ingram

GOOD GUYS FINISH LAST
There was a 2010 show on Fox called The Good Guys about a couple of mismatched cops.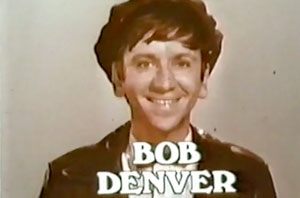 Boomers may remember a sitcom by the same name that aired back in 1968, starring Bob Denver as a cabbie with Herb Edelman as his best friend, the owner of a diner.
The Good Guys was Bob Denver's follow up to CBS' very popular sitcom Gilligan's Island. He'd learned a hard lesson - after witnessing the unprecedented popularity Gilligan had in syndication, which benefited him not one bit, Denver insisted on - and got - an ownership stake in his next series.
The Good Guys Let 'Em Eat Rolls (pilot episode) BOB DENVER sitcom William Daniels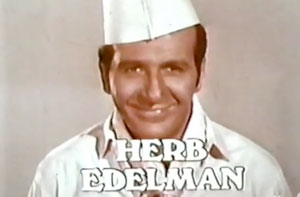 I never thought The Good Guys worked particularly well, mostly because Herb Edelman just wasn't a naturally funny guy. Not the way, say, Alan Hale Jr. was. The chemistry between the co-stars on The Good Guys just wasn't there, Edelman's stiff demeanor couldn't help but drag the proceedings to a halt.
In a nod to continuity, I guess, Alan Hale, Jr. appeared in several episodes, including one of the very first where he called Denver's character "little buddy."
(Really - have you ever seen a more awful looking series opening?)
Like Gilligan, The Good Guys relied on slapstick and broad humor but the production had a more theatrical feel to it, at least during the first year under creator / producer Jack Rose (writer of Road to Rio starring Bob Hope).
With a screen and playwright at the helm and Mel Tolkin (Your Show of Shows) in place as the story editor, this production felt more mature than you would expect, more like The Mary Tyler Moore Show than Bewitched. Denver had a chance to mute his over-the-top characterizations seen on previous shows, at least somewhat. (It looked like it was shot before a live audience but the laugh track was obviously sweetened.)
No doubt the network realized the series was off-kilter but ultimately believed in Bob Denver's appeal. For the second and final season Bob Denver's character became a partner in the diner, now relocated to the beach (gee, wonder why?). Now that Denver was back on the sandy shore, Alan Hale, Jr. returned with more frequency and Jim Backus turned up as well for even more Gilligan-esque appeal.
New producers were brought in, Bob Weiskopf and Bob Shiller, both I Love Lucy vets. The show took on a flat, traditional sitcom look and it didn't help one bit. CBS yanked the show mid-season.
Denver lamented in later years that The Good Guys didn't attain the level of success Gilligan's Island did since he had a vested interest in one over the other. Gilligan has continued to be shown non-stop since it first aired but The Good Guys had very little syndication appeal.
But how could it have sailed? Everything, from the seriously lame theme song to the unfortunate casting, felt second rate even to this pre-teen in the sixties starved for mindless entertainment.
Speaking of which Denver and most of his cast mates returned for The New Adventures of Gilligan, an animated series on CBS Saturday mornings in 1974.