'TVparty is hands down the best site on the Web for classic TV.'
- Discovery Channel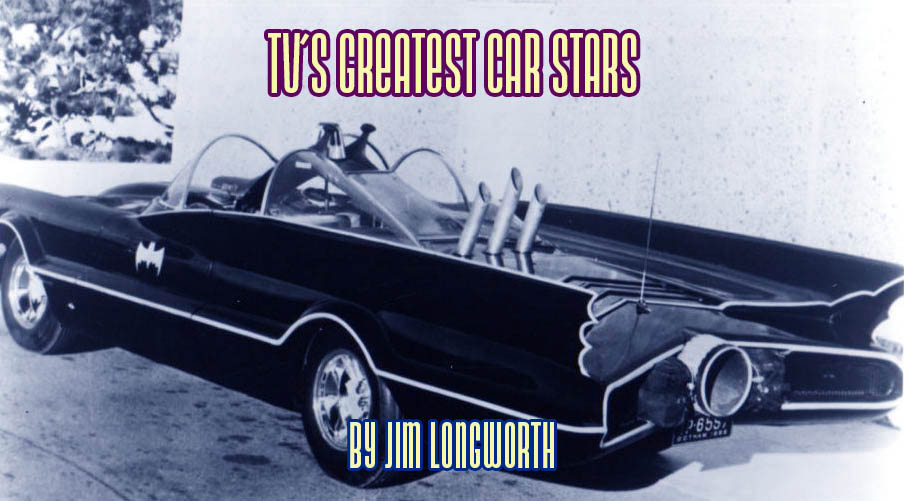 Some television shows just wouldn't be the same without their signature cars. Imagine Batman riding the subway to get to Commissioner Gordon's office, or Thomas Magnum impressing the ladies with his red bicycle. Here, then, is a run-down on some of TV's most famous cars, beginning with two which had a voice of their own.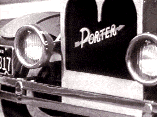 My Mother the Car (NBC, 1965-66) Universally panned as the worst TV show ever, the star of this sitcom was a 1928 Porter (actually a 1924 Model T) which was the embodiment of a re-inCARnated Ann Sothern, who played the mother of hapless Jerry Van Dyke. The maternal car was designed by actor Norm Grabowski.
Knight Rider (NBC, 1982-86) David Hasselhoff might have been the title character, but it was his hi-tech Pontiac Firebird Trans Am, named "KITT" that stole the show. In addition to being able to drive itself, KITT also talked, with a voice supplied by William Daniels, who was starring in St. Elsewhere at the time. Ironically Bill had also been interviewed for the male lead in My Mother the Car, but his voice left the producer, "so depressed that he almost dropped the idea of doing the show" (from Daniels' book, There I Go Again).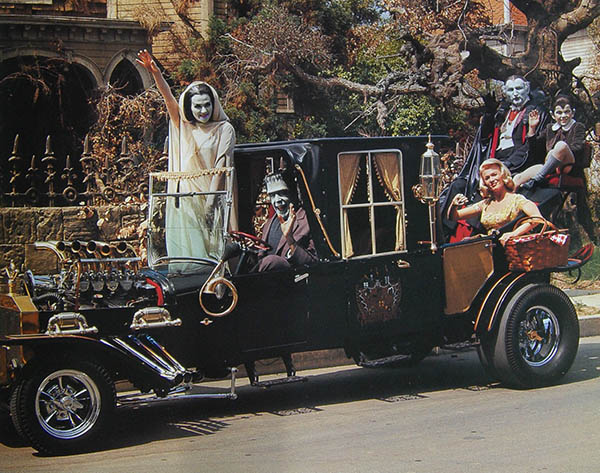 The Munsters (CBS, 1964-66) This spooky comedy featured not one, but two tricked-out cars, both designed by George Barris who also created memorable vehicles for The Beverly Hillbillies, Batman, and Knight Rider. In The Munsters, Herman drove a "Koach" that was made from three Model T bodies, while Grandpa buzzed around in the "Dragula" hot rod, whose body (pardon the expression) was a coffin. Butch Patrick, who played Eddie Munster, told me recently he was never allowed to drive the cars until he returned to Universal Studios as an adult, and got behind the wheel of the Koach, not realizing that the tires had very little air pressure and no screws holding them to the beam. "I goosed it, and the back two tires came off," he laughs.
The Dukes of Hazzard (CBS, 1979-85) Duke cousins Bo and Luke were famous for climbing in and out of their 1969 Dodge Charger (they had to because the doors were welded shut) and for jumping it over all sorts of obstacles (no wonder they had to make 300 of them over the years). But the General Lee was not an original design for the TV series. It first appeared in a 1975 Hazzard-like movie titled Moonrunners, and was named Traveller, after R.E. Lee's horse.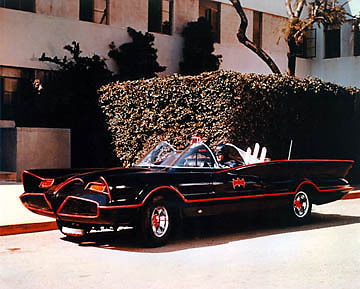 Batman (ABC, 1966-68) Equipped with a Bat Phone, internally mounted rockets, and all sorts of other crime fighting gadgets, this George Barris creation is arguably the most famous TV car of all time. Barris bought a discarded 1955 Ford Lincoln Futura Concept Car for one dollar, and spent about $15,000 to modify it for the Dynamic Duo. He sold the original car in 2013 for $4.6 million dollars, not a bad profit.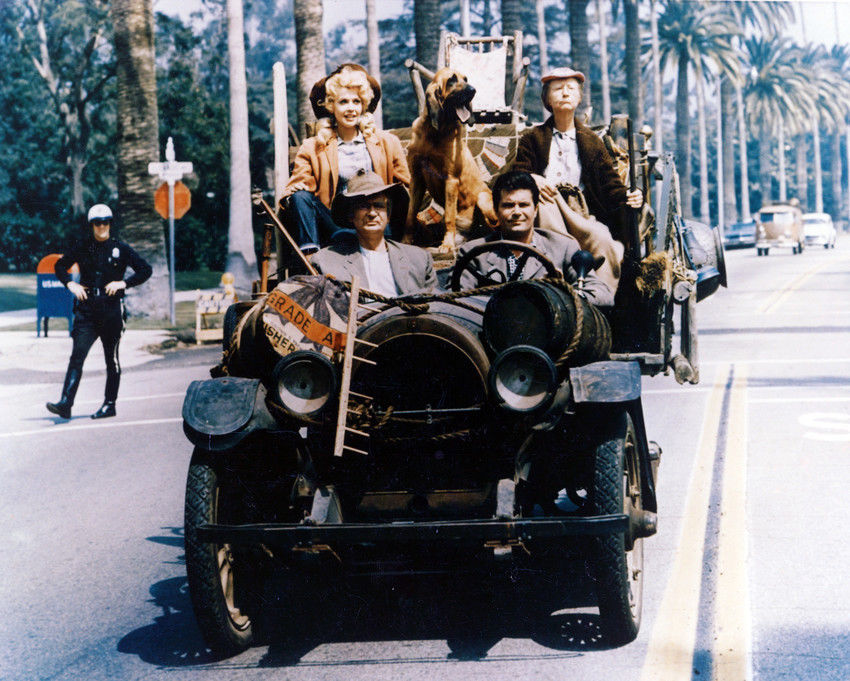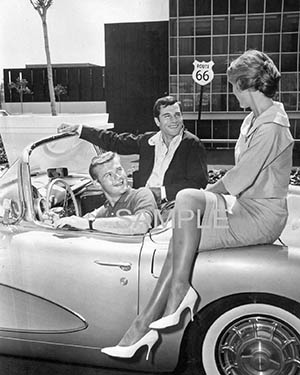 Other memorable TV cars include: The Beverly Hillbillies' 1921 Olds flat bed truck; The Kookie Kar, a 1923 Ford T-Bucket hot rod in 77 Sunset Strip; a 1976 Ford Gran Torino in Starsky & Hutch; a series of Ford Fairlane and Galaxie squad cars in The Andy Griffith Show; Jim Rockford's gold Pontiac Firebird; Thomas Magnum's red Ferrari 308 GTS; Maxwell Smart's 1965 Sunbeam Tiger; the 1961 Chevy Corvette from Route 66; and, Columbo's road-worn 1959 Puegeot 403 Cabriolet. And who can forget the iconic 1957 Chevy touring bus used by The Partridge Family?

Classic television shows are the ones whose characters really move us, and for some of our most iconic TV characters, cars are what really moves them. Here's hoping that we'll always have our stars and their cars.
1960's TV Seasons: 1961 / 1964 / ABC 1966 / 1967 / 1968 / 1969 / Fall Previews / Sharon Tate on The Beverly Hillbillies / Dark, Unseen Monkees Pilot / Pistols 'N' Petticoats / Best Episodes of Every 'Lucy Show' Season / How Lee Meriwether Became Catwoman / The Star Trek Spinoff That Didn't Happen / Why Ginger Was Almost Fired From Gilligan's Island / Every Batman (1966) Fight Scene / Whatever Happened to the Beverly Hillbillies' Mansion? / Remembering "Mary Ann" - Dawn Wells Interview / Catching Up With Lucy & Desi's 'Son' / The Ronny Howard Show?!? / Death of Bonanza's Dan Blocker / Broadside / David McCallum on the Legacy of The Man From U.N.C.L.E. / In Defense of Bewitched (and Jeannie) / Sad Ironic Death of Crazy Guggenheim / Larry Mathers (Beaver Cleaver) on the Rumor That He Was Killed in Vietnam / The Monkees / Jimi Hendrix 1967 Tour - The Only Night It Clicked Was In Greensboro! / William Shatner on the Origin of Star Trek / Brother Dave Garner / Remembering Newton Minow / The Nurses / The Debbie Reynolds Show / The Riddler Was Batman's First TV Super-Villain / Betty Lynn aka Thelma Lou / Remembering The Rifleman's Johnny Crawford / Clu Gulager Obituary / Leonard Nimoy on NBC Hating Spock / Sinatra Wanted To Play Joker on Batman? Yes! / Directing the Batman Pilot / Elinor Donahue on The Andy Griffith Show / Lucy After Ricky / Robert Clary on His Hogan's Heroes Co-stars / Jeopardy! in the 60s & 70s / Stunts Gone Wrong on The Wild Wild West / Whatever Happened To Lost In Space's Guy Williams? / Best of Julie Newmar Catwoman Season 2 / The New People / Dark Shadows Director Lela Swift / Pioneer Newswoman Lisa Howard / The Jim Nabors Hour / The UN Goes to the Movies / Stories About Filming Batman from Burt Ward / Life With Linkletter / The Green Hornet / Best of The Joker / 1961 CBS Fall Season / Bette Davis TV show: The Decorator / The Hathaways / He & She / Eartha Kitt as Catwoman / The Good Guys / James Drury of The Virginian / The Ron Hicklin Singers / Man From U.N.C.L.E. on DVD / Behind the Scenes at The Andy Griffith Show / Pat Buttram & Green Acres / TV's Tarzan / Grocery Shopping in 1962 / Carol Channing on TV / 1960's Nightclub Comic Rusty Warren / Johnny Carson Tonight Show 1964 / That Girl / The Amazing Randi / TV's Greatest Car Stars / Best of Batgirl 1967-68 / TV Shows to Movies / Batman Season 2 / Supermarionation / The Virginian's Clu Gulager / Cast Changes on Bewitched and Green Acres / Sammy Davis Jr. Show / Sunday Morning Cartoons / Naked City / Joe E. Ross / Alan Young Interview / Sherwood Schwartz Interview / Walter Cronkite Moon Landing / The Farmer's Daughter / Petula-Clark /
TV on DVD/ /Holiday Specials on DVD
TV Commercials on DVD
TV Shows on BLU-RAY