All of the Batman (1966) Fight Scenes
The Batman TV series (1966-1968) was a hot campy mess with imaginative villains to confront the Dynamic Duo. The craftiest villains were imported straight from the comic books - The Joker, Penguin, Catwoman, and The Riddler being the best among them. Tried and true colorful characters that had been around since the 1940s.
No matter who the foes were, what kids were crazy about in 1966 were the prolonged fight scenes that appeared in every episode between Batman, Robin, (and later Batgirl), and the villain of the week backed up by their henchmen.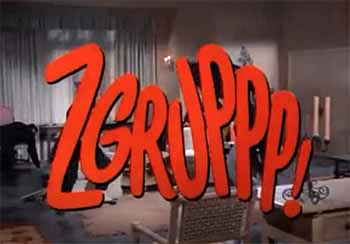 These scenes were so carefully choreographed it took nearly the entire week to film them. Which meant, most of the time, stars Adam West and Burt Ward were only tangentially involved, stunt doubles doing most of the heavy lifting.
Those graphic POWs, CRASHs and BIFFs were originally incorporated into the scene as an overlay but later became title cards, a way to fill valuable moments of time, fight scenes were quite expensive to film so every second counted.
Here's a mashup of every fight scene from the three seasons of Batman:
Batman (1966):Fight Scenes-Season 1 (Pt.1)
Batman (1966): Fight Scenes-Season 1 (Pt.2)
Batman (1966): Fight Scenes-Season 2 (Pt.1)
Batman (1966): Fight Scenes-Season 2 (Pt 2)
Batman (1966): Fight Scenes-Season 2 (Pt.3)
Batman (1966): Fight Scenes-Season 3 (Pt.1)
Batman (1966): Fight Scenes-Season 3 (Pt.2)