The Monkees / Jimi Hendrix 1967 Tour - The Only Night It Clicked Was In Greensboro!
by Billy Ingram
Legendary Dusty Dunn, #1 drive-time deejay in Greensboro, dropped the needle on "Pleasant Valley Sunday" for the very first time on July 12, 1967. That 45rpm record would quickly rocket to No. 3 on WCOG's ("Go Go 1-3-2-0!") pop chart.
As he was playing that platter, Dusty Dunn was well aware that The Monkees were swinging somewhere in Greensboro, he was just as anxious as every young person in town to discover where they were holed up. Throughout his shift, Dunn's echo-enhanced voice kept prompting listeners to call into the station if they had any information that would lead to The Monkees' cover being blown.
What only a handful of people knew, mostly because the motel's staff had alerted their friends, was the nation's latest pop sensations were on Summit Avenue, at the Oaks Motel.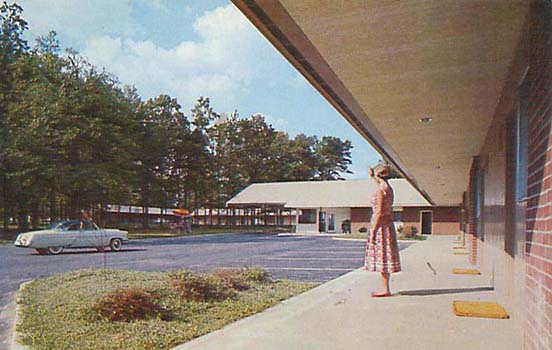 The Oaks Motel in Greensboro
In its heyday, Oaks was where superstar musical acts and athletes touched down while in town. The Green Bay Packers encamped here playing preseason games in Winston-Salem from 1955-60.
Bussed in without fanfare into Greensboro in the pre-dawn hours with an entourage of thirty, the "Pre-Fab Four" was accompanied by an unlikely opening act, The Jimi Hendrix Experience. No doubt the oddest pairing in music history, one the legendary guitarist likened to, "Putting Dracula with Snow White."
Micky Dolenz and Peter Tork had been greatly impressed by Jimi Hendrix's game-changing concert at the Monterey Pop Festival, they made the case for adding him to the Summer of Love's hottest ticket, The Monkees' American Tour, which had taken the stage for the first time four nights earlier in Florida.
It didn't go all that well, as it turned out. The night before the Greensboro date, in Charlotte, before finishing his set, Hendrix rested his guitar against an amp and walked away in disgust. The reason? Hordes of hysterical teeny-boppers pleading for Davy Jones throughout his set.
Greensboro would prove to be the only bright spot on this ill-fated tour.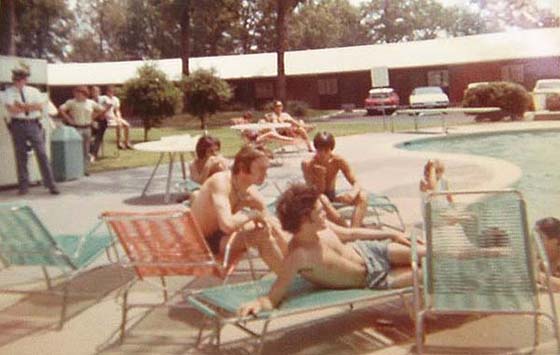 Dusty Dunn may not have been in the know but the Greensboro Police Department knew exactly where The Monkees were staying, two of their officers were assigned to hang around in case matters got out of hand, like say, if WCOG's audience found out what was going on at the Oaks Motel. Those officers weren't impressed with the TV sensations, remarking out loud that The Monkees looked like, "a bunch of queers."
But everything remained cool despite the high temperatures and neanderthal cops.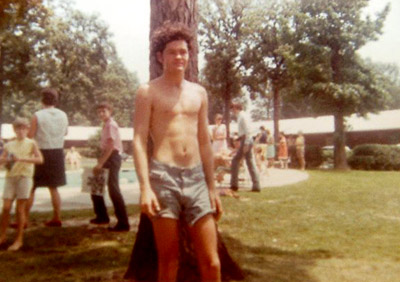 Shaded by tall oak trees, a couple of dozen fans were assembling around the courtyard as Peter, Micky, and Davy lounged by the swimming pool.
Dressed for his appearance that night at the Greensboro Coliseum in black crushed velvet pants, leather boots, an orange brocade silk shirt and a string of wooden beads draped around his neck, Hendrix spent that hot, humid Wednesday afternoon in his air-conditioned room with a six pack of Bud, strumming Beatles tunes. (Due to the racial disparities of the era, dipping his toes into the pool was not an option.)
Tom Montefusco posted on Facebook: "I told you folks about my friend meeting Hendrix in his hotel room when she was 10 - this was when Hendrix opened for the Monkees in Greensboro NC. I just found this email from her with some info. 'Actually, I only spoke to Jimi. The other 2 were in the pool swimming while the GSO police dept. members called them "queers". The long hair did it I suppose. And we were not at the fancy Holiday Inn. It was at the old Oaks Motel. hardly a palace. My English penpal told me to check out Jimi if I ever got the chance as he was huge in the UK at that time. I wandered into his room, I told him that my penpal had said he was so cool. Jimi just grunted something and I ran out of his room. I probably offended him in my white gogo boots... did get Mickey Dolenze's autograph though.'"
After a swim and snapshots with the excited youngsters who managed to sneak their way onto the compound, Micky and Peter met up with Michael Nesmith in his room. Hendrix joined them, sat on the edge of an unmade bed, picked up Nesmith's guitar and jammed for the assembled who looked on in astonishment.
In the early evening, two persistent fans waved down a limo cruising up High Point Road, within minutes finding themselves ordering platters at Stamey's Barbecue with Jimi Hendrix who they described as, "very polite and kind of shy."
That night, in a set that included searing performances of 'Foxy Lady' and 'Purple Haze,' Hendrix was booed by some but that was countered by a contagiously enthusiastic reception from hipper audience members who came, not to see the headliners, but to catch this genius with a guitar they'd heard about.
Kids even rushed the stage for Hendrix, which hadn't happened before on this tour. Concert-goers were rewarded when, for the first time since shocking audiences with this stunt in Monterey a month earlier, Hendrix demolished his guitar at the end of his electrifying performance.
Guion F. Stewart-Moore was there, "I had just turned 11-years old and my brother was 21, he took myself, his girlfriend and her 12-year old brother to see The Monkees.
I was seated on the floor, about 15 rows back on the right hand side of the stage.
I can remember vividly Jimi Hendrix playing but nothing about the Monkees. We stood on our chairs the entire set of Jimi Hendrix.
"It was my first concert and certainly the most memorable concert I have ever been to. I had no idea who Jimi Hendrix was, but it was incredible, I can feel the music and the crowd that night. I have no recollections of anyone screaming for the Monkees to come on stage. All I remember is everyone screaming, standing on chairs, jumping up and down, waving their arms in the air, and being entranced by Jimi Hendrix on that stage."
Jerry Bledsoe of the Greensboro Daily News wrote, "Jimi starts slowly, then he's picking the electric guitar with his teeth, and he's down on the floor playing it with his feet, and there he is beating his guitar against the amplifier, and the electronic devices strain and groan and spit up all sorts, of weird concoctions of noise., And all the time Jimi's singing, moaning, yelling, the sweat's running good, and these other two cats are picking and beating, singing and swinging things around and everything is just wild. Wild."
"Yeah," said Hendrix, "we toned it down a lot."
It took dozens of policemen, with no air conditioning in sweltering heat, surrounding the Coliseum stage holding the line against screaming waves of bubblegum zombies, an unrelenting din drowning out The Monkees' entire performance as girls were reaching, begging, pleading, for a glance or a bead of sweat from their teen idols.
The Monkees and Jimi Hendrix Experience exited the Coliseum after the show and headed straight for the airport, boarding a private plane emblazoned with the television program's logo for a champagne flight to New York.
After only three more dates following their appearance in Greensboro, in New York, Hendrix abruptly Hendrix stormed offstage, some say with middle finger extended, while adolescents continued to chant, "We want Davy!"
When all was said and done, the performers had nothing but love for one another. Peter Tork spoke about their Greensboro experience and the group's off time at the Oaks Motel with Hendrix saying, "He was such a sweet guy that it was really just a pleasure to have him around for company. His air of, 'Everything's all right. Things are cool. It's okay,' just made you relax just to be around him." Just a few weeks after leaving the Monkees tour, Jimi Hendrix scored a hit record on the pop charts with "Purple Haze".
No one knows exactly which room Jimi Hendrix stayed in, only that it was in the southern wing of the Oaks Motel which still stands pretty much as it was in the 1960s, a reflection of the California resort-like lodging that was all the rage back when babies were booming.
One big change, the kidney-shaped pool has been filled in with dirt and trees planted where once Monkees' knees were planted.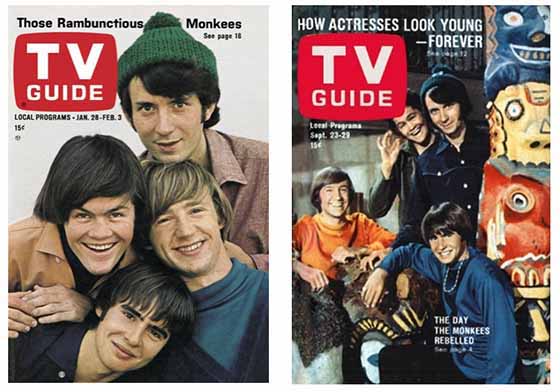 The Monkees appeared on two TV Guide covers in 1967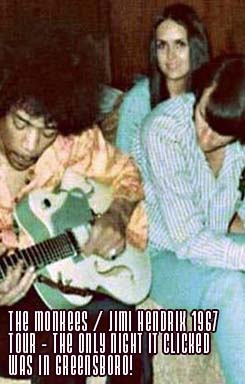 As Hendrix said before he doused his guitar with lighter fluid on Monterey, "There's nothin' I can do more than this."
Wednesday 12 July 1967
Greensboro Coliseum, West Lee Street, NC
Concert : The Monkees (play & sing all the music themselves as a group, but individual spots were backed by the Sundowners)
With: Lynne Randell (solo artist from Australia, backed by the Sundowners)
The Sundowners – a New York/Italian group (Bobby Dick, Kim Capli, Eddie Brick, Eddie Placidi, and Donnie DeMieri),
Promoter: Dick Clark
Travelled by bus from nearby Charlotte.
Accomodation: Oaks Motel, 1118 Summit Ave.
Songs: unknown