THE DEBBIE REYNOLDS SHOW
by Cary O'Dell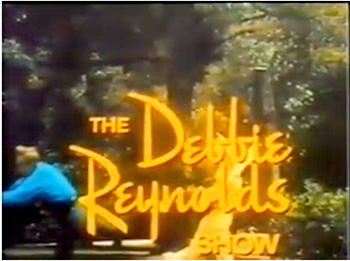 According to her 1988 autobiography, "Debbie," Debbie Reynolds had long been pursued to do a TV sitcom. And it was something she had long forestalled. She wrote, "Friends who had done it all said the same thing about it: 'You'll have no personal life. It's constant around-the-clock work. You can't please your audience every week. You can't get good scripts."
Nevertheless, around 1969, NBC offered the film star a deal too good to pass up. Along with a starring role in her own series, at $25,000 a week, for two guaranteed seasons, Reynolds was also offered 50% ownership in the series and even the chance to pick her show's sponsor. Then, to sweeten the deal even further, Jess Oppenheimer, one of the legendary producers behind "I Love Lucy," was brought on to run the show.
Debbie signed on the dotted line.
The involvement of Oppenheimer, in the end, seemed to be both the series' blessing and its curse. In creating the show, Oppenheimer drew heavily on the "Lucy" format/structure. In the Reynolds program, Debbie would play Debbie Thompson a stay-at-home wife who longed to get out of the house. Sound familiar? In fact, Mrs. Thompson longed to join her husband's profession. Also sound familiar? Just as Lucy Ricardo wished to be in show business, Debbie Thompson longed to be a news reporter just like her husband, Jim.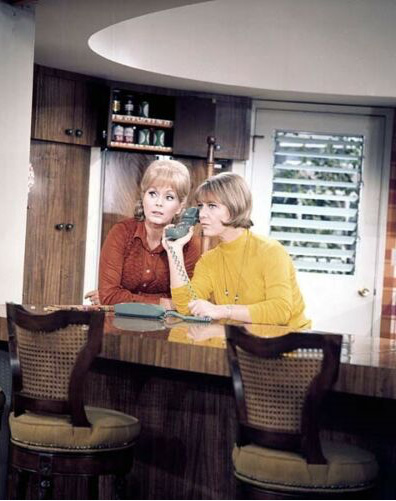 The replication of this format shouldn't be totally surprising, it worked well for a variety of other series including such successful female-focused sitcoms as "I Married Joan" and "My Little Margie" and, of course, it helped make Lucy a legend. And Oppenheimer, of all people, should know what's he's doing.
Joining Reynolds in her show were handsome Don Chastain playing her husband Jim, a successful sports columnist. Debbie's sister and closest confidante, Charlotte (her "Ethel," if you will), was played by Patricia Smith and Charlotte's husband, Bob, was played by a pre-"Happy Days" Tom Bosley. Conveniently, they lived right next door to the Thompsons. Also in the cast, playing Bob and Charlotte's son, was Bobby Riha; his character was named Bruce.
"The Debbie Reynolds Show" debuted, on NBC, on September 16, 1969. Its regular berth was Tuesday nights, sandwiched between "I Dream of Jeannie" and "Julia."
With a guaranteed two-season order, it almost didn't matter what the ratings for the show were or, for that matter, what the critical reaction was. Which was probably good as the majority of TV writers lambasted the program when it began. The "Washington Post" called the premise "shopworn" and "tired" and its execution "weary." Meanwhile, a Canadian reviewer was no kinder saying that, in her show, Reynolds "oozes so much cyclamate, the neck of my picture tube has been blocked with her insulin shots…" and then went on to further lambast the show's overzealous laugh track.
Of course, critics also fell all over themselves with their Lucy comparisons since the formats of both shows were so similar. But, then again, it wasn't hard to draw these parallels since, in the debut episode, Debbie Thompson was so anxious to get a journalistic scoop from the Governor, she disguised herself as a male golf caddy (complete with fake mustache) to infiltrate a men's only golf club, an idea that certainly sounded very Lucy-esque.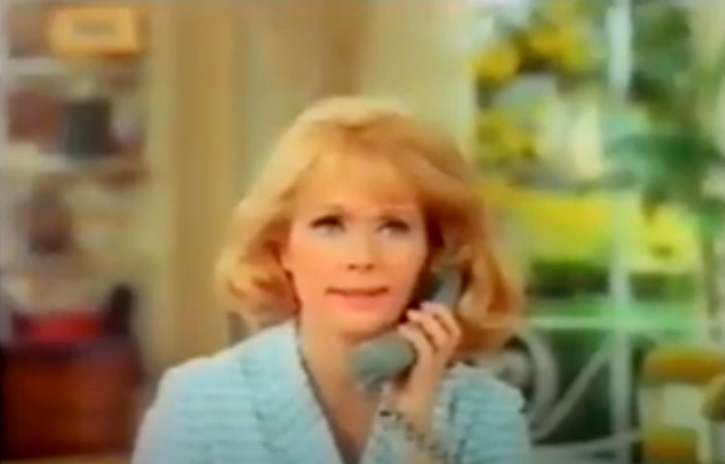 Interestingly, though, subsequent episodes also fall within a similar vein, not only in Debbie's attempt to make a name for herself and obtain a career for herself fully on her own, but also in her repeated willingness to infiltrate what we would later label "the male sphere." A men-only golf club? Debbie breaks in. In a later installment, Debbie storms a men's locker room to give a pep talk to a football player. Then, later still, the takes on the political machine of her local city council and, later stills, tangles with some Russian secret agents! (The latter, of course, so often happening on TV sitcoms.)
For the series, star Reynolds was able to make happen her request to shoot her show at her old movie studio, MGM. Additionally, she was able to secure that studio's own top dress designer, Helen Rose, to do her clothes and the studio's legendary Sydney Guilaoff to do her hair. At the end of most episodes, Debbie even got to break the third wall to thank and wish goodnight to her viewers. Debbie even sang the show's theme song!
(The program's opening credits, a series of soft-focus scenes played out in a bucolic park proved to be memorable to at least a few; it was later parodied by Monty Python for their sitcom parody "The Atilla the Hun Show.")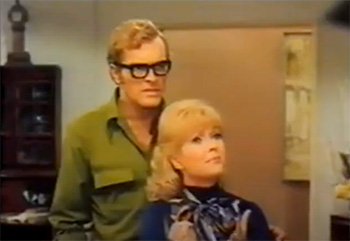 Yes, this show was all DEBBIE! Who, much like such other performers as Martha Raye and Betty Hutton, definitely belonged to the "more is more" school of comedy performance. But this style, while well suited for the big screen, didn't always translate that well to the smaller one. Numerous critics at the time accused Reynolds of just pushing too hard in this TV endeavor of hers, giving away to too much excessive mugging for the camera(s).
If that was not the fatal flaw in the series, then, in their perceptive book, "Harry and Wally's Favorite TV Shows," authors Harry Castleman and Walter J. Podrazik suggest another. They propose that this show was just a little too late in its overall premise. "Debbie Reynolds" arrived nearly at the dawn of the second-wave of American feminism and the authors suggest that the idea of a woman working outside the home was not as exotic nor as comedically rich as it had once been.
At that time, sitcoms were in the middle of a major transition. Viewers had already experienced almost 20 years of half-hour hijinks and the tried-and-true sitcom tropes were wearing thin. The genre was in in need of a major overhaul that—thankfully—arrived in January of 1971 with the debut of Norman Lear's "All in the Family." (Remarkable now, in retrospect, to consider how, at one time, such diametrically different series as "All in the Family," "The Brady Bunch" and "Bewitched" were all a simultaneous part of the national primetime schedule for a period during the very early 1970s.)
As mentioned, and again according to her memoir, Debbie, for her show, had her choice of the program's sponsor. Though at the time, Reynolds was a cigarette smoker herself, the actress insisted that no tobacco be advertised during her show, suggesting instead such much more wholesome products as Coca-Cola or General Foods advertise during the program. But a switcharoo by the network saw the show being brought to viewers by Pall Mall! Reynolds cried foul.
A huge kerfuffle with American Brands (the parent company of Pall Mall) and with the NBC network ensured with American eventually pulling their sponsorship. As the program was neither a critical darling nor a ratings juggernaut it, no doubt, made obtaining new underwriting difficult. Eventually, essentially, NBC ended up breaking its two-year contact with Reynolds. Hence, after 26 filmed and aired episodes, "The Debbie Reynolds Show" came to an end.
Though she bravely stood by her guns and her principals, Debbie later called her conflict with the two giant corporations as "The stupidest mistake of my entire career."
(Ironically, cigarette advertising would be banned from TV just one year later, taking effect over the airwaves on January 2, 1971.)
But anyone who knows Debbie Reynolds knows that the lady was pretty unsinkable. After the end of her TV show, Reynolds returned to the Las Vegas stage and nightclubs across the country. Later, she was able to exercise one part of her contract that allowed her have NBC put up some of the money for production of the big screen thriller, "What's the Matter with Helen?" where Reynolds co-starred with Shelley Winters. That film, though not a giant hit at the time, has since become a cult classic.
Later, still Reynolds would appear in a plethora of film and TV roles and enjoy a major comeback in the title role of the 1996 comedy "Mother." She would also briefly own her own Las Vegas casino, author several books and become beloved as a vibrant, funny and often risqué talk show guest. Reynolds also battled back from bankruptcy a couple of times in her life in her effort to undo some of the damage done by bad business deals and by even worse ex-husbands.
Throughout, she was also always a valiant humanitarian and was also of Hollywood's most dedicated preservationists.
Reynolds passed away in 2016.
Interestingly, a decade or so after "The Debbie Reynolds Show" left the air, many aspects of the series would be born anew in the 1983-1984 Madeline Kahn sitcom, "Oh, Madeline!" Today, assessing "Debbie" one can't help but think that some of those critical takes at the time were a bit extreme. Yes, the program broke no new ground but, for all of the show's sort of "old-school-ness," there remains something endearing and even a little inspiring in the show's go-for-broke energy and Reynolds's endless aplomb, always breaking the rules, smashing the patriarchal norms and living life with such gusto.