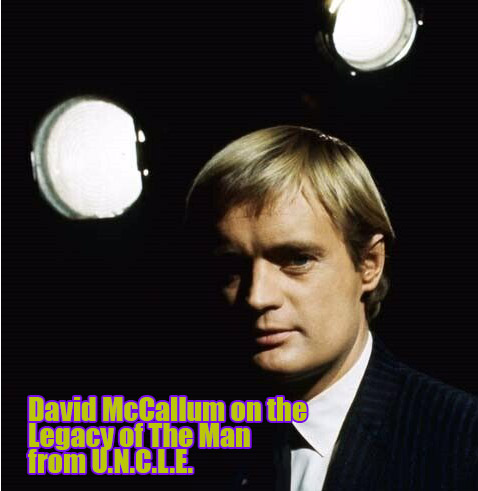 by Billy Ingram
Although the four year run of The Man from U.N.C.L.E. was wildly inconsistent it still remains one of the most intriguing dramatic shows of the 1960s. The Hollywood Reporter's Bill Ornstein wrote this in his review of the series when it debuted in 1964: "Shades of Herbert Rawlinson in The Black Box and Pearl White in the Perils of Pauline [mix] as a potent appetite-whetter for those who like a thrill every few minutes and those fixed for fantasy and will go along with most of the modernized shenanigans just to get an added booster in that after-dinner cocktail."
When the Television Academy questioned actor David McCallum, who portrayed spy Illya Kuryakin, on the legacy of The Man from U.N.C.L.E. here was his response:
"It has one element, which is the feeling of relief and escapism is the only word from what was at that time. A politically delicate situation, difficult situation.
"And the Russians really weren't involved that much but they were the other side. It was the east and the west. And there is a significance about some television that relates to life but everything else is entertainment. And there's nothing wrong with entertainment, but it's transitory. It's not going to last.
"I Love Lucy will last as long as people like to watch I Love Lucy. But there's going to come a generation that says, 'what the hell is this?' It's inevitable.
"And I don't think… I remember once being somewhere, there was an old lady and she was in a bed. It was probably in the hospital and she said that she was so happy because she could look for whatever Monday night, or whatever night it was, and watch The Man from U.N.C.L.E. It made her week and made her feel better. And I thought, that's really why we do it. It's not just the sheckles [money] and the fame and the 'I'm on television.'"

Man from U.N.C.L.E. Season One
Man from U.N.C.L.E. Season Two on DVD
---
1960's TV Seasons: 1961 / 1964 / ABC 1966 / 1967 / 1968 / 1969 / Fall Previews / Sharon Tate on The Beverly Hillbillies / Dark, Unseen Monkees Pilot / Pistols 'N' Petticoats / Best Episodes of Every 'Lucy Show' Season / How Lee Meriwether Became Catwoman / The Star Trek Spinoff That Didn't Happen / Why Ginger Was Almost Fired From Gilligan's Island / Every Batman (1966) Fight Scene / Whatever Happened to the Beverly Hillbillies' Mansion? / Remembering "Mary Ann" - Dawn Wells Interview / Catching Up With Lucy & Desi's 'Son' / The Ronny Howard Show?!? / Death of Bonanza's Dan Blocker / Broadside / David McCallum on the Legacy of The Man From U.N.C.L.E. / In Defense of Bewitched (and Jeannie) / Sad Ironic Death of Crazy Guggenheim / Larry Mathers (Beaver Cleaver) on the Rumor That He Was Killed in Vietnam / The Monkees / Jimi Hendrix 1967 Tour - The Only Night It Clicked Was In Greensboro! / William Shatner on the Origin of Star Trek / Brother Dave Garner / Remembering Newton Minow / The Nurses / The Debbie Reynolds Show / The Riddler Was Batman's First TV Super-Villain / Betty Lynn aka Thelma Lou / Remembering The Rifleman's Johnny Crawford / Clu Gulager Obituary / Leonard Nimoy on NBC Hating Spock / Sinatra Wanted To Play Joker on Batman? Yes! / Directing the Batman Pilot / Elinor Donahue on The Andy Griffith Show / Lucy After Ricky / Robert Clary on His Hogan's Heroes Co-stars / Jeopardy! in the 60s & 70s / Stunts Gone Wrong on The Wild Wild West / Whatever Happened To Lost In Space's Guy Williams? / Best of Julie Newmar Catwoman Season 2 / The New People / Dark Shadows Director Lela Swift / Pioneer Newswoman Lisa Howard / The Jim Nabors Hour / The UN Goes to the Movies / Stories About Filming Batman from Burt Ward / Life With Linkletter / The Green Hornet / Best of The Joker / 1961 CBS Fall Season / Bette Davis TV show: The Decorator / The Hathaways / He & She / Eartha Kitt as Catwoman / The Good Guys / James Drury of The Virginian / The Ron Hicklin Singers / Man From U.N.C.L.E. on DVD / Behind the Scenes at The Andy Griffith Show / Pat Buttram & Green Acres / TV's Tarzan / Grocery Shopping in 1962 / Carol Channing on TV / 1960's Nightclub Comic Rusty Warren / Johnny Carson Tonight Show 1964 / That Girl / The Amazing Randi / TV's Greatest Car Stars / Best of Batgirl 1967-68 / TV Shows to Movies / Batman Season 2 / Supermarionation / The Virginian's Clu Gulager / Cast Changes on Bewitched and Green Acres / Sammy Davis Jr. Show / Sunday Morning Cartoons / Naked City / Joe E. Ross / Alan Young Interview / Sherwood Schwartz Interview / Walter Cronkite Moon Landing / The Farmer's Daughter / Petula-Clark