8:00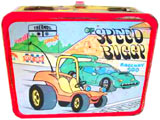 Speed Buggy / CBS
Second season for the remote controlled buggy that no one could catch.
Speed Buggy moved to ABC, then NBC, then back to CBS over the next three years.
8:30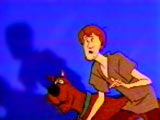 Scooby Doo,
Where are You? / CBS
Zoinks! Reruns of 1969-71 episodes in the original half-hour format, that's after two years of The New Scooby Doo Movies.
9:00
Jeannie / CBS
Second (and last) year of the teenaged Jeannie and her surfer-dude master.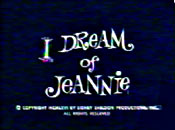 Based on 'I Dream of Jeannie', an NBC primetime show that ran five years. On the cartoon, Jeannie's bumbling companion, named Babu ("Yabble, Dabble!"), was played by former Three Stooge Joe Besser.
It was Jeannie's pigtail that created the magic in this cartoon version.
Partridge Family:
2200 A.D. / CBS
(debut)

Who needed the work in 1974?
Well, there's Danny Bonaduce, Suzanne Crough, Brian Foster, Susan Dey and Dave Madden (from the original cast) providing voices for the animated characters they made famous as the musical Partridge Family, a rock group now traveling through time and space. The show was cancelled in March.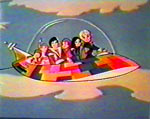 Another cartoon series featured several 'Partridge' cast member voices - "Goober and the Ghost Chasers', which failed to catch on during the 73-74 season.
10:00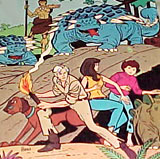 Valley of
the Dinosaurs / CBS
(debut)


Cartoon about a modern family (the Butlers) sent back in time to a valley that is a home to prehistoric creatures. Ran for two years, the second season was all reruns (which was typical).
John Butler and his wife Kim, and the two kids Katie and Greg emerge from a pool into the past - there they meet a cave dwelling family, Gorak, Gera, Lok and Tana.
Third show on Saturday mornings in 1974 that had dinosaurs running around - one on each network. Only 'Land of the Lost' was a hit.
10:30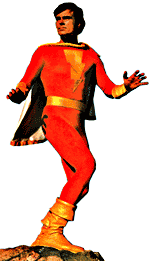 Shazam! / CBS
(debut)
Exciting but preachy live action Filmation show. Billy Batson (Michael Gray) shouts "Shazam" and turns into the superman-powered Captain Marvel (Jackson Bostwick).
Along for the ride: Mentor (Les Tremayne), assigned by the animated Elders to look after Billy as they travel the country in a fully equipped RV.
Focused on "cooperation, using reasoned judgments and the importance of wholesome relationships between child and adult".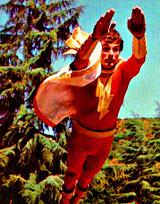 "SHAZAM! was revived a decade ago. They eliminated the Billy Batson/Captain Marvel character, kept the Winnebago, and renamed it 'MTV's Road Rules'."
- Rodney
11:00
Harlem Globetrotters
Popcorn Machine / CBS
(debut)
The Globetrotters, Rodney Allen Rippy and Avery Schreiber (as Mr. Evil) are the unlikely hosts for this comedy-variety half-hour.
Guests included Ted Knight, Marty Feldman, Arte Johnson, Sandy Duncan, Ruth Buzzi, Tom Bosley and Ester Rolle.
Meant to advance "pro-social messages such as good behavior, good health habits ... and showing respect." Ran for two years, the second (reruns) on Sunday mornings. For some reason, CBS thought the variety show genre could be revived on Saturday mornings.
11:30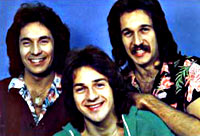 Hudson Brothers
Razzle Dazzle Show / CBS
(debut)

This half-hour was a continuation of the Hudson Brother's successful summer series, with Sonny and Cher Comedy Hour producers, writers and supporting players.
Every episode featured the same rotating skits - a monsters sketch, a desert island sketch, the 'Razzle-Dazzle Wrap-up', the bear (a holdover from 'The Andy Williams Show', 1969-1971), Knights of the Round Table sketch ("Do it for me- Lady Patricia!"), and a visit with Chuckie Margolis (the show's bright spot).
The show ended with the boys talking to Fabulous Freddy, the world's youngest 'network executive in charge of kid's programming.'
Hudson Brothers Razzle Dazzle Show was another show meant to "convey value-related messages". This series was in production for one season's worth of episodes (17) - it returned for reruns on Sunday mornings in 1976.
12:00
U.S. of Archie / CBS
A new Archie show. Gone is the 'TV Funnies' (which weren't) format. Now the gang is venturing back through time to meet historical figures like Ben Franklin and George Washington to learn good old American values. God Awful beyond belief - was CBS intentionally trying to kill this franchise? This format lasted two years.
12:30
Fat Albert and
the Cosby Kids / CBS
Fat Albert gets tricked into helping a drug pusher in the 1974 season opener as more serious topics are tackled. Hey, Hey, Hey!
Order Fat Albert
and the Cosby Kids
on DVD now!
1:00
Children's Film Festival / CBS
This season's films included: "Winter of the Witch" starring Hermione Gingold in the story of a city boy and his mother moving into a country home.
8:00
Yogi's Gang / ABC



Back for a year of reruns in the graveyard timeslot.
Daws Butler and Don Messick created most of the voices - including Yogi Bear, Quick Draw McGraw, Huckleberry Hound, Snagglepuss, Augie Dogie, Wally Gator, Peter Potamus (all Daws); Boo Boo, Ranger John Smith, Touche Turtle, Squiddly Diddly, and Atom Ant (all Don Messick).
8:30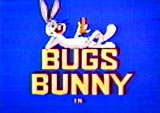 Bugs Bunny / ABC
Second and last year on ABC. Moved back to CBS in 1975.
9:00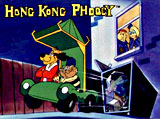 Hong Kong Phooey
(debut)
Scatman Crothers (as 'Hong Kong'), Don Messick (voice of 'Mutley' and 'Astro' as 'Spot'), Kathy Gori as 'Rosemary', and Joe E. "Ooh Ooh" Ross (as Sarge) provide the voices for the adventures of a police janitor ('Penrod Pooch') who turns into crime-fighting martial arts 'expert' who got his 'kung-fu powers' from a correspondence course.
9:30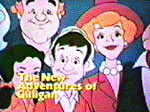 New Adventures
of Gilligan / ABC
(debut)
Bob Denver, Alan Hale, Jim Backus, Russell Johnson and Natalie Schafer were all on board the Minnow as it sailed into choppy cartoon waters. Proved pretty popular, the series ran for three years.
Even this production had a Ph.D on board to ensure positive interactions. Jane Edwards and Jane Webb played Ginger and Mary-Ann. Another animated Gilligan came along in 1982, 'Gilligan's Planet' but it lasted only one season.
10:00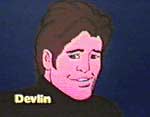 Devlin / ABC
(debut)
Three orphans (Ernie, Tod and Sandy) are determined to stay together in this cartoon adventure centered around a young boy/girl motorcycle stunt team.
'Devlin' moved to Sunday mornings in 1975. Mickey Dolenz provided one of the voices, along with Michael Bell and Michele Robinson.
10:30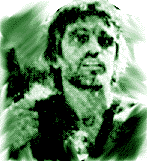 Korg, 70,000 B.C. / ABC
(debut)
Live action drama revolving around a Neanderthal family coping in a primitive world - from Hanna-Barbera.
Narrated by Burgess Meredith.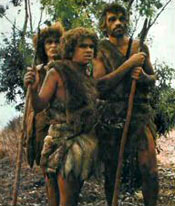 BONUS:
Here is a fall season promo for the 1974 Saturday morning programming lineup on ABC - they had only moderate success with these new shows.
11:00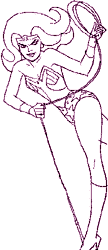 Super Friends / ABC
Second season with new episodes of the popular cartoon series - terrific character designs, but some of the sloppiest animation ever seen on Saturday mornings.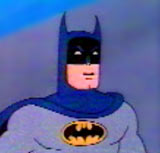 This Hanna-Barbera production ran until 1985 in one form or another. Features Superman, Batman, Robin, Aquaman, Wonder Woman, Wendy, Marvin and the Wonder Dog - still seen on cable TV today.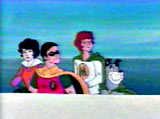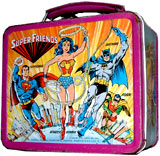 12:00
These are
the Days / ABC
(debut)
June Lockhart ('Lost in Space') and Henry Jones ('Phyllis') provided the voices of the Day family in this turn of the century cartoon drama about a Grandpa and a widowed mother of three kids.
Came off like an animated 'Waltons'. Reruns played out for another year on Sunday mornings where CBS and ABC reran cartoons that got so-so ratings on Saturdays the year before.
12:30
American
Bandstand / ABC


Ran for a million years starting in 1957.
'Soul Train' (syndicated) was the show everyone was watching in 1974.
Even though 'Soul Train' is still running today, "the hippest trip in America" has a bit less soul now than it had back in the day.
Guests on Soul Train in 1974 included James Brown, The Moments, The Isley Brothers, The Commodores, Al Green, Michael Jackson, The Dells, Bill Withers, Marvin Gaye, Barbi Benton, Maureen McGovern, Lamont Dozier.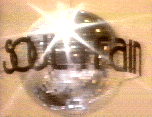 ---
:ALSO ON
ABC IN 1974: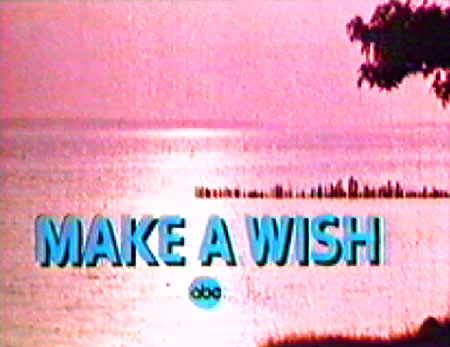 Make A Wish (1971-1976) was a Sunday Morning series starring Tom Chapin, produced, written and directed by Lester Cooper.

ABC also had a strong sports programming roster on the weekends.
8:00
Addams Family / NBC
Reruns made up the second season of the animated Addams Family, which looked more like the television Addams family than the original Addams Family - which was a cartoon page in the New Yorker by the brilliant Charles Addams.
Starring the voices of the primetime (1964-66) Lurch (Ted Cassidy) and Fester (Jackie Coogan) and Jodie Foster as Pugsley Addams.
A very unsatisfactory effort considering the original source material. Aired 9/8/73 - 8/30/75.
8:30
Wheelie and the
Chopper Bunch / NBC
(debut)
Wheelie is a souped-up little Volkswagen who's in love with Rota Ree and has to out race the bothersome Chopper Bunch, a motorcycle gang who try to ruin their fun.
The educational shows didn't catch on in 1973, so it's back to the races in 1974. With voices by Paul Winchell, Frank Welker, and Don Messick.
9:00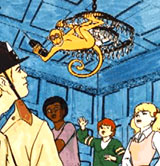 Emergency
plus Four / NBC
Second year for the cartoon version of the hit primetime action show.
Educational because it teaches kids how to deal with fire and stuff.
Lasted three seasons, the last consisted entirely of reruns.
9:30


Run, Joe, Run / NBC
(debut)

"Wanted: male German Shepherd, black and tan, answers to the name of Joe."

Live action show with a German Shepherd on the run in Los Angeles after being falsely accused of attacking his master while undergoing Army K-9 training.

Every week Joe saves someone's life and somehow just misses Sgt. William Corey (Arch Whiting), his former master who is hot on his trail - not to capture Joe, but to let him know he's been exonerated.

During the second season, Joe teamed up with Josh McCoy (Chad States), a teenage hitchhiker.

There was a toy Run Joe Run German Shepherd with moveable legs made by Kenner toys.
10:00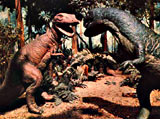 Land of
the Lost / NBC
(debut)
Produced by Sid and Marty Krofft. Classic Science Fiction series about forest ranger Marshall, Will and Holly, lost on a routine expedition that leads them to the otherworldly Land of the Lost where they encounter Sleestaks, Pakunis and prehistoric creatures. They are befriended by missing links Chaka, TA and Sa.
Some imaginative scripts by story editor David Gerrold ('Star Trek') made this series a standout. With a few years off, this show ran on Saturdays until 1994 in three different formats.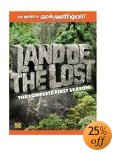 10:30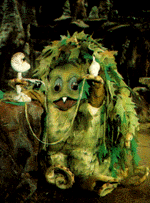 Sigmund and the
Sea Monsters /NBC
Second season brings new episodes of the depressed sea monster, outcast because he can't scare humans.
Incredible cast featuring Mary Wickes as Zelda Marshall, Rip Taylor as Sheldon the Sea Genie and Margaret Hamilton as Miss Eddels.
The last year for this odd but fun show.
11:00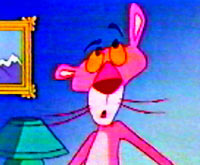 Pink Panther / NBC
Another year of the Blake Edwards creation. There will be many more Mancini mornings for 70's kids.
It took twice as many drawings to make a Pink Panther cartoon than any other Saturday offering - but this was still considered limited animation compared to what a theatrical cartoon would require.
11:30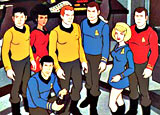 Star Trek / NBC
A few excellent second season scripts were scattered among reruns from the previous year.
NBC felt this cartoon was too expensive to produce, it cost quite a bit more than any other animated show, so they cut back on the episodes ordered for the second year.
There was lots of narration over shots of the ship floating in space in every episode - that helped cut down on costs as well.
Maybe the best of all of the various Star Trek series, the aliens are more believable when everyone is a cartoon. The show's script editor was Dorothy C. Fontana, a veteran of the original NBC series and Star Trek, The Next Generation.
The animated version was produced by Lou Scheimer and Norm Prescott ('Archie').
Several plotlines were continued over from the original series, including the return of both Harry Mudd and the Tribbles in 'More Trouble with Tribbles' - penned by original scriptwriter David Gerrold (see also: Land of the Lost).

12:00
Jetsons / NBC Year after year the same episodes. But what else was on?
The Jetsons ran almost continually from 1963-1976 on Saturday mornings over all three networks.
Morey Amsterdam and Pat Carroll were originally slated to be the voices of George and Jane Jetson (played by George O'Hanlon and Penny Singleton).
Also featured the voices of Daws Butler, Don Messick, Mel Blanc and other familiar Hanna-Barbera talent.
12:30
Go / NBC
A second season of new episodes starts with a look at the Los Angeles Fire Department with guest-hosts Randolph Mantooth and Kevin Tighe ('Emergency'). Also this season: the birth of a baby (human and calf) is shown, Penn State's great coach Joe Paterno is profiled.
In 1975, the name of the show changes to 'Go-USA', featuring fact-based half-hour dramatizations with a bicentennial perspective.
TV on DVD/ /Holiday Specials on DVD
TV Commercials on DVD
Amazon Prime - unlimited streaming
of your fave TV shows and movies!
Get your FREE 30 Day Trial!
PR4 & PR5 Pages for Advertising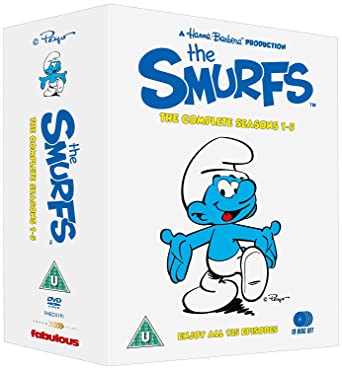 Saturday Mornings 1966
Superheros and comic characters spring to animated life.

Saturday Mornings 1967
More flying guys in tights to capitalize on the popularity of Batman in primetime.

Saturday Mornings 1968
The Archies was the top cartoon of the day.

Saturday Mornings 1969
Chase cartoons and Krofft puppets H. R. Pufnstuf ruled Saturday mornings.

Saturday Mornings 1970
Live action shows take over Saturday mornings leading to a new golden age.

Saturday Mornings 1971
Harlem Globetrotters and The Jackson 5 are hits.

Saturday Mornings 1972
More musical shows with cartoon versions of The Jackson 5 and The Osmonds Brothers joining the Saturday shows.

Saturday Mornings 1973
Scooby Doo debuts and shoots to the top of the ratings.

Saturday Mornings 1974
Adaptations of former primetime shows are all the rage on Saturdays now.

Saturday Mornings 1975
Far Out Space Nuts, Shazam and Ark II are just a few of the action, sitcom and musical variety shows this season.

Saturday Mornings 1976
Krofft Super Show, and Ark II are just a 2 of the many action, sitcom and musical variety shows this season.

Saturday Mornings 1977
The most unsuccessful Saturday morning line up of the decade - flops everywhere as the networks lost track of what kids wanted to watch.

Saturday Mornings 1978
Superheros, Tarzan and The Bay City Rollers.

Saturday Mornings 1984
Smurfs, Snorks and Dungeons & Dragons.

Saturday Mornings 1986
Galaxy High, Pee Wee Herman, Teen Wolf are all hits on CBS Saturday mornings in 1986.

Saturday Mornings 1988
Mutant Turtles, Transformers and G.I. Joe.

Saturday Afternoon Shows of the 1960s
Relive those lazy Saturday afternoons with episodes of Sky King, Whirlybirds, Highway Patrol, Robin Hood & more!