Retro-Saturday and
Sunday Afternoon TV
1950s & 1960s / A TVparty! Quickie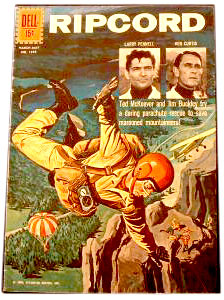 TVparty! presents episodes of syndicated TV shows that originally aired in the 1950s but were rerun all throughout the 1960s, until black and white shows fell out of favor around 1968. For a few years afterward, they could be found on smaller wattage TV stations.
These programs would often be found on Saturday & Sunday afternoons in the mid-1960s. Click on the titles for more info and clips!
Highway Patrol was one of my favorites, starring Broderick Crawford. It's astonishing to see such a clean, crisp print. I haven't watched this show since I was a kid staring at a snowy screen, watching a scratchy 16mm print broadcast from a local station. Highway Patrol was a lot grittier than most other 1950s dramas.
Sea Hunt with Lloyd Bridges was another exciting program with some great underwater footage. This is a season 4 episode.
The Adventures of Robin Hood- this is the first episode.
Whirlybirds was high-flying adventure that featured some exciting aerial footage. First episode.
Sky King was another drama in the skies starring Kirby Grant as Sky King and Gloria Winters as Penny King. This was one of the better written and filmed syndicated dramas of the era, it aired on Saturdays at noon for many years during the 1960s.
Sky King added a high-tech edge to the TV western.
Sky King began as a radio program in 1946, the TV show began in 1951 as a Saturday afternoon program on NBC before being added to ABC's primetime lineup in 1953. Read more about SKY KING here.
---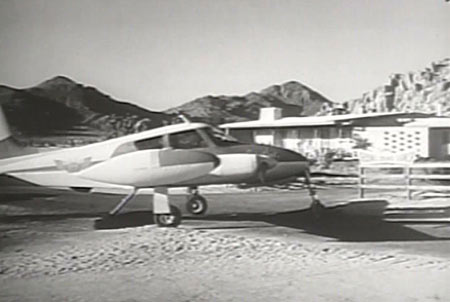 ABOVE: Sky King's ranch in 1955.
Is this Sky King's house today?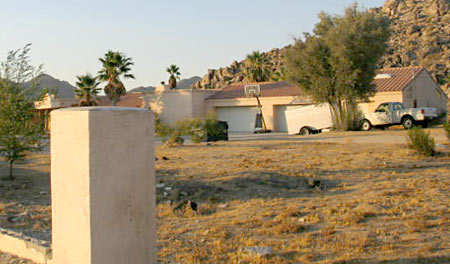 "Being the curious sort, and living in Apple Valley, I thought I'd try and find the Sky King 'ranch house'. I did! I've attached a pic of the now modernized hacienda. It's about 1/2 mile south of Hwy 18 on Rancherias Rd in Apple Valley. Strangely, it's only about a 9-iron across the 18th tee at the AV Country Club to Roy Rogers' last home.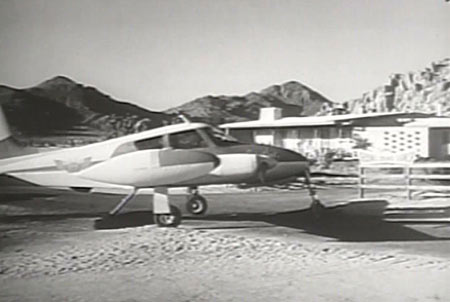 "If you look carefully you can see the mtns and rocks behind the house match up and the old chimney is also recognizable. I'd have to have gotten into this guy's yard to make an exact photo match."
- Bob