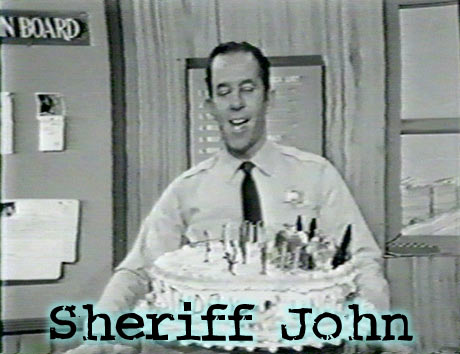 HERE'S A TVparty LOOK AT
SHERIFF JOHN IN REAL VIDEO FORMAT - (:45)
You need this:



Links on this page are to media clips. Surf's up!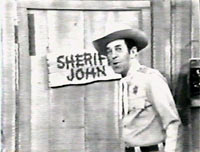 I grew up watching Sheriff John in the 1950's. He had a segment where he would announce whose birthday it was and where the kids could find special gifts inside their house (based on information sent in ahead of time by their parents).
On the Big Day my friend across the street was told by Sheriff John to look under his bed, and in the 30-seconds that it took for my brothers and me to race over to his house, he had already unwrapped the gift and was looking proudly at it.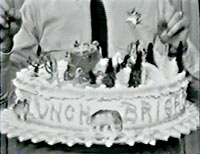 Another funny memory was of writing to Sheriff John about 1955 or 1956 to have Sketchbook Suzie draw a picture for me while she was live on camera. For the life of me, I don't know why - but I asked her to "draw a picture of a dead cat underwater."
When I mailed my request to the station, my mother probably figured they would never select it from the bin containing lots of other requests. But three or four days later the "Good Sheriff" read my request on the air, then paused a moment, hemming and hawing. Finally he and Suzie decided that she was all out of time and would draw it for me on another show. Hmmm.....I'm still waiting for that picture. Our family has had many a laugh recalling that incident over the years.
Note to Sheriff John: no harm was intended. I was only five or six years old, and didn't know any better. Sorry!
- Bruce Pasarow
---
OTHER SHERIFF JOHN SONGS:
(Lyrics courtesy of Anna Slavick)
Careless Crow
Now, good little boys and good little girls
Are never like Careless Crow
They hang up their clothes and pick up their toys
And put them where toys ought to go.

Grumble Bee
I'll never mumble-grumble
I'll never fret and frown
I'll never let you see me with my face hung down
I'll make my mommy happy
And my daddy happy, too
If I smile the whole day through.

Sour Puss
A Sour Puss is always sad
Always mad
Never glad
No one likes a Sour Puss.
I don't.
Do you?
When he walks into a room
Soon the room
Is full of gloom
No one likes a Sour Puss.
I don't.
Do you
---

Courtesy of Jeff Vilencia, here are some songs from the
Sheriff John LP Record in Real Player format:
SONG ONE: Good Advice
SONG TWO: Eat Your Food, Wash Your Hands &
Face, Brush Your Teeth, Take A Nap
SONG THREE: The Safety Song
---

Just this weekend, my friends and I were reminiscing about Sheriff John, Winky Dink, Hobo Kelly, Romper Room and Soupy Sales.
Then tonight I came across your site while surfing! Wow! And even better yet, today's my 40th birthday. So of course I played Sheriff John's Put Another Candle on My Birthday Cake song! It took me back 35 years, when he announced my 5th birthday on his show!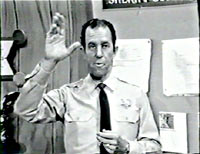 Thanks so much for bringing back these really great memories of being an LA kid in the 60's...and to remember how great it felt to be 5 years old again!
- Cheryl
---
Amazing he's still in our memories.
Back in the late 50's, my mom used to get very frustrated at him when he would read the names of the birthday kids. He seemed to have a reading problem, because he couldn't pronounce simple names like "Bill Gossard"....he'd hem and haw and say, "welll, it's Goe-sard, or maybe Goss-hard, or... ". Or a name like "Jean Linneman", he'd work that into "Line-man, or "Linn-men", or .....
My mom would be cussing and screaming at him, calling him an idiot and other titles, and we're just little kids watching our Sheriff get cussed out. So, one day she decides to fix him good, and create names for a fictitious set of twins.
Being Armenian, my mom came up with "Hrair and Jrair Der-Mgrditchian". On the appointed day, she called up our relatives, including my uncle who taught math at Inglewood H.S., and everyone tuned in. It went as you'd expect. Live TV rules.
I wish we could find the tape for that show. He didn't do well. My uncle turned the station to Sheriff John in the teachers lounge that day so all could watch the dear Sheriff suffer my mom's rage. Well, those were the days. We still sing "Put another candle on my birthday cake" at parties.
What happened to Sheriff John and was he really dumb in real life?
- Thanx, Haig
---
BONUS RARE PARADE VIDEO
Thanks to Kevin Butler for this - "The Santa Claus Lane Parade" from November, 1960 with appearances by Los Angeles local TV stars Skipper Frank Herman, Chucko The Clown, Sheriff John Rovick, Don Defore, Patty McCormick, "Bozo" (Vance Colvig), Francis X. Bushman and Soupy Sales.
Classic TV Commercial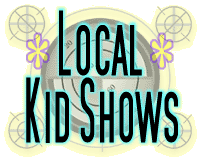 LA's LOCAL KID SHOWS
Overview of the 50s and 60s / Sheriff John / Romper Room / Chucko, the Birthday Clown / Engineer Bill / Hobo Kelly / Shrimpenstein / Baby Daphne / Skip and Woofer's Last Show / More LA Locals / 'Shotgun Tom' Kelly's Words-A-Poppin' / Billy Barty Show / Sacramento's Cap'n Mitch / Walker Edmiston / Michael Wayne Thomas

Lost Kid Shows Homepage / Shock Theater's Zacherle / Sesame Street / Andy's Gang / Sandy Becker / TV Pow! / Hilarious House of Frightenstein / The Friendly Giant / Madison's Cowboy Eddie / Who Was Doodles Weaver? / Lost Kid Show Recordings / Winky-Dink and You / Remembering Winky-Dink / Captain Kangaroo / The Old Rebel Show / The Soupy Sales Show / Walt Disney's Shows / The Magic Garden / Mad Mad Monster Party / Houston Local Kid Shows / Boston Local Kid Shows / Fabulous Sally Starr / New York City Locals / More New York City Locals / Tooter the Turtle / Crusader Rabbit / Paul Winchell and Jerry Mahoney / Alex Toth's Television Work / Diver Dan and Whirlybirds / Sonny Fox's Wonderama / The Pinky Lee Show / Bizarre Kid Shows / Chicago's Kid Shows / Chicago's Ray Rayner Show / Garfield Goose and Friends / Bob Bell's Bozo Show on WGN / Bill Jackson's Shows / Gigglesnort Hotel Memories / Bob McAllister's Wonderama / Cincinnati Local Kid Shows / More Cincinnati Locals / Make A Wish / Hot Dog / Supermarionation Puppet Shows / Philadelphia Kid Shows / Philly's Captain Noah / The Chief Halftown Show / Philly's Gene London / Bertie the Bunyip / Dickory Doc / Adam Android / LA Kid Shows / The Merry Mailman / Do Do The Kid From Outer Space / Romper Room / Romper Room Around the USA / St. Louis Kiddie Shows / Religious Kid Shows / San Francisco Local Kid Shows / Johnny Jellybean / Johnny Jupiter / Shrimpenstein / Uncle Fred Sayles / Raleigh's Uncle Paul / Shenanigans and Video Village / Pip the Piper / Thanksgiving Day Cartoon Specials of the 70s / Monster Movie Matinee / Big Blue Marble / STM Club / Popeye on TV / Cleveland Local Kid Shows / Wixie's Wonderland / Jet Jackson and Sky King / The Original Animated Hercules / Ruff & Reddy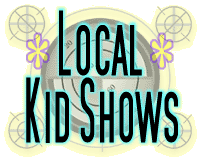 LA's LOCAL KID SHOWS
Overview of the 50s and 60s / Sheriff John / Romper Room / Chucko, the Birthday Clown / Engineer Bill / Hobo Kelly / Shrimpenstein / Baby Daphne / Skip and Woofer's Last Show / More LA Locals / 'Shotgun Tom' Kelly's Words-A-Poppin' / Billy Barty Show / Sacramento's Cap'n Mitch / Walker Edmiston / Michael Wayne Thomas
Kevin S. Butler writes: Radio/TV host and singer and popular kids MC "Sheriff John" Rovick died October 6, 2012 at a nursing home in Bosie, Id. at the age of 93.
Mr. Rovick began his career in radio in his hometown of Toledo, Oh. He would later move to Southern California in 1949 when he joined up with local TV station KTTV 11 as the station first went on the air.
In 1952, Mr. Rovick made his TV debut on the show for which he will always be remembered. The station execs at Channel 11 had acquired a collection of cartoons and they needed someone to MC the new series. Rovick volunteered to host the program and he came up with the idea of hosting the show as a law enforcer. Basing the character of "Sheriff John" on his friend, Los Angeles County Sheriff Gene Biscailuz.
Sporting a khaki uniform, badge and a white hat Sheriff John's Lunchtime Birthday Brigade was seen weekday afternoons; he would engage the visitors to his office (the viewers) in songs, stories, games, informational segments and interviews with performers and personalities between reruns of "Crusader Rabbit" and other popular films. He also did live segments on location showing his viewers how cars were built and how bread was baked. He also received visits from such performers as TV's "Superman" George Reeves.
(The show was originally titled Cartoon Time when it debuted in 1949. Later on in the series' run the show, originally begun as a weekday evening program, moved to a weekday afternoon time slot at lunchtime and was retitled Sheriff John's Lunchtime Birthday Brigade.)
The show became a hit with L.A. kids, they would flock to see their hero at many personal appearances. They also sent in letters, drawings and photos to the sheriff's office. One letter in particular was one that had great poignancy. A terminally ill little boy was being treated by his father one night and the parent was crying but the boy encouraged his father to sing Sheriff John's theme song "Laugh & Be Happy." Rovick received a letter from the boy's parents telling him that their son had died; at the service the pastor at the church recalled the boy's request that his father sing Sheriff John's song.
Sheriff John won the first local Emmy award for "Best Children's TV Host" during the 1949 Emmy awards and his series would remain on the air until it was cancelled in 1970.
Rovick made few TV appearances following his show's cancellation but remained on as staff announcer. He made a guest appearance on Tom Hatten's "Popeye Show" in the late 1970's with fellow L.A. kids TV hosts "Skipper Frank" Herman, Jimmy Weldon and Vance Colvig. He made his last TV appearance at the 1999 Prime Time Emmys.
---
LA'S SHERIFF JOHN IN 2010:
David Grudt writes: FYI, I visited with Sheriff John this past weekend in Boise, ID at his assisted living apt. He is 90 years young and in decent health. Attached is a pic. My friend and I spent 90 minutes with him. He loved talking about his career at KTTV.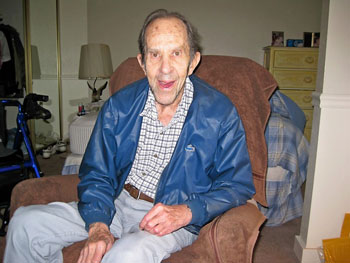 TV on DVD / / Holiday Specials on DVD
TV Commercials on DVD / /TV Shows on BLU-RAY