Michael Wayne Thomas
by Kevin S. Butler
Los Angeles kid's TV has suffered another loss.
Michael Wayne Thomas, who served as the off camera voice of "Freight Train Wayne" on Bill Stulla's Cartoon Express show, died on January 27, 2009.
Mr. Thomas succumbed to pneumonia at the Huntington Silverado Senior Living Center in Alhambra, CA. He was 77 years old.
Born in Oakland, CA on August 13, 1931 he began his career in broadcasting as an announcer at several radio stations in the San Francisco listening area. He would later leave Frisco for Los Angeles where a friend found work for him. While working in Hollywood, Mr. Thomas studied with the Pasadena Playhouse's School of Theater Arts following his graduation from the Pasadena Playhouse in 1959.
He joined KHJ TV 9 as an announcer, he was the off-camera announcer for the Hollywood edition of The Million Dollar Movie (a concept that was originally created for WOR TV 9 in NYC back in 1959) from 1959 to 1983.
Michael Wayne Thomas also worked on Bill Stulla's popular LA kid's wraparound show where he did the unseen voice of "Freight Train Wayne" who told "Engineer Bill" and the kids in the studio and at home when to drink their milk via the Red Light/Green Light Game.
Mr. Thomas would also be the brunt of Stulla's wise cracks when Freight Train Wayne tried to get to the fridge to obtain the pitcher of milk - he moved in such a clumsy manner that Engineer Bill would remark, "35 years in this man's army and this man still doesn't know how to march!"
Mr. Thomas helped Mr. Stulla introduce reruns of the Q.T. Hush, Spunky & Tadpole, Col. Bleep, Alvin television cartoons, Superman movie cartoons and Gumby puppet films on the show. Aside from his announcing duties, Mr. Thomas was a talented puppeteer and magician yet it is not known if he ever used those talents on any kid's TV series.
He was also the creator and producer of a mini-series of pre-awards shows called Your Choice For The Oscars beginning back in 1965. This concept was not appreciated by the Motion Picture Academy and in 1982 they threatened both KHJ TV and Mr. Thomas with legal action for the misuse of the name Oscar and for offering predictions as to who would win the awards.
From the 1970's to his later years Mr. Thomas lived in a 15 room house in the Hollywood Hills where he maintained a large collection of rare and unusual items including antique cars that he would rent out to movie producers, a player piano once owned by clown Jimmy Durante, and antique street lamps which adorned the deck of his swimming pool.
A bachelor, he is survived by his niece Laura Latt and his nephew Carl Troxa.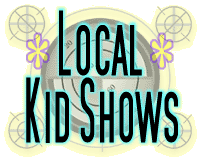 LA's LOCAL KID SHOWS
Overview of the 50s and 60s / Sheriff John / Romper Room / Chucko, the Birthday Clown / Engineer Bill / Hobo Kelly / Shrimpenstein / Baby Daphne / Skip and Woofer's Last Show / More LA Locals / 'Shotgun Tom' Kelly's Words-A-Poppin' / Billy Barty Show / Sacramento's Cap'n Mitch

Lost Kid Shows Homepage / Shock Theater's Zacherle / Sesame Street / Andy's Gang / Sandy Becker / TV Pow! / Hilarious House of Frightenstein / The Friendly Giant / Madison's Cowboy Eddie / Who Was Doodles Weaver? / Lost Kid Show Recordings / Winky-Dink and You / Remembering Winky-Dink / Captain Kangaroo / The Old Rebel Show / The Soupy Sales Show / Walt Disney's Shows / The Magic Garden / Mad Mad Monster Party / Houston Local Kid Shows / Boston Local Kid Shows / Fabulous Sally Starr / New York City Locals / More New York City Locals / Tooter the Turtle / Crusader Rabbit / Paul Winchell and Jerry Mahoney / Alex Toth's Television Work / Diver Dan and Whirlybirds / Sonny Fox's Wonderama / The Pinky Lee Show / Bizarre Kid Shows / Chicago's Kid Shows / Chicago's Ray Rayner Show / Garfield Goose and Friends / Bob Bell's Bozo Show on WGN / Bill Jackson's Shows / Gigglesnort Hotel Memories / Bob McAllister's Wonderama / Cincinnati Local Kid Shows / More Cincinnati Locals / Make A Wish / Hot Dog / Supermarionation Puppet Shows / Philadelphia Kid Shows / Philly's Captain Noah / The Chief Halftown Show / Philly's Gene London / Bertie the Bunyip / Dickory Doc / Adam Android / LA Kid Shows / The Merry Mailman / Do Do The Kid From Outer Space / Romper Room / Romper Room Around the USA / St. Louis Kiddie Shows / Religious Kid Shows / San Francisco Local Kid Shows / Johnny Jellybean / Johnny Jupiter / Shrimpenstein / Uncle Fred Sayles / Raleigh's Uncle Paul / Shenanigans and Video Village / Pip the Piper / Thanksgiving Day Cartoon Specials of the 70s / Monster Movie Matinee / Big Blue Marble / STM Club / Popeye on TV / Cleveland Local Kid Shows / Wixie's Wonderland / Jet Jackson and Sky King / The Original Animated Hercules / Ruff & Reddy