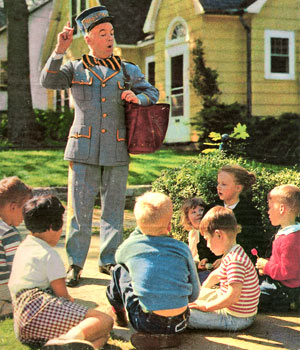 The Merry Mailman
The Merry Mailman was seen weekday evenings and afternoons on WOR channel 9 in NYC from Monday October 16, 1950 until Friday June 22, 1956.
Ray Heatherton, aka The Merry Mailman, made his debut as host of a 15 minute cartoon fest; the show was later re-formatted as an hour-long kiddie variety series.
Sadly, Mr. Heatherton became a victim of the Communist witch hunts, when a bogus supermarket chain owner wrongly accused him of being in support of 'the Red Menace.'
Ray Heatherton returned as The Merry Mailman when the series was picked up by WPIX channel 11 in NYC on Monday afternoon, September 25, 1961. The series didn't do very well and left the air on Friday, May 31, 1963.
Ray Heatherton died on August 15, 1997.
Merry Mailman records (and books) were sold nationally in the mid-fifties. The lyrics were written by Mrs. Sylvia Rosales.
Here's The Merry Mailman
song as released on a 78 RPM record