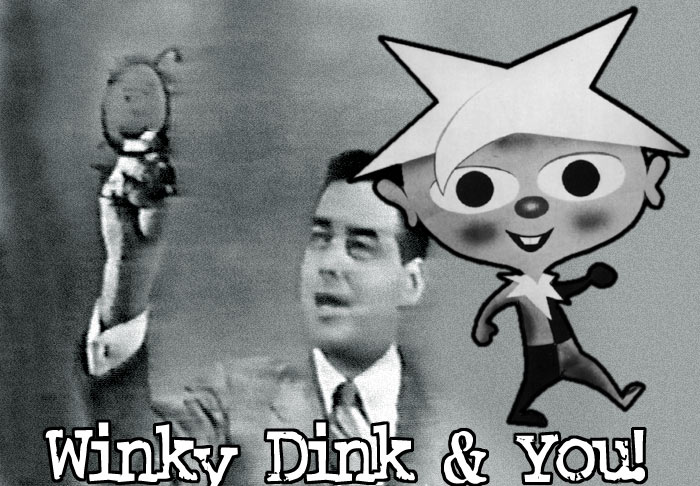 by Billy Ingram and You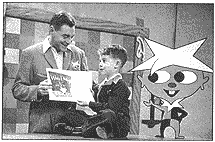 "My memories of Winky-Dink over the years had grown understandably vague. All I remembered was the screen and the rescue premise. I experienced blank stares from fellow baby boomers when the revered one was mentioned. My husband and I recently relocated to upper Michigan, and while we were building a house had occasion to rent a home from a delightful local farmer and his wife.
"One day while chatting about childhood memories, the farmer mentioned a "show he used to watch as a child, that no one ever acknowledged remembering" to which I responded without hesitation at all - 'Winky Dink.'
"He was astounded that of all the possibilities, I would pick the exact one, and an instant friendship was sealed."
- Greyharein
Winky Dink and You was a favorite of kids everywhere, a show that was first broadcast in the Fifties but I've met other people who remember it being on in the early Sixties. With the recent return of the character, suddenly everyone wants to know - who (or what) was Winky-Dink?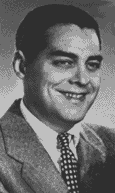 Winky-Dink and You originally ran at 10:00am Saturday mornings from October 10, 1953 until April 27, 1957 on the CBS network.
Joining host Jack Barry was Dayton Allen (from 'Howdy-Doody', later the voice of Fearless Fly) as Mr. Bungle, the assistant that never gets anything right. (You may recognize the name 'Mr. Bungle' as the name of a very popular alternative band of the Nineties.)
Dayton Allen was also the voice of Deputy Dawg and the grumpy mayor Phineas T. Bluster on The Howdy Doody Show; along with hundreds of other Terrytoons and 1970's Saturday morning creations. He also was a regular on The Steve Allen Show. Dayton Allen died Nov. 11 in Hendersonville, N.C., after suffering a stroke.
The voice of Winky-Dink was Mae Questel, who also voiced "Betty Boop" after Helen Kane. A veteran of many films, radio and television shows, she is probably best known as "Miss Blue Bell" in those 70's paper towel commercials and as the old grandmother in 'National Lampoon's Christmas Vacation'. Mae Questel passed away in 1998.
Broadcast in glorious black and white, the program featured the adventures of a star-headed cartoon lad named Winky-Dink and his dog Woofer - interspersed with the in-studio antics of a host and an audience of kids.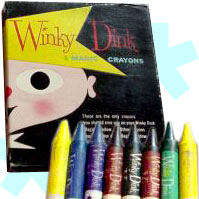 The gimmick here was that the boys and girls at home were asked to help Winky-Dink out of a jam by drawing whatever Winky needed (rope, ladder, bridge, etc.) on the TV screen. This was done with the aid of a Winky-Dink Kit which was sold by mail for fifty cents. "We sold millions of those kits" the show's host Jack Barry commented, "It was well thought out."
You would place the clear piece of plastic that came in the kit over the television screen and connect the dots to create a bridge for Winky Dink to cross to safety, then trace letters at the bottom of the screen to read the secret messages broadcast at the end of the show. Which I guess makes Winky-Dink the world's first interactive video game.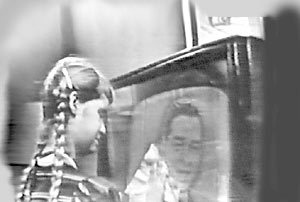 "There was one episode where the "secret message" was "sabotage" and I went around to every adult trying to get an answer as to what it meant that was satisfactory to a six-year-old!" Steve P writes, "Some difference from today's world of terrorism, eh?!?!"
Another TVparty viewer explains her connection to the show: "Every Saturday morning as a 6 year old in 1953 I would wander up the back porch steps from my parents flat in Chicago to my grandparents' flat. They had a TV! My grandmother would tune into WBBM and my favorite show as a child would appear...'Winky Dink'. My grandmother would spoil me by taking me to local dime stores on every shopping trip and buy me a toy. I knew I would not have a problem asking for and getting my Winky Dink screen. I will always cherish the time I was able to spend with my grandparents (now deceased) and in "saving" Winky Dink from his perils."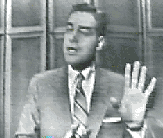 Of course, it goes without saying that scores of kids without the kits drew on the television screen itself, ruining many a family's first television set. "I remember that my Mother didn't want to buy me a Winky Dink screen," Charlie Jamison writes, "That was not going to stop me from helping my old pal Winky Dink, I just used a permanent marker! The next week, I had a Winky Dink screen."
Alan Rosen remembers that "The green screen that stuck to the TV had a little Winky Dink "logo" on the bottom center that now (40 years later) looks something like the transparent logos that the networks are using during TV shows. The Dinkster was ahead of his time!"
"There were actually TWO Winky Dink kits," Allan continues."The one for 50 cents that you could order from TV or a DELUXE Winky Dink kit with a screen and extra crayons and erasing cloth that was sold in toy stores for the then hefty price of $2.95."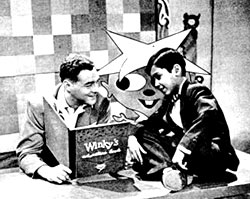 Another viewer tells us: "I used to watch Winky Dink on WBBM in Chicago when I was a kid in the 50s. I had the kit, but I would intentionally draw the wrong things. When Winky needed a ladder to get out of a hole, I would draw a cover on the hole. When he needed a parachute, I would draw an anvil to pull him down, etc.
"I would tease my younger sister and tell her that I was making Winky die! Whenever she left the room crying, I would laugh and laugh. Winky was cool.
"I have a friend named Ed Winkler - guess what I call him? He is too young to have ever seen the show - too bad."
THE WINKY DINK KIT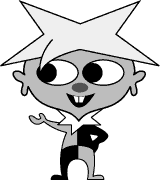 No matter what the cost, the Winky-Dink kit was a prized item.
"One day I had a dentist's appointment that I definitely did not want to go to, and my behavior made that point perfectly clear to my parents as I defiantly told them that I was not, under any circumstances, going to go."
Mike Monahan writes TVparty, "Then, the mailman came and I saw the envelope from Winky Dink. Well, I almost had a heart attack when my mother told me that I could not open it until I went to the dentist . . . 'and you'd better behave yourself!'. I don't remember the dentist visit, but I sure do remember drawing on that plastic screen the following Saturday morning!"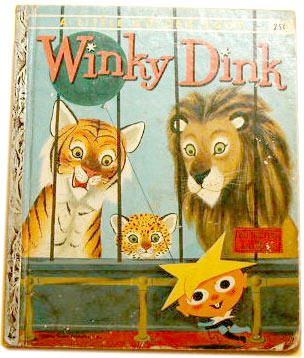 NEXT: PART TWO
The creators of Winky-Dink
share their memories -
and the scandal that stopped
Jack Barry's career dead!