A TVparty Investigative Report (yeah, right!)
You won't believe the nerve of these daffy pranksters!
by Billy Ingram (and Michael H)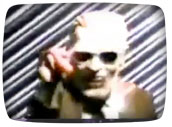 It's a comfort to know that, with a nation on alert for possible terrorist attacks, very few people have successfully interrupted a network or local television broadcast.
But what's being done to protect the airwaves?
It's almost too frightening to consider. What would happen if media outlets were suddenly hijacked by a cabal of indifferent ideologues, subjecting an unsuspecting public to a relentless disinformation campaign littered with vile, slanted viewpoints and twisted facts designed to brainwash the masses?
Come to think of it, how would we know the difference?!?
Let's look back on some bizarre historical examples:

Hackers Hold Chicago
In The Grip Of Terror! (well...)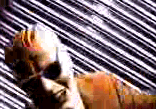 On Nov. 22, 1987, video hackers managed to override the Chicago PBS station's broadcast of 'Dr. Who' for 90 seconds and replace it with a signal beamed from their secret location. Drunk with mad power, the dastardly duo also hacked into a major Chicago commercial station that night for a several moments.
With the ability to control one of the world's largest broadcast markets now firmly in their grasp, what diabolical message would they send? Were they terrorists with a Hell-bent message? Or was this a people's uprising, an attempt take back the airwaves from the purveyor's of lowest common denominator entertainment - perhaps sparking a return to the great dramatic anthology shows of the fifties, or the whimsical but wholesome sitcoms of the sixties?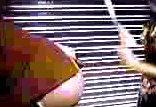 Instead, what Chicagoans were treated to was some dork wearing a Max Headroom mask dropping his pants and getting a spanking from his accomplice (also masked). All the while, the camera panned wildly about, exposing a plain corrugated metal background. It was probably shot in someone's garage - but then, in all fairness, Bill Gates started that way.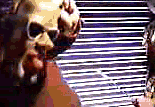 This incident made the national news but the perpetrators were never caught in spite of an FBI investigation. You have to admire the nerve of these guys - true it wasn't Shakespeare, but the networks had a hard time filling the airwaves when THEY first got started.
Of course, we all know if the ratings had been good for the 'Show Me Your Ass And I'll Paddle It' show, it would still be on today in Chicago. In national syndication.
At the very least, the PBS station should air this during pledge breaks...

Who Needs The
Damn Frequency?
Just Storm The Stage!

During the Gulf War, a member of the radical group ACT UP got his anti-AIDS rant on the air - live - just as Dan Rather was starting the CBS Evening News. A controlled Rather immediately went to commercial and the activist was rushed out of the studio and arrested.
Since this incident, security has been tightened at CBS and laws have been passed that make it illegal to interrupt Dan Rather while he's talking.

Talk Show
Ambush!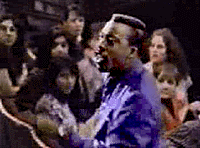 Before he became host of 'Star Search,' Arsenio Hall had one of the hottest late night talk shows of the last decade.
Here we see Arsenio briefly losing control of his show - and his temper - during a taping of his 'The Arsenio Hall Show' (1989-1994).
Two audience members, part of a radical gay rights group called 'Queer Nation,' disrupted the taping because Arsenio's producers wouldn't book Gus Van Zant to promote his gay-themed film, 'My Private Idaho.'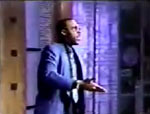 Arsenio wasn't about to let the disruption pass, he really let those guys have it with a diatribe of his own. "This ain't Merv, you didn't think I'd run from this did you? I don't know Gus Van Zant. But I know Elton John, he's been here, he's rocked the house!"
The heated exchange went on for several minutes - "This is my show! This is my show! This is my show!" Arsenio insisted. "I'm black! I'm black, man! I'm the biggest minority you know about!"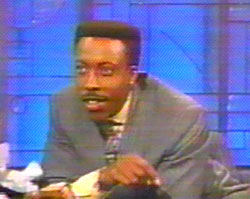 Just when Arsenio cooled off enough to offer an apology for his outburst, he lost it again and verbally vomited, "Why is it you can do a joke about anything and anybody, but when you do a gay joke, I gotta have idiots in here protesting over it? You don't see Dan Quayle here! You don't see Milli Vanilli here! What's your problem?"
Jerry Lewis
Stalker?!?

The Jerry Lewis Telethon goes on every year LIVE from Las Vegas, a tempting target for someone who wants to interrupt a national broadcast. Naturally, security is high.

Here's a rare snip from the 1998 Labor Day Telethon that had some wacko walk up to Jerry Lewis (as he was giving his pre-"You'll Never Walk Alone" monologue) - then you see two tough security goons grab him and forcibly take him off the stage (the wacko, not Jerry).
Oddly enough, there was no mention made of this incident in the media the following day. Probably to avoid encouraging this type of behavior in the future.
Around this same time, Lewis's lawyers were in court to put a longtime stalker (who had just been released from prison) back behind bars.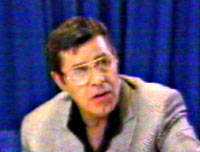 Was this Gary Randolph Benson, the grammatically challenged guy who wrote (in one of his misguided fan letters): "Dear Jerry. Your Dead. Your friend, Gary Benson"?
In August, 2001, Benson was found dead in his jail cell, where he was awaiting trial on charges that he violated Lewis' protective order. Police said it appeared he died in his sleep.
Sometimes it's the
network that does
the hijacking!

This is the rare Conspiracy Theory Rock (a spoof of 'Schoolhouse Rock') segment from 'Saturday Night Live.' It only aired once, and then was mysteriously cut out from that episode's rebroadcasts.
NBC claimed it was pulled because it "wasn't funny," but that's the same excuse they gave when they canned Norm MacDonald. Instead of undermining the cartoon's joking around about NBC suppressing information and squashing dissent, it proved the point, instead.
In fact, there is more truth in this 2 1/2 minute short than has been broadcast on network television in the last decade. It was produced by the brilliant animator Robert Smigel, ('Saturday Night Live's The Ambiguously Gay Duo, X-Presidents, 'Late Night with Conan O'Brien's Triumph, the Insult Comic Dog and Comedy Central's 'TV Funhouse').
In conclusion, the nation's airwaves appear to be relatively free from interference and you can relax in the knowledge that reruns of 'Everybody Loves Raymond' will not be interrupted tonight - unless those Max Headroom guys come back.
---
MORE FROM
TVparty VIEWERS:
This is one of the best sites on the web! I have a few suggestions for the "TV Terrorist" section: (If anyone has anymore info on these incidents, it would be greatly appreciated):
1.) The "gunman" that got into KNBC's (LA NBC affiliate) local newscast set and forced consumer reporter David Horowitz to read a statement about the CIA and space aliens. It turned out that all he had was an empty BB gun, he was a mental patient. As a result of this incident, David Horowitz lobbied the government to ban any realistic looking toy weapons... and won!
2.) The hacker that broke into HBO's signal protesting the cable rate hike. I remember it vividly: It was during an airing of "Falcon and The Snowman." Suddenly, color bars show up with this message superimposed: 'Good evening HBO. $12.95... NO WAY! Cinemax and The Movie Channel BEWARE... Captain Midnight' (Or something like that). The perpetrator was later apprehended.
3.) Jim Rome was attacked during his show on ESPN by NFL star Jim Everett. Rome kept calling Everett "Chris," despite Everett's warning not too. Then, the table goes flying, Rome gets tackled but slipped away as the show went to commercial. When Rome came back, he made a statement about Jim Everett being "immature" and having a "thin skin." As it turned out, Jim Everett's wife was named Chris. (I thought he was referring to Chris Everitt, the tennis player... hmm.) Both men later apologized to each other about the incident.
4.) Chicago seemed to be a hotbed of TV Terrorists. WGN TV in Chicago was hacked even before the Max Headroom incident... but, accidentally. During "The Bozo Show", the west coast feed of some network movie suddenly cut in - showing the fantasy sequence of Phoebe Cates going topless, and Judge Rinehold masturbating from 'Fast Times At Ridgemont High!' The noon newscast of WGN later apologized for the accident. (I'm sure heads rolled as a result!)
5.) In the summer of 1990, WLS-TV (Channel 7 ABC affiliate) was in the middle of their Saturday night late movie, when the station had to be evacuated and switch to color bars after a gunman stormed the building. Periodically, their mobile unit would break in and give the progress of the situation, with the reporter also giving reports via 2-way radio, while police searched the premises. They found the man, and it turned out, he was mentally disturbed and just wanted attention. He was apprehended peacefully.
- Paul N. (Chicago)
---
I'm George Pappas with WGN-Channel 9 Chicago and Superstation WGN's programming department. Came across an erroneous claim stating that our signal was hacked during a broadcast of our Bozo Show. Here's what actually happened per United Press International on September 15, 1983:

(ROCK ISLAND, ILLINOIS) -- COLD WEATHER HEATED UP THE MORNING CABLE TELEVISION BROADCAST OF THE BOZO THE CLOWN SHOW WHEN IT CAUSED SATELLITE MICRO-WAVES TO PRE-EMPT THE FAMOUS CLOWN WITH AN "R" RATED MOVIE.

THE MOVIE ... FAST TIMES AT RIDGEMONT HIGH ... BUMPED THE NOTED RED-HEAD OFF THE AIR YESTERDAY WHEN UNSEASONABLY COLD TEMPERATURES CAUSED CABLE WAVES TO GO HAYWIRE. BEFORE THE PROBLEM COULD BE CLEARED UP ... YOUNGSTERS WAITING TO SEE MORE OF THEIR FAVORITE CLOWN SAW AND HEARD MUCH MORE OF EVERYTHING ELSE. THE MOVIE WAS FILLED WITH NUDITY AND PROFANITY.

CABLE T-V OFFICIALS SAID TODAY THE COLD WEATHER CAUSED A JUMP IN FREQUENCIES THAT PUT THE MOVIE CHANNEL ON THE SAME WAVELENGTH AS W-G-N CHANNEL 9 ... WHICH BROADCASTS BOZO.
---
The comments from Paul N. regarding his suggestions for additions to the terrorist section leave out an interesting piece of information from the KNBC-gunman story. The mentally disturbed gunman turned out to be the son of a fellow newscaster. He was the son of Max Stollman - the KNBC News pharmacist. He was allowed to watch the newscast as a "guest" because his dad worked on the show. Los Angeles newscasts changed their guest policies after the incident.
- John R.
Alexandria, VA
---
I'm surprised you forgot the "Captain Midnight" stunt, but there's a lesser known story that fits right in this story.

In 1982, a man named Joe Billy Guinn entered the KOOL-TV10 studio in Phoenix and held the crew and anchor Bill Close hostage for about 5 hours. The station eventually agreed to broadcast his "manifesto". (Something about Islam brainwashing Reagan's son.) Close told Guinn "Let me read it, I have a better voice" and read it live with a gun stuck in his side.

I know there exists a clip of the evening news that night, as Guinn fired a gun into the ceiling to announce his arrival. A local urban legend indicates the clip is of the police shooting Guinn dead just off camera, but in fact, Guinn was recently released from prison.

Hopefully, someone else can point you towards this clip. (Or better yet, the manifesto itself, but I've never seen that.)

- Marc Sparks