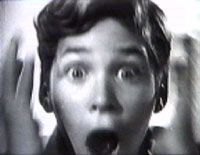 Some modern-day experts contend that violent video games encourage savage behavior in our young people, while others say that's just another example of the latest entertainment medium becoming society's scapegoat du jour. Keep in mind, the same breed of expert said the exact same thing about comic books in the 1950s - and look at how great the baby boomers turned out.
Long before technology gave us realistic games for kids that allowed for simulated predatory gun fighting electronically, America's children took to backyards and playgrounds with toy cap guns to battle it out in the neighborhood. Playing army or cowboys and indians in the dirt was how many American kids spent their playtime in decades past.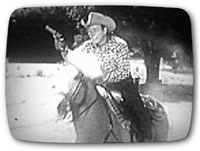 When did this behavior start? Perhaps at the very beginning of recorded history - the 1950s. Cowboys like Roy Rogers, Gene Autry, Hopalong Cassidy and The Lone Ranger ruled the daytime TV airwaves, attracting a legion of kids who wanted to play shoot-em-up at home.
Not a problem, since all of the television cowboys and detectives had their own line of realistic-looking toy firearms for sale at the nearest dime store. And best of all - no pesky background checks!
The most popular western cap gun sets of the '50s were Mattel's Fanner 50 realistic Winchester rifle, Buc'N Bronco, and the Hubley pistols.


Mattel's Tommy Burst set - because every detective needs a sub-machine gun: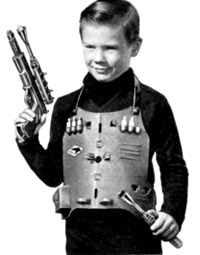 Wen cowboys and pistol-waving detectives started to lose favor in the early-'60s, toy gun lines lost their key salespersons and innovative products had to be created from scratch.
Products with catchy names like the TommyBurst submachine gun, Remco's Monkey Division (for "jungle warfare" with two-way wrist radios), Secret Sam, and the Fan-O-matic (with Greenie Stick-M caps for ammo) burst onto the market.
Johnny Seven OMA (One Man Army) by Topper was the ultimate killing machine and much sought after - with seven actions, including a grenade launcher, anti-tank weapon, anti-bunker missile, armor-piercing shell, and a detachable pistol with the rat-a-tat-tat sound.
---
From You Tube - secret agents were popular on TV in the mid-1960s: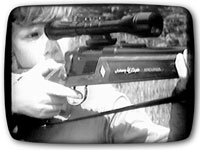 "Just position yourself on the hill and attack!" invited the advertising for Johnny Eagle, another of Topper's most popular toy gun lines from the mid-'60s. The brand included the Red River, Mugambo, and Lieutenant lines.
The ad campaigns flashed iconographic images of kids with their weapons drawn, firing down from the hill against a catchy jingle set to the tune of "When Johnny Comes Marching Home."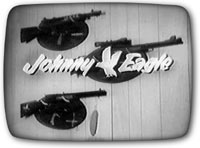 These handsome rifle and pistol sets could be wall mounted on their own simulation wood-grained plaques.
Another highly effective toy campaign was for an all-purpose weapon called Zero-M from Mattel. Who wouldn't want a portable radio or camera that turns into a rapid-firing weapon? Sure comes in handy in music class.
Back then you didn't expect the electronics to actually work (and they didn't) as long as the gun fired. In the Zero-M TV commercials, a boy, portrayed by a young Kurt Russell, is summoned by a secret society hidden in his bedroom closet.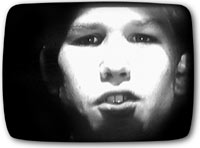 The old guys in the closet, led by Alfred from the Batman series, instruct Kurt to go out into the community armed to the teeth to do their bidding (see also: Escape From New York).
Needless to say, modern kids would never fall for a setup like that. They don't listen to adults.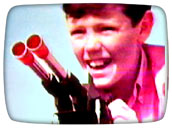 When you talk about fearsome weapons of mass destruction, red-blooded American boys could easily obtain the mother of all artillery weapons - Big Bertha. Easy to find because it was sold exclusively in grocery stores (the next frontier for retail handgun sales, I predict).
During the Vietnam era, war toys like these were very popular, getting kids used to the inevitability of being drafted after they finished school. You'll notice they're popular again.
Realistic toy guns were pulled off the market in the 1970s due to parent group protests and the fact that children were being tragically gunned down by police who thought they were armed with real weapons.
Guns started to become very politically incorrect in the media as well, with the Vietnam War being over and us losing and all.
Dads (fresh from the killing fields) were only too happy to share their knowledge of guns with their children. I mean, if you were a carpenter, wouldn't you show your kid how a hammer works?
If parents today feel that their children deserve to play Army man just like they did as kids, why shouldn't they give them real automatic weapons if the toy guns are no longer available?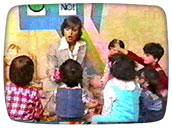 Which leads us to this rare clip from Romper Room in 1978. New York City host Miss Mary Ann gets into an argument with a six year-old kid over gun safety - but the kid will have none of it. He's a little wise guy who'll test the gun to see if its real or fake by firing into the trash can!
Was this a turning point for American kids? Considering the recent wave of misanthropic but well-armed kids shooting up the hallowed halls of our high schools, is it possible that, by taking away the realistic toy guns, we've encouraged our children to pick up the real thing for fun and games?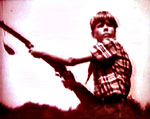 Consider this fact: there are millions of guns in the United States but almost no episodes of Romper Room in existence. (That's called juxtaposing two unrelated facts to create the illusion of profundity - politicians do it all the time...)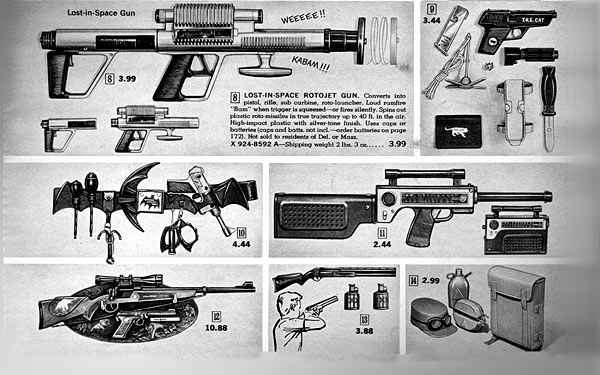 From a 1967 J C Penney catalog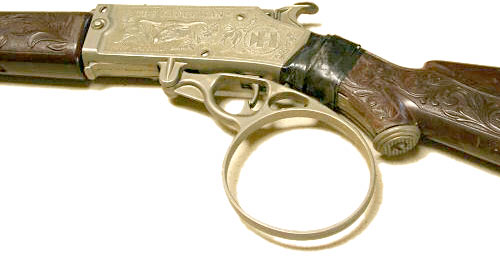 There was a line of toys based on The Rifleman including this cap gun.