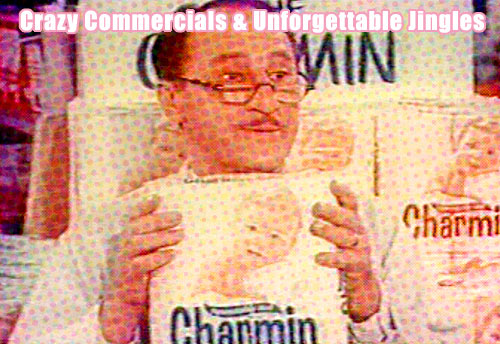 by the Cathode Kid, Billy Ingram
A peppy jingle or clever catch phrase can make or break an ad campaign. Occasionally, an agency will create a slogan or tune that resonates so strongly with the public that it remains in play for years or even decades. These TV commercials are prime examples of that.
"Winston tastes good like a cigarette should." That slogan, set to music, was one of the first hummable TV commercials, debuting in the mid-fifties with variations continuing all throughout the sixties. English teachers and language purists cried foul so Winston answered with a new slogan - "What do you want, good grammar or good taste?"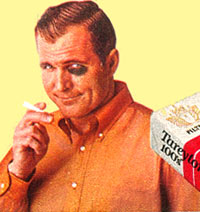 Speaking of cigarettes and bad grammar, in the mid-sixties a man or woman with a black eye would gleefully exclaim, "Us Tareyton smokers would rather fight than switch" in a ubiquitous series of print and TV ads. Cigarette ads were banned from TV in 1971.
From You Tube - a run of cigarette commercials: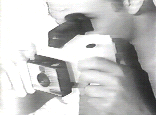 Polaroid / 1968
You gotta love these lyrics: "Meet the Swinger, Polaroid Swinger. It's more than a camera, it's almost alive, it's only 19 dollars and 95."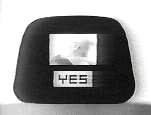 Catchy commercials were a trademark of the Polaroid corporation in the Sixties and Seventies, known for cutting edge advertising and clever re-inventions of their core product, a camera that delivered a picture within a minute.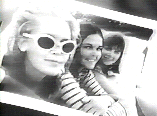 The idea of the instant picture was hardly new in 1968, but the hip, swinging attitude was. The white casing and black plastic strap handle gave the Polaroid Swinger real pop-art appeal. And isn't that Ali McGraw romping on the beach?
Another Polaroid Favorite: In the mid to late-seventies, a holiday commercial series featuring James Garner ('Rockford Files') and Mariette Hartley as a bickering married couple led to big sales for Polaroid 'One Step' cameras. Variations of this campaign ran for several years. The glory days of Polaroid are long past, years ago Polaroid filed for bankruptcy.
One of the most celebrated and effective commercials of all time; the jingle used here (and throughout a dozen variations) is unique because there are no words, just humming.
Benson and Hedges actually built a brand name and drove consumer demand by making fun of their product, showing the "distinct disadvantages of smoking a longer cigarette."
"Ajax - laundry detergent - is stronger than dirt."
These famous 1960s spots featured a white knight on a white horse who would aim his lance at kids playing in the dirt and their clothes would turn magically clean. This series ran for almost the entire decade.
Today, a man pointing his lance at children on the playground would be seen in a slightly less favorable light, I suspect...
Here's a medley of commercials from the sixties that take place at the beach. Dig the crazy sunglasses - and the catchy jingles!
"You get a quick tan with QT." Another peppy tune from the mid-sixties meant to entice you to try this sunless tanning lotion.
"Hungryyyyy, Hungry Jack. They gobble 'em up and the plate come back for Hungry Jack."
I thought this was movie star Marjorie Main ('The Women', Ma Kettle), but it's not - it's actually a look-alike actress named Fran Ryan, who recently passed away. Fran's best known as the second Mrs. Ziffle on Green Acres and as the art matron on an episode of Taxi called "Elegant Iggy."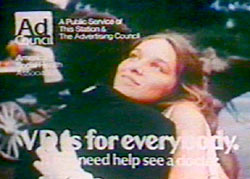 VD is for Everybody
Can you imagine everyone in mid-seventies singing along with a jingle about venereal disease? That's exactly what happened when this public service spot hit the airwaves (both radio and TV). And no wonder - with lyrics like:
VD — is for everybody
Not just for the few
Anyone can share VD
With someone nice as you...
REMEMBER THESE?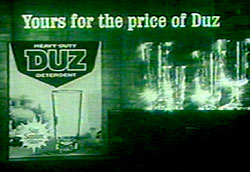 Duz Detergent
My aunt Rose was a wonderful woman. In the 1960s, she watched TV wrestling and believed whole-heartedly that it was all 100% legit. And whenever one of her kids broke a glass, she bought Duz laundry detergent - because, even though it cost a bit more than other brands, each box came with a free drinking glass.
Marx Brothers Harpo and Chico appeared in a wacky commercial for a woman's hair cream. Why? The commercial was filmed in 1960 for broadcast on their brother Groucho's hit quiz program, You Bet Your Life.
"All - tempa - Cheer" was the clever campaign that made Cheer laundry detergent a major seller in the sixties.
This mid-sixties spot might be considered a 'lost' episode of Star Trek! Check it out - a Vulcan (one of Mr. Spock's long lost relatives, I suppose) beams down to tell this hapless housewife about new all temperature Cheer. The guy is clearly a Vulcan, note the distinctive ears and pointed eyebrows. (I'm a geek, I know.)
"Please don't squeeze the Charmin!" As hard as poor Mr. Whipple tried, he couldn't get the daffy ladies in his shabby grocery store to stop their fetishist behavior over the Charmin toilet tissue.
Undoubtedly, this is one of most effective ad campaigns of all time, if not THE most effective. Think about it - in 1964, the Benton & Bowles ad agency succeeded in making toilet paper sexy. "Please don't squeeze the Charmin" became instantly recognizable all over the country, across all age groups.
If you can get your brand name inserted in a catch phrase that takes off with the public you're a double winner, another reason these ads worked so well.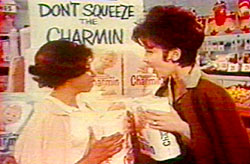 This durable campaign lasted for more than 20 years (1964-1985). Here's a spot from 1969 that demonstrated it wasn't just crazy white folks that were squeezing the Charmin. (These commercials also show you what a grocery store looked like in the 1960s.)
2 Charmin commercials from the 1960s from You Tube:
By 1979, according to one poll, Mr. Whipple was the third best known American, behind Richard Nixon and Billy Graham.
The actor who played Mr. Whipple, Dick Wilson, retired in 1985 (the commercials continued to run until 1989) after over 500 pitches for Charmin; he was entered into the Guinness Book of Records as the longest-running television pitchman.
In 1999, Wilson returned as Mr. Whipple in a new series of Charmin commercials, teasing that he might come out of retirement to, "spread the word about the new Charmin," which, apparently, was stronger and more absorbent - and squeezably soft, no doubt. Wilson died in 2007, he was 91.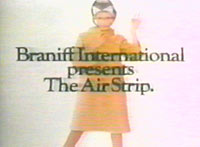 OUTRAGEOUSLY
SEXIST COMMERCIAL:
How's this for an airline slogan: "Because even an airline hostess should look like a girl."
It must have seemed like a good idea at the time - an airline marketing their stewardesses as sexy seductresses. What a great way to meet chicks!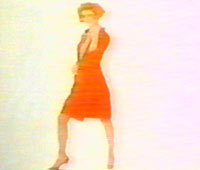 In this commercial, the Braniff stewardess removes her Pucci designer outfit to a playful strip tease number - until she's slipped into something a bit more comfortable for those long, cozy evening flights. I kid you not!
It took decades to remove the stewardess/slut connotation that commercials like this bestowed on a noble profession, and that prejudice still exists today with some people.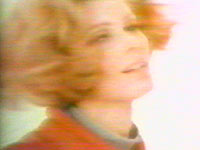 Proving that advertising does work, Joan Rivers made a career in the eighties telling trashy stewardess jokes.
---
I was surfing your web site and was amazed that you missed the most famous of all airline commercials that sparked N.O.W. women to picket our airline.
The commercial, shown constantly across the U.S. was "Fly Me" showing our stewardesses in skimpy two piece bathing suits and our very short mini-dress uniform. We have been written up in two articles, interviewed by Discovery Times, and will be in a book on stewardesses released next year. We were the most famous little airline with this slogan that enabled National Airlines to have tremendous profits while this commercial ran.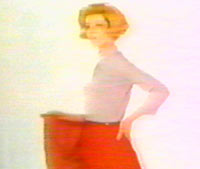 Our last slogan in 1976 was "Take Me, I'm Yours", which almost sparked the same response but then we merged with Pan American. To this day, National Airlines, based out of Miami Florida, is known for "Fly Me" girls.
Thank you,
Suzanne C. Johnson
www.NationalSundowners.com
Assistant Director
ROCK AND ROLL JINGLES FOR RADIO:

McLean's Toothpaste - [audio] Frankie Lane had a huge hit song (Rawhide) in the early Sixties that an ad agency ripped on for a wild toothpaste commercial. Just who is he slapping with that whip, the background singers?
The Chiffons, a famous 60's girl group, sings an anthem to early designer jeans in this early-Seventies radio spot for HIS Jeans. [audio]
Jerry Lee Lewis Coke Commercial - [audio] Jerry Lee is known as a raucous rocker who virtually ended his career by marrying his cousin - eventually making a comeback as a country artist. This commercial finds 'The Killer' in rock mode for a version of "It's The Real Thing" for Coca-Cola.
NETWORK JINGLE:
"This Is The Place To Be - on ABC." Hey, networks have to sell themselves, too.
This film utilized a kaleidoscope of the various shows that the network had on the air at the time (an amazing array of still recognizable classics like 'The Mod Squad' and 'The Brady Bunch') along with sophisticated special effects of couples dancing and having a good time. ABC once again used a version of this theme for their winter, 2003 schedule.
ANIMATED COMMERCIALS: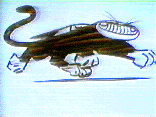 Uniroyal Tiger Paw Tires / 1966
Awesome animation that simulates a tiger speeding confidently through hilly roads thanks to paws that grip. Tiger Paws even advertised tires for kid's bicycles under the same brand name.

Mr. Bubble / 1963
"Mr. Bubble gets you so clean your mother won't know you." After this commercial began running relentlessly on local and national kid shows, Mr. Bubble became a household name.
"Live better electrically!" Why advertise electricity? You've got me, but this snappy tune had Fifties' audiences (and transformers) humming.

"Live better Electrically? I remember the old days, when we watched our old gas-powered TV!" - Ray D.
Colgate Dental Cream - from the early-fifties, "Cleans your breath while it cleans your teeth." [audio]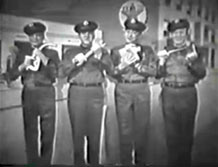 On Milton Berle's hit variety program in the early fifties, the broadcast started out with a line up of male dancers dressed as gas jockeys singing the Texaco jingle.

JINGLES FOR KIDS: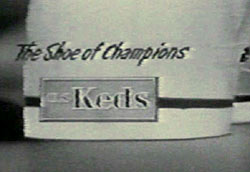 Keds
Keds was the predominant sneaker brand in the sixties. They captured audience share by emphasizing many of the same attributes that athletic shoe makers push today - the ability to make you run faster and jump higher.
This is the first commercial featuring Froot Loops icon 'Toucan Sam', and no one who saw this commercial as a kid ever forgot the jingle. Warning: don't play this clip unless you want to be humming the tune all day!
Here's a peppy song that aired between the Saturday morning cartoons in 1974 - "Tony is the Tiger of the year."
"Chocolate tastes like Bosco." This chocolate syrup (big in New York and Philly) used animated bunnies for their commercials in the Sixties. Here's another Bosco spot in color - Bosco / 1967
Effective ads for children often utilize music as a key component. In this commercial for Milton Bradley games, two jingles are molded into a corny kiddy mega-mix, ending with the company's slogan "Milton Bradley Makes The Best Games In The World."
Peter Pan Peanut Butter / 1972
The battle between Peter Pan and Captain Hook was played out for the benefit of a jar of Peanut Butter - "If you believe in peanut butter," the jingle went, "You gotta believe in Peter Pan." Believe, fine - but what about BUY?!? The slogan and tune had a longer life than these cartoon characters did.
---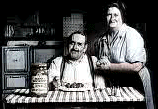 Commercial Mega-Mix / 1955-85
This incredible edit (I don't know where it came from) contains almost every great commercial catch phrase during a thirty-year span, including: "I can't believe I ate the whole thing", "Where's the beef?", "My wife, I think I'll keep her", "I've Fallen and I can't Get up!", "Are those Bugle Boy Jeans that you're wearing?", "Look Ma, no cavities!" and lots more.
Footage from video collector's archives.
EMBEDDED LINKS IN BOLD
ARE TO REAL PLAYER FILES


(You need this player)
Please consider a donation
so we can continue this work!

Auto huren makes it possible to compare all car rental companies all over the world!
Compare the top sellers of Instagram followers on Buy instagram followers reviews!
An overwiew of guides and gutscheincode with the best tips and tricks to save money! on Ebookers.
Batman TV Shows on DVD / Superman on DVD
MOST OUTRAGEOUS
POLITICAL AD EVER?
This is credited as being the very first negative campaign ad for television.
In an effort to get Lyndon B. Johnson elected President in 1964, his campaign ran this simple ad. It showed a little girl holding a daisy, innocently plucking the petals and counting to ten.

Cut to a different kind of countdown - leading to an atomic explosion which (presumably) obliterates the darling little child.
The narrator (the president himself) somberly intones, "These are the stakes. To make a world in which all of God's children can live. Or to go into the dark. We must either love each other or die."
Basically the pitch was - vote for Johnson or you die a horrible death. It worked, ancient history buffs tell us that Johnson was elected President in 1964.
This ad was considered so shocking it was only run twice, during a football game and on The NBC Movie of the Week. Another milder variation was filmed and used in its place.
Save $$$ on Classic TV books & DVDs!
Please consider a donation
so we can continue this work!

Auto huren makes it possible to compare all car rental companies all over the world!
Compare the top sellers of Instagram followers on Buy instagram followers reviews!
An overwiew of guides and gutscheincode with the best tips and tricks to save money! on Ebookers.
Amazon Prime - unlimited streaming
of your fave TV shows and movies!
Get your FREE 30 Day Trial!
PR4 & PR5 Pages for Advertising