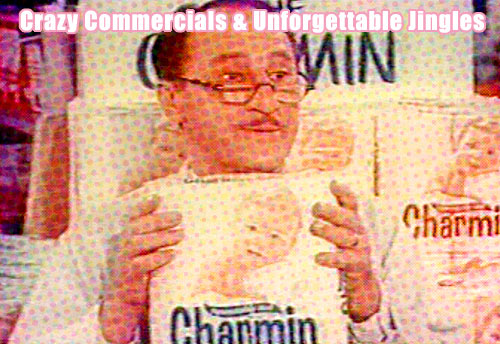 by the Cathode Kid, Billy Ingram
A peppy jingle or clever catch phrase can make or break an ad campaign. Occasionally, an agency will create a slogan or tune that resonates so strongly with the public that it remains in play for years or even decades. These TV commercials are prime examples of that.
"Winston tastes good like a cigarette should." That slogan, set to music, was one of the first hummable TV commercials, debuting in the mid-fifties with variations continuing all throughout the sixties. English teachers and language purists cried foul so Winston answered with a new slogan - "What do you want, good grammar or good taste?"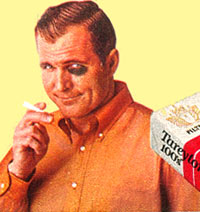 Speaking of cigarettes and bad grammar, in the mid-sixties a man or woman with a black eye would gleefully exclaim, "Us Tareyton smokers would rather fight than switch" in a ubiquitous series of print and TV ads. Cigarette ads were banned from TV in 1971.
From You Tube - a run of cigarette commercials: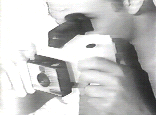 Polaroid / 1968
You gotta love these lyrics: "Meet the Swinger, Polaroid Swinger. It's more than a camera, it's almost alive, it's only 19 dollars and 95."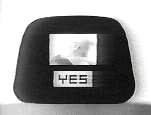 Catchy commercials were a trademark of the Polaroid corporation in the Sixties and Seventies, known for cutting edge advertising and clever re-inventions of their core product, a camera that delivered a picture within a minute.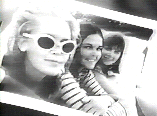 The idea of the instant picture was hardly new in 1968, but the hip, swinging attitude was. The white casing and black plastic strap handle gave the Polaroid Swinger real pop-art appeal. And isn't that Ali McGraw romping on the beach?
Another Polaroid Favorite: In the mid to late-seventies, a holiday commercial series featuring James Garner ('Rockford Files') and Mariette Hartley as a bickering married couple led to big sales for Polaroid 'One Step' cameras. Variations of this campaign ran for several years. The glory days of Polaroid are long past, years ago Polaroid filed for bankruptcy.
One of the most celebrated and effective commercials of all time; the jingle used here (and throughout a dozen variations) is unique because there are no words, just humming.
Benson and Hedges actually built a brand name and drove consumer demand by making fun of their product, showing the "distinct disadvantages of smoking a longer cigarette."
"Ajax - laundry detergent - is stronger than dirt."
These famous 1960s spots featured a white knight on a white horse who would aim his lance at kids playing in the dirt and their clothes would turn magically clean. This series ran for almost the entire decade.
Today, a man pointing his lance at children on the playground would be seen in a slightly less favorable light, I suspect...
Here's a medley of commercials from the sixties that take place at the beach. Dig the crazy sunglasses - and the catchy jingles!
"You get a quick tan with QT." Another peppy tune from the mid-sixties meant to entice you to try this sunless tanning lotion.
"Hungryyyyy, Hungry Jack. They gobble 'em up and the plate come back for Hungry Jack."
I thought this was movie star Marjorie Main ('The Women', Ma Kettle), but it's not - it's actually a look-alike actress named Fran Ryan, who recently passed away. Fran's best known as the second Mrs. Ziffle on Green Acres and as the art matron on an episode of Taxi called "Elegant Iggy."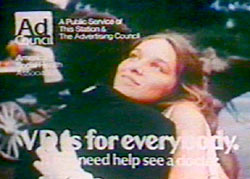 VD is for Everybody
Can you imagine everyone in mid-seventies singing along with a jingle about venereal disease? That's exactly what happened when this public service spot hit the airwaves (both radio and TV). And no wonder - with lyrics like:
VD — is for everybody
Not just for the few
Anyone can share VD
With someone nice as you...