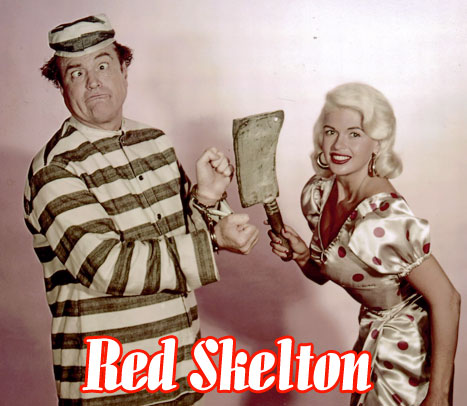 by Kevin S. Butler
July 18, 2013 marks the 100th birthday "of one of America's Clowns" Red Skelton. The son of a theater chairwoman and a lawyer and part time clown with the Hagenback & Wallace Circus. Red seemed destined for a show biz career. He began performing with a traveling medicine show, later he performed with Hagenback and Wallace's Circus as a clown but when these career opportunities didn't pan out he returned to Vinnces, Ind. where he found employment as a newsboy.
It was during his stint as a newsboy that he met another popular buffoon Ed Wynn who invited him to attend his stage show that was appearing in town. Red was impressed with his work and he met with Mr. Wynn after the show who told him to stick to one thing and it would lead him to many successful opportunities. Those successful opportunities didn't come right away. Red still struggle to find his niche he performed with a showboat and he entertained at dance marathons. Eventually he made the move to vaudeville and burlesque where with the aide of brilliant comedy writer and accountant named Edna Stillwell.
Red began developing his first really successful comedy skit. It was during a tour of Canada that Red stopped into a coffee shop and he saw a foolish gentleman, trying to dunk his donuts into his coffee. Intrigued by what he had witnessed?
He went back to the hotel and he told Edna about this situation which she wrote and during the next performance at a Canadian vaudeville theater. Red performed "The Donut Dunker's" routine for the first time and this led to more bookings in vaudeville, burlesque and nightclubs and a stint in Broadway musicals where Red worked with a talented song and dance man (and future movie serial actor) named Kirk Alyn. He briefly appeared in some film comedy shorts at "Educational Pictures" but it was not until 1938 that he made his first real screen appearance in "Having A Wonderful Time" at RKO with Ginger Rogers, Eve Arden, Donald Meek and Clarence Wilson.
He didn't make any more films for RKO following "Having A Wonderful Time" but his contract was picked up by MGM where Red performed in many films for "The Tiffany Studio" and he even hosted his own comedy/variety radio show where he created and performed his most popular characters. By 1951 he was invited to host his own comedy/variety TV series for NBC. The heads of MGM refused to allow him to do TV since they were fearful it would take away their movie audiences. But Red pointed out that his contract allowed to do TV.
With great reluctance the heads of MGM allowed Red to make his TV debut on NBC. where he did monologues, pantomimes and comedy skits as "Freddie The Freeloader", "Clem Kadiddlehopper", "Willie Lump Lump" etc. The show was not a hit and it left the NBC airways after one season.
CBS TV was interested in the young clown and they took up his contract and "The Red Skelton Show" moved to CBS the following year. Red's CBS series became a hit and he continued to entertain his audiences on Tuesday nights until 1970 when the heads of CBS decided to drop his show in favor of airing the more contriver sal humor of Norman Lear.
Red returned to NBC with a half hour series that showcased his characters in skits but "The Red Skelton Show" no longer clicked with the young viewers of the 1970's and it was dropped. Red's TV appearances were limited to appearing on awards shows, specials and talk shows. He concentrated his efforts to performing in concert at many venues all over the USA, writing short stories, children's stories, creating coloring books, musical scores and painting portraits of clowns and his many comedic characters.
Red Skelton died in 1997 but his radio and TV shows and films survive and he will continue to entertain and inspire audiences and future clowns for years to come.