Biff Burger - What Happened to Biff Burger?
by Billy Ingram
When I was a kid there were several Biff Burgers around.
Biff Burger (stands for "Best in Fast Food") was different from the rest, they had their own tangy sauce that the burger was dipped in after cooking in a special rotating broiler.
The chain went under in the mid-1970s and the restaurants disappeared almost completely by the mid-1980s but two still survive - one in St. Petersburg, Florida the other, renamed Beef Burger in Greensboro, NC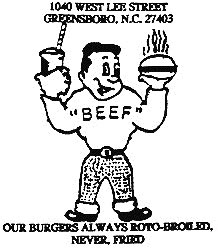 Beef Burger is a 50 year Greensboro institution, it's like going back in time with the 1970s chairs and tables (yellow and attached as one unit, naturally) and the 1980's arcade games. They still use the classic "Biff" character!
And the food is fantastic. Best steak sandwich I've had in a while.
UNC-G flock to Beef Burger to down cheap eats that soak up the alcohol from the night before - but be warned - they have a sign on the door that says, "If you're drunk eat somewhere else."
READ MORE ABOUT BIFF BURGER HERE
You can find the history of Biff Burger at this wonderful site.
More Biff Burger History - Enjoy!