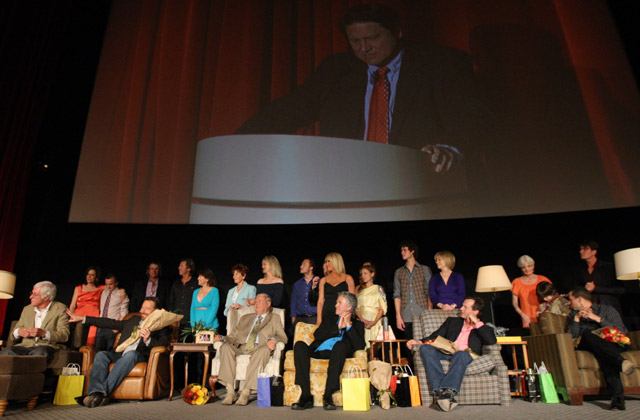 TV Dads Talk Sex & Fatherhood
by Jim Longworth

Several weeks after returning from Los Angeles, I am still feeling the distant effects of jetlag, but my cross country trek was worth the trouble. I had been asked by the Academy of Television Arts & Sciences (the folks who present the EMMY awards) to produce and moderate another special program at their theatre in North Hollywood. Last year I helmed "A Mother's Day Salute to TV Moms", so this time around it was "A Father's Day Salute to TV Dads".
My panel of iconic TV Dads included: Dick Van Dyke (the Dick Van Dyke Show & Diagnosis Murder), Bryan Cranston (Breaking Bad & Malcolm in the Middle); Dick Van Patten (Eight is Enough) Patrick Duffy (Dallas & Step by Step); Bill Paxton (Big Love); Jon Cryer (Two and a Half Men), Reginald VelJohnson (Family Matters), Michael Gross (Family Ties) and Stephen Collins (7th Heaven).
Tom Bosley (Happy Days), Ralph Waite (the Waltons), and Terry Crews (Everybody Hates Chris) were scheduled to appear, but were called out of town at the last minute.

The nine TV Dads and I were seated in an assortment of chairs, each appropriate to the television program for which they were most famous. I even arranged for Dick Van Dyke to have an ottoman, which he pretended to almost trip over upon his entrance to the stage. My first question went to Van Dyke. "Rob and Laura Petrie slept in separate beds. Did they ever fool around?" "Of course", replied Dick. "We had a kid, didn't we?"

I then asked each TV Dad to reveal how they learned about the birds and the bees when they were growing up. Bill Paxton recalled that as a youth he confessed to his Dad that he had a problem with premature ejaculation. Paxton's Dad's response? "Don't worry about it son. I used to go off on the nest all the time".

That colorful anecdote pretty much set the stage for a rousing and sometimes risqué evening. When it came time for Emmy winner Bryan Cranston to respond, he said, "It's appropriate that I should answer this question considering that I'm sitting between a couple of Dicks (Van Dyke and Van Patten). The capacity crowd howled with laughter, something that kept occurring throughout the program.

Later on, I asked the TV Dads to own up to some little known tales about themselves. For example, Van Dyke now age 83, admitted that during the first day of filming the Dick Van Dyke Show, he was so nervous that he perspired through six dress shirts. He also had five fever blisters on his mouth, but Mary Tyler Moore kissed him anyway.

Dick Van Patten, also now in his mid eighties, confessed that at age sixteen, he had dated a stripper who made him get a tattoo. "She made me get it. It was stupid. I was trying to impress her. Afterward I thought we'd make out or something, but nothing".

I also asked the Dads to tell us something about their own real life fathers.
Stephen Collins recalled that his Dad was a principled man who was never afraid to speak his mind. Paxton said his Dad was a natural interviewer and always liked to talk to people, even strangers. And Patrick Duffy said as he got older, his father advised, "never wear your best shoes if you go out drinking".

The interview portion of the evening lasted about ninety minutes, and wrapped up when I asked each panelist to name the TV Dad they most admired.
For Collins it was Robert Young of "Father Knows Best". Michael Gross idolized Hugh Beaumont of "Leave it to Beaver". VelJohnson liked Chuck Connors in "The Rifleman". Bill Paxton said his favorite TV Dad was John Astin in "The Addams Family". Patrick Duffy liked Fess Parker the best, but only because his character, Daniel Boone, was married to Patricia Blair, whom Duffy thought was hot. Dick Van Patten liked Carroll O'Connor as Archie Bunker. Jon Cryer and Bryan Cranston both said that the TV Dad they most adored was Dick Van Dyke.
And Van Dyke himself said that Bill Cosby was the greatest TV Dad of all time.

At the conclusion of the interview session, I announced that the Academy had some Father's Day gifts for our Dads. But as a special treat, I had arranged for a host of celebrities to bring those gifts up on stage. Meredith Baxter appeared for Michael Gross. Suzanne Somers and Christine Lakin came to honor their "Step by Step" co-star Duffy. Even Josh Harris joined in the salute. He played Patrick's son Christopher on "Dallas". Darius McCrary came for VelJohnson, and MacKenzie Rosman represented the "7th Heaven" clan for Collins.
Dick Van Dyke's son Barry (Diagnosis Murder) was joined on stage by Larry (Mazzeo) Matthews who played little Ritchie on the Dick Van Dyke Show. Mary Kay Place and Douglas Smith were there from "Big Love to honor Paxton. Jane Kaczmarek and Frankie Muniz came to be with their "Malcolm in the Middle" buddy Cranston. Two of Dick Van Patten's sons, Nels and Vincent, were joined by "Eight is Enough" actors Dianne Kay and Adam Rich. And Charlie Sheen made a cameo appearance for his TV brother Cryer. Cryer's real son Charlie, having just come from a scout meeting, showed up in his cub scout uniform. 'We don't dress him like this every day", quipped Cryer.

As an added treat for the audience, I invited some special guests up onstage to honor Bosley, Waite, and Crews. Tyler James Williams came to salute his TV Dad Tery Crews, while Marion Ross and Erin Moran made the trip to show their support for Bosley. I also snagged four of the Walton kids to honor Ralph Waite. Mary McDonough (Erin), Jon Walmsley (Jason), Kami Cotler(Elizabeth), and Eric Scott (Ben) hadn't aged a bit, and the crowd was glad to see them. I also paid tribute to TV Dads who were no longer with us, including the aforementioned Robert Young, whose grandson Bill Proffitt, and TV son Billy Gray came to represent the late, great star of "Father Knows Best" and "Marcus Welby, MD".

One by one, the guest stars (thirty-six in all) each had an opportunity to say a few words about the TV Dads on stage. Then, we wrapped up with a musical number by an acappella quartet, known as Dick Van Dyke and the Vantastix. Van Dyke had no idea I was going to bring out his three co-horts, but he leapt up from his seat to join the guys in a rendition of the theme song from "The Dick Van Dyke Show".

It was a perfect ending to a perfect evening, and one I'll never forget. It's also no wonder that I'm still feeling a bit jetlagged, because after hanging out with so many cultural icons, I'm still flying high.

Post script…since that wonderful evening in June of 2009, several of those iconic TV Dads have passed away: Dick Van Patten, Bill Paxton, and Tom Bosley. I think of them often…JL