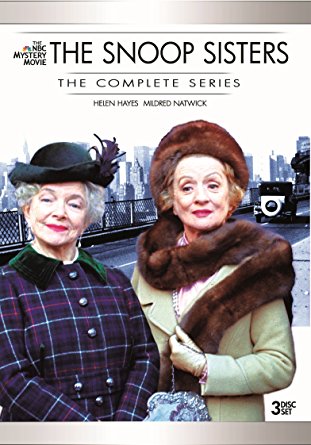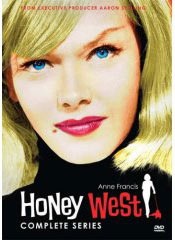 'TVparty is hands down the best site on the Web for classic TV.'
- Discovery Channel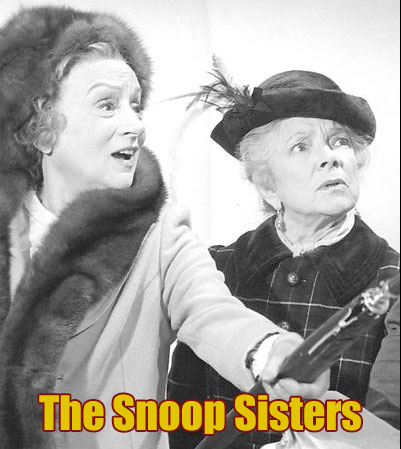 by Cary O'Dell
It is not only to Agatha Christie's legendary amateur sleuth Miss Marple that "Murder, She Wrote's" Jessica Fletcher owes a bit of her DNA. It is also to NBC-TV's 1970's short-run series "The Snoop Sisters."
The Sisters Snoop were Ernestine (also, the writer of mystery novels!) and Gwen (nicknamed "G") Snoop, two spry women of a certain age who, in that grand tradition of television, inevitably, week after week, found themselves stumbling onto murder cases that only they could solve, usually much to the consternation of various stuffy male officials around them.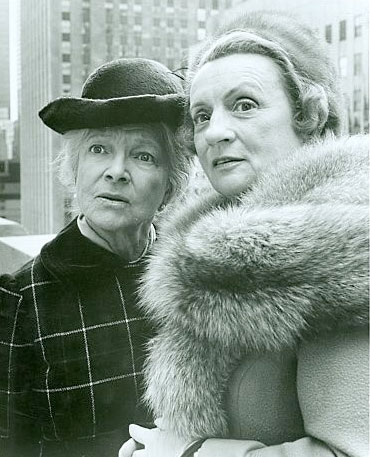 Two legendary actresses starred as the Snoops. Helen Hayes was already an EGOT winner and had already been dubbed the "First Lady of the American Theater" by the time she came to the small screen in this, her first series role. Mildred Natwick was an equally familiar face with having that by this time included the John Wayne classic "The Quiet Man" and the film and stage versions of Neil Simon's "Barefoot in the Park."
Along with both being film and, of course, long-standing film and Broadway vets, the two actresses were also long-time TV talents. Natwick made her first TV appearance—believe it or not—in 1939! In an experimental broadcast based out of New York, the actress acted in a production of "The Passing of the Third Floor Back."
She told a newspaper in 1974, "What I remember most about it was that it was hot as blazes under those big lights." Hayes, compared to Natwick, was more of a latecomer to the medium but was prolific after her small screen debut in 1950. Along with episodes of "Omnibus" and "The Hallmark Hall of Fame," Hayes also did guest spots on "Tarzan" and "Here's Lucy."
The two actresses were also fans of each other. In an interview at the time, Hayes said about her co-star, "Mildred has long been one of my idols on the stage. There is no else, except perhaps Bea Lillie, who has the faculty of doubling me over with mirth so easily."
The "Snoop Sisters" series actually had its genesis in a made-for-TV movie from 1971 titled "Do Not Fold, Spindle or Mutilate." It featured Hayes and Natwick along with two other imposing talents, Myrna Loy and Sylvia Sidney. The four actresses played a chatty group of elder ladies who, on a whim, create a fictional computer dating profile. The result—which involved a sinister Vince Edwards—is a "Catfish"-worthy tale.
"The Snoop Sisters" were first introduced to viewers via a two-hour TV movie that starred Hayes and Natwick and co-starred small screen legend Art Carney. Carney played Barney, an ex-cop now acting as the Snoops's loyal chauffeur, driving them around in their vintage Lincoln. Co-starring as their nephew, who, by chance, was an active duty detective, was actor Lawrence Pressman.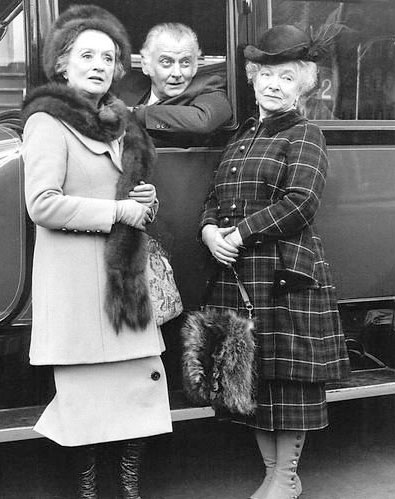 As is often the norm, between the pilot and the series, various changes were brought to the series. Art Carney departed or left and, in his place, character actor Lou Antonio was brought in as Barney. This time, though, Barney was now a kindly ex-con attempting to make good by driving around the sisters and, supposedly, keeping a watchful eye on them.
Also, Pressman departed and a pre-"Password" Bert Convy now played the Sisters's detective nephew. In any personage, these men always had the same problem: they wanted these two ladies to stay out of the crime-solving business but never had too much luck.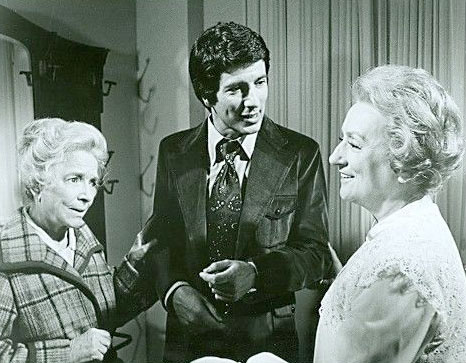 While some viewers and critics alike look back and bemoan the departure of Carney from the series, Antonio (and Convy) handle themselves well, working well off their formable leading ladies and off each other while also bringing a jolt of youthfulness to the series.
The first episode of "The Snoop Sisters," with Hayes and Natwick as the well-named siblings, debuted over NBC on December 18, 1973 as part of the network's rotating series "The NBC Wednesday Mystery Movie." For the Snoops, their 90 minutes adventures were aired every fourth week alternating with three other crime-solving series—"Banacek" starring George Peppard; "Faraday and Company" starring Dan Dailey; and "Tenafly" with James McEachin (the last being a network attempt to capitalize on the then thriving world of black exploitation films; Superfly-Tenafly?).
Though the rotating system was no doubt a way to ease the heavy workload imposed on the show's two octogenarian leading ladies (Natwick was 67 and Hayes was 72 when the series began), the show's abbreviated number of episodes might also have foredoomed its short lifespan. Only five episodes, including the pilot, were ever produced.
Certainly it is not the quality of its stars or scripts or production which caused the series to be so brief. Though episodes are a bit more leisurely than what is on TV today (typical of the pre-cable and remote control era), "The Snoop Sisters" remains funny, intriguing, clever and even suspenseful at times.
And certainly the show could boast of having some great guest stars. There's a virtual "Love Boat" of names scattered over the series's episodes including Vincent Price, Geraldine Page, Roddy McDowell, Joan Blondell, Victor Bruno, Paulette Goddard (in her final screen performance), Greg Morris, Jill Clayburgh, Tammy Grimes, and in one of those unbelievable, WTF? moments of TV past—Alice Cooper. Cooper, in the episode "The Devil Made Me Do It," played a witch/rock star who Hayes's character goes to question about his dark magic.
Certainly, as well, the show had a multitude of positive images affixed to it. Considering their intelligence and ability at just about everything, the two ladies provided an extremely positive portrayal of the elderly. (Something that was surprisingly common during those TV years—also visible on the air the same season as the "Snoops" were such mature talents as Lucille Ball on "Here's Lucy," Buddy Ebsen on "Barnaby Jones," and Robert Young in "Marcus Welby.")
Along with its pro-elderly/"Gray Panther" stance, there is also something undeniably feminist about the series. In the series, not only do the Sisters regularly outsmart various condescending males but, in their work, they repeatedly infiltrate the so-called "male sphere." For example, in the episode, "Fear is a Free Throw," the ladies attempt to solve a crime involving a professional basketball player. Their investigation takes them to into such predominately male environments as sports stadiums and even, briefly, a men's locker room.
Though most of their crime-fighting and solving is built around their intelligence and mental agility, the Sisters are not removed from some of the series's more action-oriented aspects. In the episode, both ladies (or their drag-attired stunt doubles) take part in the action-packed finale with Hayes seen wielding a fire hose in order to disable one foe. The gals were even known to pick a lock or two with a hatpin if they had to. (Another episode shows the ladies in their sweat suits jogging around the park.)
The occasional fisticuffs and embracing of youthful subcultures by these two older women could come across as silly and exploitative, even hokey and mean-spirited, if not for the skilled performances of the show's two leading ladies who not only seem to having a madcap good-time of it but seem to also be fully "in" on the joke of the show's occasional absurdity. This is especially true in an occult-themed episode (the one with Alice Cooper) where the two women, joined by Barney, adopt long black and hooded robes and fake their way through a dark, clichéd ritual. In this scene, what could have been cringe-inducing, was instead, irreverent fun.
Sadly, as mentioned, for whatever reason, "The Snoop Sisters" were not a ratings hit. Neither though were the other series these crime-solving ladies shared a title and timeslot with. Of all of NBC's "Wednesday Mystery" programs only Peppard's "Banacek" made it more than a single season. The writing seemed to have been on the wall even as the show filmed their final episode. In an interview Hayes did with the "Baltimore Sun" in April 1974, the actress and her interviewer noted that "baring any unforeseen circumstances," the episode "Black Day for Bluebeard" (with guest Vincent Price) would be the last for the series.
Not that the premature end of "The Snoop Sisters" did any long-lasting damage to the careers of either of its stars. Natwick (who scored an Emmy that year for her work in "Snoop") kept working in TV and had her final film role in 1988's "Dangerous Liaisons." Hayes continued working too, on stage and on both screens, until she was 85 years old. Interestingly, she even took on the role of Christie's Miss Marple in two well-executed made-for-TV movies from the 1980s--"A Caribbean Mystery" in 1983 and "Murder With Mirrors," opposite Bette Davis, in 1985.
Less than ten years after the end of "The Snoop Sisters," Angela Lansbury debuted in her legendary "Murder, She Wrote," a program that "Snoop" seemed to have paved the way for. And if they paid the way for Jessica Fletcher the fetching snooping sisters also laid the groundwork for future female detective teams like "Rizzoli and Isles."
In 2011, Millennium Media put the entire "Snoop Sisters" series and original TV movie out on a DVD set. Proving once again that these ladies should never be counted out.

[I would like to thank my friend Mike Heintz for his invaluable assistance with this article.]
---
Hit Shows of the Seventies: Hitchhiker's Guide to the Galaxy / Gene Roddenberry in the 1970s / 1977-1978 Superhero & Science Fiction TV Shows / Funniest SNL Skit Ever! / Prisoner: Cell Block H / Why John Amos Left Good Times / Reviving Match Game / How Betty White's 'Happy Hommaker' Came About / TV Dads Talk Sex & Fatherhood / Angie Dickinson Blows Off This Is Your Life / Rare Audio of Bette Davis' Broadway Bound Flop 'Miss Moffat' / Orson Welles' Last Interview / Remembering Ed Asner / Bruce Vilanch on Writing for Donny & Marie / Writing For Fernwood 2 Night / Kris Kristofferson vs Barbra Streisand on A Star Is Born? Kinda... / Remembering Gavin MacLeod / Cher Reviews Her Iconic Outfits Since 1965 / Best Columbo Episodes / Star Maidens Sci-Fi Series / One of the Most Controversial Episodes of All In The Family / Outside Chance / Norman Mailer & Muhammad Ali / Charles Nelson Reilly Flops on Broadway / Chuck Norris vs Eva Gabor / Dirty Sally / The Protectors / Chevy Chase Talks Hollywood Cocaine Parties / 1977 Season Show Openings / Love Boat's Oscar Winning Guest Stars / Henry Fonda's 4 Favorite Films / Tom Snyder Interviews Star Trek Cast & Harlan Ellison / Tim Conway's 'The Dentist' Sketch / Henry Winkler on His Happy Days Audition / Patrick Duffy of Dallas Interview / Time Express / Wonder Woman Leaves Paradise Island / 1972-73 TV Season / George Burns on the Carson Tonight Show in 1989 / Best Season of Dallas Ever? / Cloris Leachman Remembered / Ken Berry Interview / Why Barney Miller Ended / Vivian Vance Almost Joined the Cast of Rhoda / Marilu Henner Talks About Andy Kaufman / Cher on Mike Douglas 1979 / TV Show Book Tie-Ins / 1972 Jackie Robinson Interview / Dr. Strange 1978 TV Movie / Kathy Garver Interview / Space: 1999 / Paint Along with Nancy Kominsky / Mary Kay Place Albums of the 1970s / The Supremes - Mary Wilson vs Diana Ross / When Bruce Dern Killed John Wayne / 1974 Tom Snyder Our Gang Special / Remembering Ken Berry / Bruce / Caitllyn Jenner? / Billy Crash Craddock Interview / Melissa McCarthy Almost Quit Acting Days Before Landing Gilmore Girls / Bar Rescue's Wildest Customers! / Alex Baldwin On His TV and Film Roles / Ray Charles' BIG Problem With TV / Top Ten Sitcoms of the 1970s / James Cameron Made No Money for Titanic / Ed McMahon Drunk on the Air! / Lucy Interviewed by Barbara Walters / Valerie Harper Cancer / Jeff Bridges Breaks Down His Iconic Roles / Dallas vs Eight is Enough / 1974 MAD Magazine TV Special - Never Aired! / Iconic M*A*S*H Restaurant Coming To Kroger? / When Lucy Got Fired / Partridge Family and Brady Bunch at Kings Island theme park 1972-73 / Awkward Talk Show Moments / Allan Blye Interview / Jack Benny's Last Tonight Show 1974 / Patricia Heaton's Audition for Everybody Loves Raymond / Ed Asner Interview / Norm Macdonald vs OJ Simpson / Tony Kornheiser Interview / Freddy's Nightmares TV Series / Emmy Award Multiple Winners / Nathaniel Taylor aka Rollo Lawson / Mary Kay Place Albums of the 1970s / That Girl & TV's Single Working Women / Can You Identify These Stars? / Betty White vs Joan Rivers / Paul Lynde's Greatest Hollywood Squares Zingers / Sonny Comedy Revue / Star Trek Animated / Dark Shadows / Hal Linden Interview / Dark Shadows Movies / Dark Shadows Novels / The Night Stalker / One of the Funniest Carol Burnett Show Skits Ever / Fred 'The Hammer' Williamson / Johnny Carson interviews Lucille Ball / Dawn Wells / Betty White : An Appreciation / Bette Davis' 2 Best Interviews 1971 / Barbara Eden Interview / Gavin McLeod / Spider-Man 77 / The Next Step Beyond / The Music Dark Shadows / 1970 TV Shows / Mike Connors Remembered / Mike Wallace, Virginia Graham & Jim Longworth / Dick Clark / Woody Allen Hosts Tonight Show 1971 / Carson Tonight Show / Alan Alda Interview / Jackie Gleason Show / 1973 TV Shows / Thriller / Post Modern Sitcoms / Elvis in Greensboro / Remembering Dick Van Patten / TV Dating Shows / The Jacksons TV Show / Fall Previews of the 70s / Lance Link, Secret Chimp / Star Wars Holiday Special / Alias Smith and Jones / 1977 Year in Review / Top Ten 1970-76 / The Rockford Files / All in the Family / Sam Hall (Dark Shadows) Interview / Actor Ed Nelson / Death of Archie / Battlestar Galactica / Wonder Woman / Network Jingles / Class of '74 / Happy Days / Good Times / Mr. Bill / Dinah! / Maude / Doris Day Show / Pamelyn Ferdin Interview / The Bicentennial Minute / Jingles & Catch Phrases of the 1970s / Early Cable TV 1970s / TV commercials for Women / TV Moms / Red Skelton / George Lindsay / Country Music TV Shows of the 1960s & 1970s / Betty White Show / Shirley Jones Interview / Tom Bosley / Rodney Dangerfield / How Sanford & Son Ended / Sanford & Son Spin-Off Grady / Great Memoirs / Virginia Graham Show / The "N" Word on TV / 10 Classic Comedy Routines You Have To Laugh At Before You Die / Hollywood Squares / 1970's Teen Idols & The Hudson Brothers / TV Stars with 3 Hit Shows / The Rookies / Unsold Pilots / Jackie Cooper / The Good Guys / Match Game / Make Room For Granddaddy / Mannix & Gail Fisher / Bette Midler in the 1970s / Bonus 1970's Stuff: Silent Star Marion Mack / Biff Burger / 1970s Fast Food Chains / Latin Casino / Beverly Hills Supper Club Fire / 1970's Daytime Talk Shows / The Fess Parker Show / Brady Bunch Sex Dungeon? / Love, Loss & What I Watched
The Snoop Sisters
---
Dateline NBC : The Brutal Murder of
Ed LeBrun, The East Coast Rave King
Amazon Prime - unlimited streaming
of your fave TV shows and movies!
Get your FREE 30 Day Trial!
PR4 & PR5 Pages for Advertising