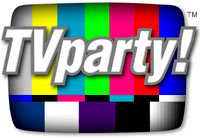 Enjoy Obscure 70s Music!
News Regurgitator - Political News Links
Patrick Duffy of Dallas Interview
Classic TV on the Internet!
PR4 & PR5 Pages for ads - CHEAP!

TELEVISION FOREVER -
TV Shows on DVD Reviews,
DVD releases you might have missed!

Enjoy Obscure 70s Music!

News Regurgitator - Political News Links

Television's Greatest - local & national TV kid shows


All links in the text are to audio or video clips - many are actual 1974 airchecks.
SOME OF THE CLIPS ARE AUDIO ONLY! Most optimized for slower connections!
---


THE TOP TEN
1. All in the Family
2. Sanford and Son
3. Chico and the Man
4. Jeffersons
5. MASH
6. Rhoda
7. The Waltons
8. Good Times
9. Maude
10. Hawaii Five-0

(There were five Norman Lear sitcoms that finished the 1974-75 season in the top 10: All in the Family, Good Times, The Jeffersons, Maude and Sanford and Son.)
---
ABC went up against NBC's venerable 'Today Show' with 'AM America', hosted by Bill Beutel and Stephanie Edwards.

The attempt failed and the morning show was replaced the next fall by 'Good Morning, America' - which is still going strong.
---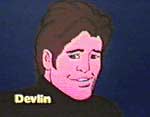 In Saturday morning programming, ABC had only moderate success with their new kiddie shows. CBS dominated the morning with Shazam!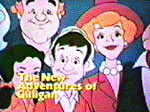 ---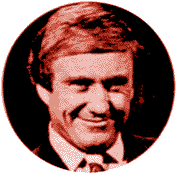 Merv, a talk/variety show hosted by Merv Griffin, was popular in afternoon syndication (heard in that clip are Henny Youngman and Steve Allen). Merv's bandleader was the great Mort Lindsey.
---
"That's My Mama: The first season of this show was, IMHO and IIRC, really pretty damn good. Clifton Davis played a straight hairdresser - a barber, I believe was the obsolete term - while Theo Wilson played his mailman pal Earl.

"When the show was renewed, ABC forced some changes that, as in the case of Temperatures Rising, altered the focus of the show and shot the fair-but-not-spectacular ratings down the toilet. Earl went from being a postman to another barber in Clifton's shop, which eliminated a lot of the spontaneity of the gags that would occur when Earl walked in with the morning mail.

"One episode stands out in my memory, and the anti-gun freaks would love it: After crime in the neighborhood goes up through the roof, Cliff buys a gun to protect him and Mama. But Mama, being Mama, won't have it in the house. Cliff stands up to Mama and hides the gun in his room.

"After an episode of gun debates, a burglar breaks into the house, finds the gun, holds Cliff at gunpoint. Mama saves the day by coming down the stairs and in a mama-ly fashion takes the gun from the burglar's hand and chases him away away. Cliff tells Mama she shouldn't have risked her neck like that, but she turns the tables by explaining that she'd already found the gun and had removed all the bullets earlier that afternoon.

"The punch line's still coming, tho: To demonstrate the gun is empty, she points the gun to the floor and pulls the trigger, blowing a hole in the floor. Seems Mama didn't know that a cocked semi retains a bullet in the chamber, which proves her character wouldn't last a week in the Watts of the 90's...- (OM)
---
:ABC MOVIES OF THE WEEK: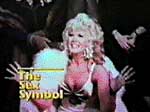 High concepts and snappy promotions made original movies made for television hot in 1974. No one did it better than ABC with their Tuesday and Wednesday Movie of the Week series.
Connie Stevens starred in a memorable TV-movie called The Sex Symbol. In this messy melodrama, she played an insecure superstar whose past wretches up to her. Co-starring Shelly Winters, it's a cult classic.
Here is a cluster of previews for the ABC Movie of the Week in 1974.
TV on DVD
Holiday Specials on DVD
TV Commercials on DVD
TV Shows on BLU-RAY

Everything you're looking for is here:
Shop Amazon's New Kindle Fire
Las Vegas Legends

Obscure 70s music & more!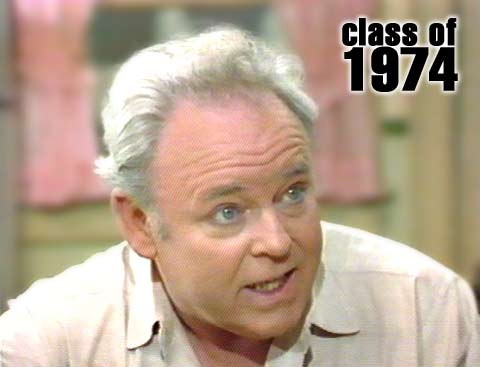 By Billy Ingram
The 1973-74 season had the worst new show success ratio of any season in television history. The three networks had only one series each that was renewed that year (Kojak, Police Story, Six Million Dollar Man). The 1974-75 rosters performed only slightly better.
The number-one show of 1974, All in the Family, began the season with a refusal to work from Archie Bunker himself, Carroll O'Connor. O'Connor was aggravated because producer Norman Lear wouldn't let the actor star in a lucrative beer commercial. After a few missed weeks, O'Connor returned to film five episodes - then refused to show up for work due to a mechanic's strike that his actor's union didn't support.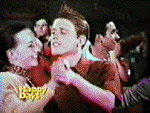 There was a quiet revolution under-foot. Happy Days debuted with decent numbers in January, 1974, eventually becoming the lynchpin in a long line of hits for ABC hits produced by Garry Marshall. But Good Times scored even bigger initially for CBS - in the same timeslot.
Johnny Carson with Carol Wayne:


:MTM HITS
AND MISSES:
Fresh from the success of The Mary Tyler Moore Show, and The Bob Newhart Show, MTM Productions unveiled three new series for fall, 1974-75. The one they were worried about (Rhoda) was a hit, the one they felt sure about (Paul Sand) was a flop.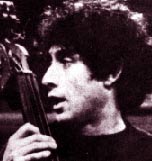 Paul Sand in Friends and Lovers was a highly acclaimed comedy in the most coveted timeslot in TV history - right after All in the Family on CBS Saturday nights at 8:30 - a spot that catapulted mediocre performing M*A*S*H into a ratings powerhouse the year before.

Intended to be a male counterpart to The Mary Tyler Moore Show, poker-faced Paul Sand played a lonely bass violinist with the Boston Symphony - which does seem an unlikely situation for laughs.
Friends and Lovers was every critic's favorite new show for fall 1974, with an exceptional cast that included Penny Marshall, Dick Wesson, Craig Richard Nelson, Steve Landesberg, Jack Gilford and others. Still, Friends and Lovers ended up a surprise first failure for the MTM studio, thought to be too highbrow for the lead-in audience.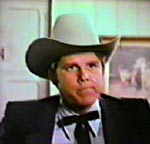 Also from MTM - The Texas Wheelers. Jack Elam led an incredible cast that included Gary Busey and (pre-Star Wars) Mark Hamill in a sitcom involving a wayward father returning home to his farm and three screaming inbreds. Yep, you guessed it - the Dysfunctional Walton Family Circus.
Jack Elam portrayed cantankerous old drunken perverts and crazed miners in countless westerns from the fifties through the seventies. "I've played all kinds of weirdos but I've never done the quiet, sick type," Elam once commented on his roles. "I never had a problem - other than the fact I was just bad."
Typical Texas Wheelers plotline: eldest son goes out back to beat the sh*t out of daddy over all sorts of neglectful acts, while the rest of the family has a funeral for a dead baby duck. The duck was obviously a symbol for what this show became.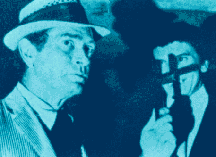 :PICKED TO
HIT, BUT:
Kolchak, the Night Stalker debuted on ABC Friday the thirteenth, following The Texas Wheelers.

The story of reporter Carl Kolchak (Darren McGavin), a guy who just can't seem to avoid running into werewolves, witches, mummies and vampires (a sort of bare-bones X-files without the government involved).

The series was patterned after the wildly successful TV movies (The Night Stalker in 1972 and The Night Strangler in 1973) produced and directed by Dan Curtis (Dark Shadows).

The TV-movies were true chillers, and The Night Stalker remains to this day one of the five top-rated television movies of all time. Unfortunately, Curtis wasn't involved in the new series, star Darren McGavin was the producer. The chill was gone and so was the show by the next fall.

Sons and Daughters was an hour-long drama from CBS that took a little from Happy Days and a little from Family - then took a bath in the ratings. This series, the story of two young lovers trying to cope with life in Stockton, California in the Fifties, replaced The Sonny and Cher Comedy Hour when the musical duo's divorce earlier in the year left a gaping hole in the 1974 CBS primetime schedule. Sons and Daughters flunked out before the end of the freshman year, replaced by Tony Orlando and Dawn.

SAY GOODNIGHT DICK:
President Nixon resigned in 1974. Soap Operas and game shows were interrupted when the announcement became official.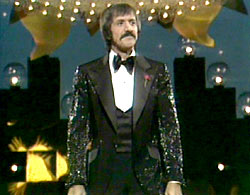 :THREE FROM
BLYE AND BEARDE:
When Sonny divorced Cher, he got custody of the TV show production team, headed by producer/writers Allan Blye and Chris Bearde. They would have preferred to produce Cher's new show, and CBS wanted them as well, but Cher picked George Schlatter of Laugh-in fame instead.
With lame promos like this one, it's not hard to see why The Sonny Comedy Review never got off the ground, despite the fact it started out as a pretty decent show.
Sonny Bono said later that, as part owner, he lost a lot of money on his solo series. He expressed some (lighthearted) regrets in his monologue from the last show on December 29, 1974.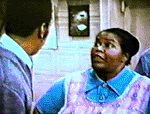 Also this season from Blye and Bearde was That's My Mama starring Clifton Davis (Amen), Theresa Merritt, Ted Lange (Love Boat) and Theodore Wilson (Sanford Arms). This slapstick sitcom managed to get renewed, but only ran until Christmas Eve, 1975.
Blye and Bearde also produced a CBS Saturday morning show that debuted in 1974 called The Hudson Brothers Razzle Dazzle Show, a continuation of their successful 1974 summer variety series, featuring Sonny and Cher show writers, format and supporting players.
Every thirty-minute Saturday episode featured the same rotating skits - a monsters sketch, a desert island sketch, the 'Razzle-Dazzle Wrap-up', the bear, Knights of the Round Table sketch ("Do it for me- Lady Patricia!"), and a visit with Chuckie Margolis (the show's bright spot).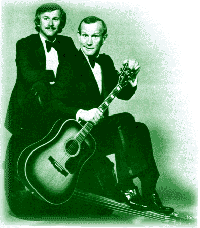 :MISSED
OPPORTUNITY:
Midseason, a tame and bland Smothers Brothers Show debuted to high expectations and high ratings that quickly went south.
The edgy humor the brothers were known for was gone. "Yes, I did check my convictions at the studio door", Tommy Smothers admitted to TV Guide, "We had lost our platform. This was the only way we could get it back."
The match of stars and producer (Carol Burnett Show's Joe Hamilton) was not a good one - Hamilton stripped them of controversy and spontaneity and as a result, the show lasted only 13 weeks.

The last four episodes of The Smothers Brothers Show were produced by Tom Smothers and they stand as some of the most creative variety hours ever broadcast.
Soon after The Smothers Brothers Show was cancelled in 1975, the Smothers hosted a reunion of the show's guests on The Tonight Show with Johnny Carson. On the stage that night were Hoyt Axton, Pat Paulsen, Minnie Riperton, George Carlin and Don Novello.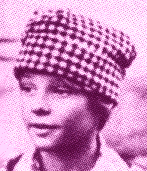 :BASED ON
THE MOVIE:
M*A*S*H was based on a motion picture and became so successful on TV in 1973 that four more hit motion pictures were spun into shows for the fall of 1974 - in hopes that lightning would strike again. It didn't.
Paper Moon, starring Jodie Foster and Christopher Connally, was filmed on location in Kansas and lasted only until January despite the overall great reviews and first rate talent.
Planet of the Apes was an expensive flop for CBS. Ron Harper and James Naughton were the astronauts who cracked the ape barrier, Roddy McDowell and Mark Lenard were seen as apes. Ran only until December, 1974.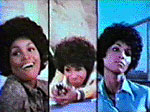 "The cop with soul! When you need a cop that's no lady, you need Christie Love."

Teresa Graves (Laugh-in) was cast in the title role for Get Christy Love - based on the hit TV-movie from January 22, 1974.
A riff on the 'Blacksploitation' genre, Christie Love was TV's first black policewoman, known for saying, "You're under arrest, sugah!" as she slapped on the cuffs.
Born Free, starring Gary Collins and Diana Muldaur, was based on the popular books by Joy Adamson and the hit movie from 1966, concerning Kenyan game wardens and their friend Elsa the Lioness. Gone by mid-season.
Based not on a movie but a Broadway show - mid-season replacement Hot L Baltimore was considered so racy that the opening episode was banned in three cities. This Norman Lear flop was no match for The Rockford Files on NBC.
:BONDING WITH
THE AUDIENCE:
ABC ratings were in a serious slide by 1974 - hence this musical fall promo with a conciliatory tone. You had to feel for a network that pleaded:
"If we talk it out together
We could make it
and I could be your friend
You and Me and ABC
We're talkin' it over
and workin it out
Wait'll you see
new things are coming"
(Laugh, but it worked - ABC was on top within a year.)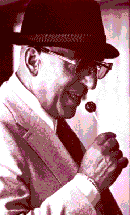 :RETURNING
THIS SEASON:
The Rookies was in the second of four tire-squealing seasons on ABC, Monday nights at 8:00. The show had a successful mid-season spin-off, S.W.A.T..
"I'm a super-cop, baby!" Kojak returns on CBS for a second year. This show lasted five seasons, and was revived for a short time in 1989 as part of the ABC Mystery Movie.
Apple's Way, from the producer/creator of The Waltons, debuted in January, 1974 and ran only until January of 1975. Ronny Cox, Vincent Van Patten, and Lee McCain starred in what was basically a modernized version of the Walton family. Kristy McNichol joined the cast in fall, 1974.

:CANCELLED
THIS SEASON:

The final season for several long-running shows: Mannix (8 years), Adam-12 (7 years), The Odd Couple (5 years), Kung Fu (3 years).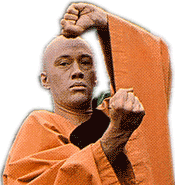 Kung Fu was up against All In The Family in 1974 - it was Archie Bunker's eastern philosophy that ultimately won out.
The longest-running program in primetime was cancelled after the 1974-75 season - Gunsmoke ended a twenty-year run.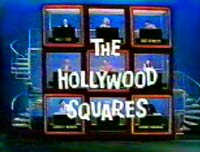 :HOT GAME
SHOWS IN 1974:
High Rollers
Celebrity Sweepstakes
The Hollywood Squares
(Almost all daytime episodes of these three shows were erased by NBC. This may be your only chance to hear those themes ever again!)
The pilot episode of Wheel of Fortune was shot in the fall of 1974 with host Edd 'Kookie' Byrnes (77 Sunset Strip). The show debuted mid-season (January, 1975) with host Chuck Woolery.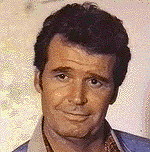 :1974's HITS:
Little House on the Prairie, Police Woman, Chico and the Man, Rockford Files, Petrocelli and...
Movin' On starred Claude Akins and Frank Converse as cross country truck drivers in one of the best dramatic series of the season.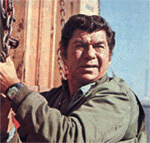 When the show returned for a second season, Rosey Grier and Art Metrano joined the cast. The series was filmed all around the country ala Route 66.
Akins even did his own driving with side mounted cameras on an eighteen wheeler. The hardest part for the actor: "sayin' yer dialogue and tryin' to remember what gear you're in."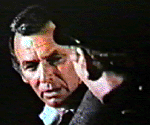 Harry O was based on a well-received CBS TV-movie from 1973 - starring former Fugitive David Janssen as a low paid, big city private eye. Good first season, lousy second season, no third season.
:MORE 1974
NEW SHOW
FAILURES:
Lucas Tanner: This show had an important impact on TV news that should be mentioned. After its cancellation due to low ratings, David Hartman did a complete change in career - and went on to anchor the first decade or so of ABC's Good Morning America.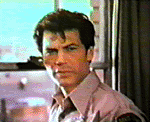 Kodiak, starring Clint Walker (Cheyenne), lasted exactly one episode before being cancelled due to massively low ratings. One TV critic even went so far as to call it "the fastest cancellation since Turn On."
Manhunter, Amy Prentiss, The New Land, Nakia and Sierra all quickly came and went.
At the end of the season, only freshmen Movin' On, That's My Mama, Petrocelli and Harry O (barely) got renewed and those were all cancelled over the next year.