Best Columbo Episodes
By Billy Ingram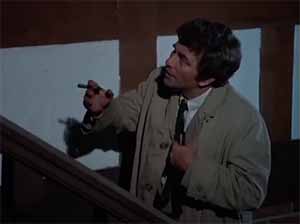 Want to watch Columbo for the first time and wish to start with the best episodes? Try these...
"Prescription: Murder" was the pilot episode, airing as a TV-movie on NBC in 1968. The role of Columbo was written with Bing Crosby in mind. When Crosby passed on the role it went to Peter Falk. In this storyline, Gene Barry portrays an egotistical psychiatrist who murders his wife (Nina Foch) then convinces his mistress (Katherine Justice), who is also one of his patients, to impersonating his dead wife to provide an alibi.
Ratings were so strong for that TV-movie another was filmed for airing in 1971, "Ransom for a Dead Man," starring Lee Grant as a smart but ruthless attorney who murders her husband for his money.
Based on audience numbers for "Ransom for a Dead Man," NBC greenlit Columbo as a series - not as a weekly show but one of three series that were broadcast under the title NBC Mystery Movie (1971-1977), rotating with McCloud (Dennis Weaver) and McMillian and Wife (Rock Hudson and Susan Saint James ).
The first Columbo episode, 1971's "Murder by the Book," was directed by a young Steven Spielberg, under contract with Universal who produced the series. The villain was portrayed by the wonderful Jack Cassidy, a writer who kills his writing partner for the rights to their lliterary creation.
Cassidy returned as the murderer on Columbo two other times, all very much worth watching. In 1974, Cassidy again plays a writer accused of murder in "Publish or Perish". In 1976's "Now You See Him..." Cassidy plays a magician who's alibi was that he was on stage when the murder of his business partner happened.
Also during season one is "Suitable for Framing" with Ross Martin and Rosanna Huffman in an inspired tale in which Martin's character attempts to frame his aunt for murder in order to take possesion of some rare masterpieces.
The first episode of season two, "Étude in Black," stars John Cassavetes and Myrna Loy in a script by Columbo creators Richard Levinson & William Link along with Steven Bochco. Cassavetes plays a musical maestro who's having an affair with a pianist, together they conspire to murder the maestro's wife for her money.
Also during season two is another great episode, "Requiem for a Falling Star" with Anne Baxter as a famous movie actress. Oscar-winning costume designer Edith Head makes a cameo appearance as herself.
Season three's "Double Exposure" features Robert Culp in his third and final appearance as a Columbo killer.
"Negative Reaction" from season four stars a bearded Dick Van Dyke in a delightful role as a murderous photographer who blames his wife's death on a bungled kidnapping.
William Shatner portrays a vain but successful star of a TV detective show who murders his blackmailing producer then makes it look like a robbery in "Fade in to Murder," another excellent outing.
The first episode from season 7, "Try and Catch Me", stars Ruth Gordon in one of her finest TV appearances as a murder mystery writer. Absolutely delightful from start to finish.
Each of these represent the best of Columbo although, in all honesty, there were no real clunkers during Columbo's original NBC run. Columbo returned in limited form in 1989 on ABC with the final episode, "Columbo Likes the Nightlife," airing in 2003.
"It's very hard to explain why a character and a show to be around for 32, 33, 34 years," Peter Falk commented in 2003. "My God, who would have dreamt such a thing, I'm just so grateful to it. I guess it's the nature of that character. He's very comfortable with himself. There's not a pretentious bone in his body. I think that having the brain of Sherlock Holmes but dressing like the gardener, he's a very average guy."
In 2020, the entire NBC run of Columbo (1971-1978) can be seen on IMDB TV.
Peter Falk talks Columbo...