And Then There's Maude
by Sam Hieb

A year after shocking television audiences with his controversial sitcom 'All in the Family', Norman Lear produced the enormously successful program's first spin-off, 'Maude'.

Maude was the "flip side of Archie Bunker," Lear explained, a "flawed liberal" married to her fourth husband living in upstate New York with her divorced daughter - hoping to do for liberal suburban matrons what Archie did for urban blue collars. Lear was merely attempting to break the mold of the small-and-sweet situation comedy mother by letting Maude tell viewers right away that she wasn't going to take any crap from the system, but instead once again defined television's potential as an art form while generating more controversy than Archie himself could stifle.

Maude (played by Beatrice Arthur) first appeared on the episode of All in the Family in which the entire Bunker family falls ill. While assisting her cousin Edith with the nursing and the household chores, she gives Archie his comeuppance, proclaiming her love for FDR, occupying his chair, and serving him cream of wheat with cheese ("you can eat your breakfast or lie there and feed off your own fat, in which case you could survive for years"). The CBS brass was watching and liked what they saw, so a second episode of ATF was written in which Archie and Edith attend the wedding of Maude's cousin to a Jew.

By the time the new series premiered on September 12, 1972, Maude had set up house with her fourth husband Arthur Findlay (Bill Macy), her now divorced daughter Carol (Adrienne Barbeau) and her son Phillip (Brian Morrison).

The Findlay's next door neighbor Dr. Arthur Harmon (Conrad Bain) and his divorced girlfriend Vivian (Rue McClanahan) visited frequently, and, despite Maude's determination to represent the independent woman, she employed an African American servant, Florida (Esther Rolle), who quite enjoyed matching wits with her boss.

It became quite clear early on to audiences and activists that Maude was a show determined to break the rules. Life in Tuckahoe could be as hard as life in Queens. Maude was a strong, if not always logical woman who becomes involved in politics, bribes bailiffs, gets a facelift, suffers through menopause, debates the legalization of marijuana and shouts "God'll get you for that" at those who cross her.


A month into the new fall season Maude was a hit, placing eleventh in the Nielson rankings. But audiences had seen nothing yet; Maude had yet to tackle two pretty testy subjects for Americans in 1972.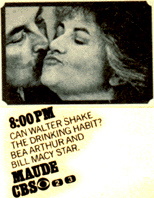 Lear became interested in alcoholism after reading new studies on the subject and took three months drafting a script. Maude and Walter were definitely heavy social drinkers, but when Maude wakes up in bed with Arthur following a late-nighter, she and Walter swear off the booze, only Walter can't ("Dean Martin gets a million dollars for his buzz," he rationalizes).
Lear believed a particular action was necessary to certify Walter as an alcoholic, so, despite Beatrice Arthur's reservations, he had Walter strike Maude in a drunken rage before suffering a breakdown. Alcoholism organizations hailed the two-part episode as a breakthrough on prime-time TV, but the Catholic lay organization Stop Immorality on Television (SIT) didn't find it very funny or touching, dismissing it as "the same vulgarity you find on Maude every week." At the time the alcoholism episodes ran, Maude was already high on the Catholic Church's enemies list.
In another two-part episode, Maude finds herself unexpectedly pregnant and decides to have an abortion. The Roe v. Wade decision had just been handed down by the Supreme Court, and was very hot legally and politically. The show was attacked by the Roman Catholic press and hierarchy, who charged that the advocacy of abortion was unacceptable in a situation comedy format where children might be a part of the audience.
The episodes were so controversial CBS couldn't resist re-running them in August of 1973, after which the Church mounted an all-out assault on 'Maude'. SIT called for a boycott of the program, and Roman Catholic bishops conducted a nationwide campaign to halt local showings of the episodes and to discourage sponsors from buying time. Such tactics worked to some extent as at least 39 of the network's 217 local affiliates refused to run the show and seven sponsors refused to have their ads run.
In spite of the organized effort to silence Maude, the majority ruled that they wished to hear what she had to say. Maude entered the Nielsen Top Ten in her first season and stayed there for three more seasons. She did it on her own: while All in the Family remained the number one show for five seasons from the Saturday 8p.m. slot, Maude did her thing early in the week, winning an audience in the Tuesday 8-8:30 time slot before moving to the Monday 9:00 time slot for the '74-'75 season.
But while ATF remained in the top ten until the end of the '70s, Maude completely dropped from the top 25 by the '76-77 season. Esther Rolle (Florida) left to begin her own series (Good Times) and Maude's successive maids didn't possess her wit or insight. Reality was proving to be a bit depressing for viewers as they wished to return to the innocence of their youth with shows such as Happy Days and Laverne and Shirley.
The answer was to have Maude take on Washington directly. She was appointed to fill the term of a deceased congressman, and she and Walter moved to D.C., supported there by a new cast. But after two episodes, Bea Arthur decided she could no longer portray Maude, so the network halted production.
Ever industrious, Lear still wanted to take on D.C. from the inside, but had no idea how difficult it would be to fill Maude's shoes. His idea was retitled 'Onward and Upward' with the character who was Maude becoming a black former pro football player, played by John Amos (ironically Florida's husband, who appeared in Maude as Henry Evans, not James Evans as in Good Times). But when creative differences between the producers and Amos led to his departure, Cleavon Little was brought in the play the lead in the retitled Mr. Dugan.
That version was cancelled when the network received negative feedback from real-life black politicians. Finally, a white former pro football player would tackle not Washington, but academia. Hanging In featured a guy named Lou Harper accepting the presidency of fictional Braddock University. The title character was played by none other than Maude's fourth husband, Bill Macy, and the series lasted all of four episodes.