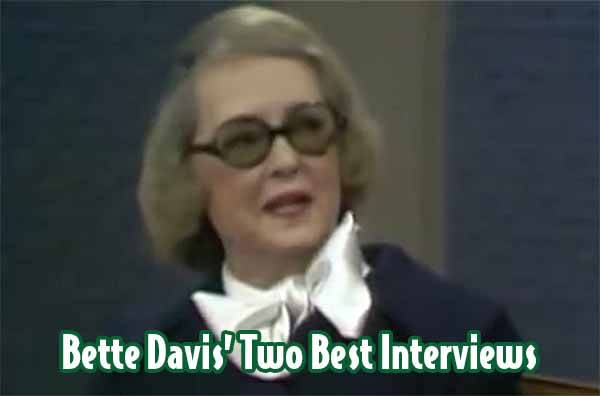 Bette Davis discusses her career in this 1971 TV interview with Dick Cavett, joined on the program by Arte Johnson and Sen. Birch Bayh.
There is no greater TV interviewer than Dick Cavett and no greater interviewee than Bette Davis. That's because they're both extremely honest and forthcoming in the questions they ask / answer. This is certainly true in this March, 1971 talk where two time Oscar winner Bette Davis seems perfectly relaxed through the whole program.
The actress' take on acting? "Actors are people who are not very fond of themselves that's why they like being other people. I'm convinced of this." Known for playing devious characters, "I'm a very undeceitful person you see, truthfully. This is one of my tragedies, I'm much too honest. I should have learned years ago to be sort of half honest."
It was a freewheeling conversation over a wide range of topics. "There's not a nude off me anywhere," Davis declared at one point. "Well, of course, in that day can you imagine nude pictures? My Lord!" I wonder if Bette Davis knew that there were nude photos and film of Joan Crawford, her nemesis, because she clearly wasn't being catty.
When asked about the great screen lovers Davis replied, "Well, you know, I didn't work with any of the great [lovers]. No, because, in those days, if you had any kind of box office, you had to carry the film alone. For instance, I never really made a picture with Bogie. He was in Dark Victory with me very briefly, before he became a star… Cagney for instance, always wanted to do a very serious film with me, we made a hideous thing called, The Bride Came COD." She laughs, "The Bride Came COD, where he took cactus out of my fanny, one of those comedies."
"The one I wanted to work with the most was Charles Laughton," she confessed. "Oh, how I wanted to have 2 of the meanest characters in the world written. Because I loved him." Asked about her biggest bomb, "Oh, there were so many. Well, there's one I would hate to ever see on the late show which was, again, Beyond The Forest. 'What a dump.' That's where that was said." Her favorite line, "I'd love to kiss you but I just washed my hair."
Bette Davis returned on November 18, 1971, her third appearance on The Dick Cavett Show. Once again she showed up in a jovial mood and, once again, the conversation flowed easily."
On her early career, "I never thought I would ever be a box office person," Davis recalls. "Because, you see, when I went there in '30, imagine them looking at me after looking at these really beautiful women that had been in silent pictures for years. Imagine seeing Jean Harlow and then I come up to the gate, you know? Because I started in theater and stage actors, it wasn't important how you looked out of the theater. I didn't wear makeup and glamorous clothes, I just dressed in a Yankee way. And they [the studios] didn't understand people like that."
One funny moment came after Davis responded to Cavett's question about her wedding night: "If you want to come to my home in Connecticut, some night in front of the fireplace, I'd tell you about my wedding night. You'd be on the floor for three hours". As Davis catches on to why the audience is laughing, she quickly course corrects, "No, I did not mean THAT! I meant LAUGHING on the floor!"
BONUS: Bette Davis on This Is Your Life with Ralph Edwards also from 1971.
Along with her mother Barbara Davis, industry greats who came to honor Bette Davis: co-stars Robert Wagner, Victor Buono, Olivia de Havilland, Paul Henreid, costumer Edith Head, and director William Wyler.
It was rumored Bette had numerous affairs, among them George Brent and William Wyler who she called "Willie."
This is one of the best episodes of This Is Your Life, Edwards revived the show in 1971–1972 for syndication. But the production had an old fashioned feeling and failed to attract a significant young audience, lasting a single season.
In 1972, Bette Davis filmed two pilots for possible series for both ABC and NBC - Madame Sin with Robert Wagner, and The Judge and Jake Wyler with Joan Van Ark. Neither was picked up.
During the late-80s, Ralph Edwards hosted several prime time This Is Your Life specials; Betty White and Dick Van Dyke were honorees.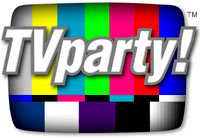 The Dick Cavett Show:
• ABC daytime (March 4, 1968–January 24, 1969) (originally titled This Morning)
• ABC prime time (May 26–September 19, 1969)
• ABC late night (December 29, 1969–January 1, 1975)
• CBS prime time (August 16–September 6, 1975)
• PBS (October 10, 1977–October 8, 1982)
• USA prime time (September 30, 1985–September 23, 1986)
• ABC late night (September 23–December 30, 1986)
• CNBC (April 17, 1989–January 26, 1996)
"The best time I ever had with Joan Crawford was when I pushed her down the stairs in Whatever Happened to Baby Jane?" - Bette Davis
PR4 & PR5 Pages for Advertising
"I will not retire while I've still got my legs and my make-up box." - Bette Davis