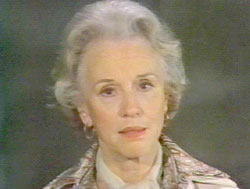 The Bicentennial Minute
Remember the Bicentennial Minute? It aired each weeknight at the 9:00pm hour on CBS from 1974 until 1976; 60 seconds detailing a factoid from our nation's history 200 years ago from that date.
Each segment was narrated by a different star and they were sponsored by Shell (finally something good from an oil company). Every major star and politician you can think of took part in the series - in this one, Oscar winner Jessica Tandy does the honors.
These spots are pretty rare, I was surprised no examples could be found on You Tube. If I get enough requests I'll load up the only other one I have with Bella Abzug - but I doubt she's as popular as Ms. Tandy. Thanks once again to A. J. McWhorter from Television Archives.
/ / / Classic TV Blog / / / TV Shows on DVD / / / TV Show Reviews / // / TV on BLU-RAY