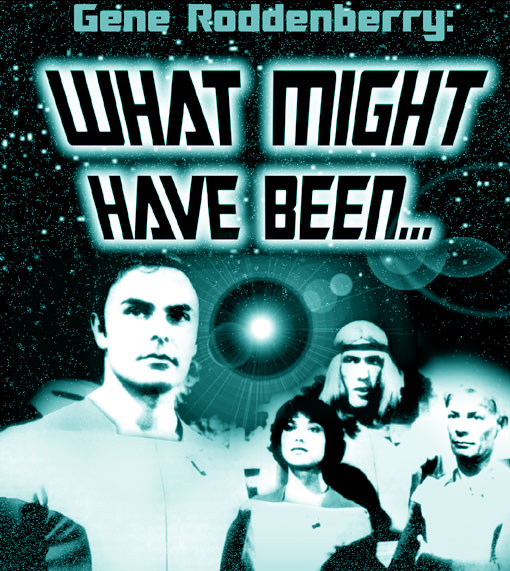 Star Trek Animated Series by Billy Ingram
Gene Roddenberry in the 1970s - Part One
Gene Roddenberry - Star Trek Animated Series
Gene Roddenberry - Genesis II & Planet Earth
Gene Roddenberry's Questor & Spectre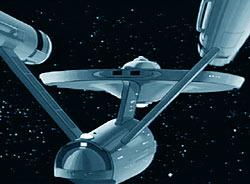 In the summer of 1973, the animated Star Trek got underway and Genesis II was put into production for possible fall 1974 weekly prime time placement on CBS.
The Saturday morning version of Star Trek was, in some ways, more enjoyable than the first Trek series - somehow the aliens are more believable when everyone is a cartoon.
Produced at Filmation, who were churning out the highly popular Archie cartoons in 1973, the refreshing series was headed by D.C. Fontana, story editor and script supervisor on the original Star Trek.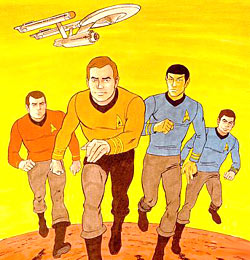 The first episode was written by Samuel A. Peeples, who wrote the second pilot for the original live-action series. Several plotlines were continued over from the original series, including the return of Harry Mudd and those troublesome Tribbles by script-writer David Gerrold.
Science fiction author Larry Niven, also contributed an excellent script, other stories were provided by Star Trek scribes David P. Harmon, Paul Schneider, Stephen Kandel, and Walter Koenig, who played Ensign Chekov during Trek's third season.
The animated Star Trek cost quite a bit more than other Saturday morning shows, so NBC ordered only sixteen episodes for the first season. Almost the entire original cast was brought back. Basically, no one was doing anything of real importance and most needed the work.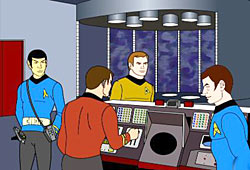 Joel Eisner: "It is common knowledge that Ensign Chekov was cut from the Trek cartoon series for budget reasons. To compensate Walter Koenig, he was allowed to write one of the episodes. However, Chekov was seen in the cartoon pilot episode "Beyond the Farthest Star" in about three scenes which take place on the bridge - you can clearly see for a few seconds Chekov sitting at the helm with Sulu, only to have it cut away and come back with the three legged alien, Arex (voiced by Jimmy Doohan) sitting in his place. I used to have 16mm film print of this episode so I was able to examine it closely, but it is clearly visible in the episode."
Limited animation was a hindrance at times, but the cartoon version allowed writers to expand on ideas that would have been too expensive to film for a live-action program.
To cut down on production costs there were lots of narration sequences over stock animation of the Enterprise floating in space.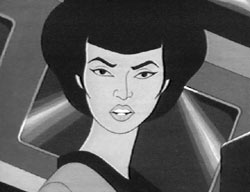 There were some conflicts on the series. Nichelle Nichols' and George Takei's cartoon likenesses were being used but they weren't originally hired to provide the character's voices (Paramount owns their younger faces, apparently). Hoping to save money, Roddenberry decided to have Majel Barrett voice Uhura and James Doohan do his best Sulu imitation. Only a promised work stoppage by Leonard Nimoy got them on board.
Star Trek won the Emmy in 1974 as "Outstanding Children's Series" and before long there was a flood of prime-time shows converted to cartoon format starring the original cast members on Saturday mornings.
Star Trek was renewed for a second season but only six new episodes were produced that year.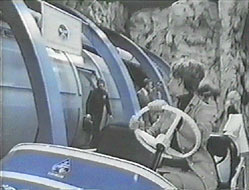 READ: PART THREE:
Gene Roddenberry's Genesis II and Planet Earth - and other failed launches
---

Gene Roddenberry in the 1970s - Part One
Gene Roddenberry - Star Trek Animated Series
Gene Roddenberry - Genesis II & Planet Earth
Gene Roddenberry's Questor & Spectre