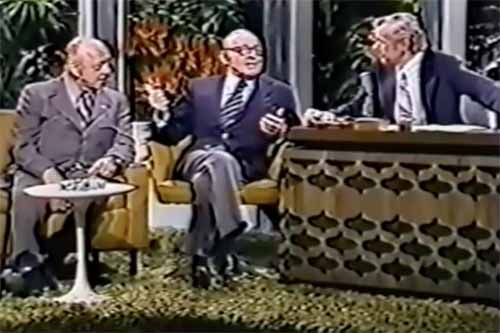 Johnny Carson Tonight Show from January 23, 1974
Jack Benny's Last Appearance on The Tonight Show
Another great Tonight Show with Johnny Carson, this one from January of 1974, the program's 12th season. It's the last Tonight appearance of legendary comedian Jack Benny, teamed here with his long-time radio and TV co-star Mel Blanc. It's great to see these two pros reprise some of their most memorable comedy bits from 30-40 years earlier.
Sure, Jack is somewhat off his game here but the vaudeville veteran was days away from his 80th birthday, he passed away in December of 1974. Worked right up to the end, Jack was slated to begin filming the motion picture 'The Sunshine Boys' when he died.
His close pal George Burns took the movie role after Jack's death, reviving that comic's moribund career and resulting in an Oscar win for that role.
Benny was out promoting his latest television production, Jack Benny's Second Farewell Special, airing on NBC the next night with guests George Burns, Johnny Carson, Redd Foxx, Don Rickles, and Dinah Shore. What a great lineup that was!
At the time of Jack Benny's passing a third Farewell Special was in the works.
Also seen on this episode of Tonight are singer-songwriter Maria Muldaur and the multi-talented Jim Henson with Kermit the Frog.
Johnny Carson's late night shows were always entertaining, he frequently had authors on talking about their books, a rarity today. His commitment to high quality entertainment was unparalleled, he represents the best that 1970s TV had to offer.
We're lucky to have these programs available to immerse ourselves in again. The sound and picture quality may not always be the best but, hey, it is what it is.
ALSO: One of my favorite Tonight Shows was an episode in 1975 guest hosted by The Smothers Brothers when they were attempting a prime time variety show comeback on NBC.
The Smothers Brothers Show only lasted 13 episodes on NBC but there were many funny moments, especially in the last 4 outings.