Brady Bunch Sex Dungeon?
By Billy Eye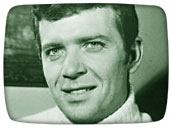 Over at the TVparty! Blog I shared a story about a chance encounter I had while working in Show Business in Los Angeles:
In the early-1990s I was at a party in Hollywood talking with the most amazing looking guy. He was a male prostitute it turned out, not a street level guy but a high priced call boy, I guess you would call him. He told me one of his clients was a real freak, with a torture dungeon set up in his home, and the guy was a famous TV star but the 'trick' refused to reveal his name.
I said, "Give me a hint."
He indicated, "The person starred in two TV series at the same time in the 1970s, one a drama and one a comedy." I thought of Robert Reed immediately who was on The Brady Bunch and Mannix at the same time. His reaction didn't give anything away (he was a prostitute, after all, the original poker face masters) but I can't think of any other TV star that fit that description... can you?
This was written many years ago but I still can't think of another TV star that this would apply to. Then again, consider the source?
On another occasion I found myself talking to another preternaturally attractive young guy who claimed to have sold his services to both David and Shaun Cassidy. I had no reason to disbelieve it given the rumors that swirled around Hollywood about the Cassidy's proclivities and supposed sexual prowess.
DID YOU KNOW: From 1961 to 1965, Robert Reed portrayed Kenneth Preston on The Defenders, a legal drama starring E. G. Marshall. The Brady Bunch debuted in the fall of 1969.
Hi, love your site. I was just reading the article about Robert Reed and his sex dungeon! Wow! Now onto Mrs Brady - she wasn't such a great mom in real life, at least to one child. Florence's grandson, Kyle Russell did an interview with Reddit in 2012. Google I'm the oldest grandson of Florence Henderson and it's the first one.
Her daughters thought she was a sex fiend. Her daughter, Lizzie had to drop out of college because her second husband told her not to pay. They had a bad relationship because Florence was never around and Florence cheating on her first husband. She never cooked a meal for her kids and her career came first. Lizzie is Kyle's mom-reached out to him, but he didn't want to discuss it further. Give it a read, it'll blow your mind. - Doc Radar