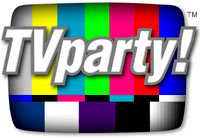 CLICK HERE FOR A LIST
OF EVERY CLASSIC
TV SHOW ON DVD
use for media clips: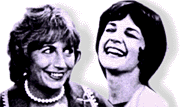 Top 30
TV Shows: 1977 - 78
1. Laverne &amp Shirley
2. Happy Days
3. Three's Company
4. Charlie's Angels
5. All In The Family
6. Little House on the Prairie
7. 60 Minutes
8. M*A*S*H
9. One Day At A Time
10. Alice
11. Soap
12. How The West Was Won
13. NBC Monday Night at the Movies
14. Eight Is Enough
15. Monday Night Football
16. Love Boat
17. Barney Miller
18. Sunday Night Movie (ABC)
19. Fantasy Island
20. Project UFO
21. Barnaby Jones
22. Monday Night Movie (ABC)
23. Carter Country
24. The Waltons
25. Hawaii Five-0
26. Harvey Korman Show
27. Big Event - Sunday
28. Family
29. Welcome Back, Kotter
30. Rhoda
---
BOTTOM 20 SHOWS:
110: Comedy Time
109: Mulligan's Stew
108: The Fitzpatricks
107: Sugar Time!
106: Hanna-Barbera Happy Hour
105: Another Day
104:Celebrity Challenge
103: Chuck Barris Rah-Rah Show
102: Shields and Yarnell
101: Mel and Susan Together
100: Big Hawaii
99: Monday Night Baseball
98: Ted Knight Show
97: Man From Atlantis
96: Sanford Arms
95: Szysznyk
94: Rosetti and Ryan
93: James at 16
92: We've Got Each Other
91: Chico and the Man
Program Profile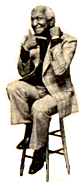 The Redd Foxx
Comedy Hour
Thursday nights at 10:00
ABC / Sept. 1977 - Jan. 1978
ABC paid big money to get Redd Foxx to jump ship from NBC where his 'Sanford and Son' series was tops in the ratings. They gave Foxx his own hour variety show with top writer/producers Allan Blye and Bob Einstein ('Sonny and Cher', 'Smothers Brothers')
Foxx was famous for his dirty humor, and in the first episode of his new show he joked, "The only thing I can do from my nightclub act is smoke."
The Redd Foxx Comedy Hour marked the first appearance of Bob Einstein's 'Super Dave Osborne' character, the return of Andy Kaufman's surrealistic routines to prime-time television, along with regulars Slappy White, Billy Barty, Hal Smith (Drunk Otis on 'The Andy Griffith Show'), Bill Saluga (as Raymond J. "You doesn't have to call me" Johnson), The Gerald Wilson Orchestra, and "Iron Jaw" Wilson
1970's TV shows on DVD
1960's TV Shows on DVD
---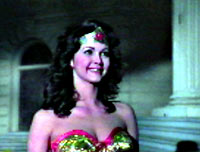 Wonder Woman (who was fighting WWII Nazi's on ABC) moved to CBS and into the present time.
---
Program Profile
On Our Own
Sunday nights at 8:30
CBS / Sept. 1977 - Aug 1978
A rare series that made it all the way through the 1977-78 season, about two women who operate an ad agency in New York. A weak showing by lead-in Rhoda killed this sitcom's chances. On Our Own was filmed in New York, common in the Fifties, but a rarity by 1977.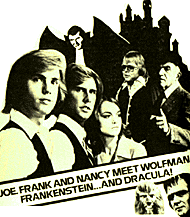 Program Profile
Hardy Boys /
Nancy Drew Mysteries
Sunday nights at 7:00
ABC / Jan. 1977 - Jan. 1979
When the 1977 season started, these mystery-dramas were two separate productions, but they joined together for the special season opener.

Mid-season, ABC merged the casts 'permanently' to boost ratings. Pamela Sue Martin (who played Nancy Drew) didn't like the idea of a three lead series, so she quit and was replaced by Janet Louise Johnson. Turned out to be a bad idea, in the fall of 1978 Nancy Drew was dropped entirely and only the Hardy Boys returned.
The Hardy Boys were played by Parker Stevenson and Shaun Cassidy, who became a major teen idol. "When I was in London", Cassidy told TV Guide in 1977, "there were about 30 or 40 young girls standing in the rain outside my hotel. I went downstairs to talk to them, to try and find out why they'd do such a silly thing. But they don't even know."
---


A TIME FOR KILLING
Elizabeth Montgomery and O. J. Simpson star as detectives (who become lovers) in the TV-movie 'A Killing Affair'.

Hey, Elizabeth, watch out - you look an awful lot like Nicole!


[The beginning of the end for the nets]
by Billy Ingram


By the end of the 1976-77 season, the networks had unleashed 70 new shows, almost all failures. In 1977-78, more that 110 new programs were slotted and for the first time in history, television viewership dropped - by an unsettling 6.4 percent.

ABC (who's slogan that year was We're Still The One) lunged unexpectedly into first place for 1976, causing CBS and NBC to shake up their faltering schedules. Network programmers attempted to create shows that catered to every taste (always a recipe for disaster).

22 new shows debuted in September, 1977 - few of them making it to the next fall. CBS and

NBC were so desperate they picked up three shows that ABC cancelled in 1977 - The Bionic Woman, The Tony Randall Show, and Wonder Woman.
Here is a look at some of the network offerings that year.

Program Profile
Logans Run
Friday nights at 9:00
CBS / Sept. 1977 - Jan. 1978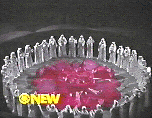 Based on the cheesy Sci-fi movie of the same name, the TV series starred Gregory Harrison (later 'Trapper John, MD') as a young man on the run from an overcrowded, futuristic society dictating that everyone must die when they reach the age of thirty (as opposed to just becoming irrelevant, as it is today).
Produced by Leonard Katzman ('Dallas'). Most of the budget went for the futuristic cars, I think.
Program Profile
Carter Country
Thursday nights at 9:30
ABC / Sept. 1977 - Aug. 1979

Meant to be 1977's answer to 'The Andy Griffith Show', with racial tensions thrown in for laughs (?!?). Hailed by critics as one of the best shows of the season, though it hardly seems possible.
Incredibly, in 1977 a black character on TV still HAD to do the shuck and jive routine with white southerners portraying prejudiced crackers. Fried chicken and watermelon jokes were plentiful. Typical joke: Redneck cop says, "Would you press my uniform?" Policewoman says, "Sorry, I don't do sheets." Insert laughter here.
UNKNOWN CBS THEMES?


These theme songs were sent to TVparty but we had no idea what shows they belonged to. They come from CBS shows from around the 1976-78 seasons, and were identitfied by TVparty viewers like you.
Theme 1 - generic action show theme that builds slowly - sounds a lot like 'The A-Team' theme in spots. "Bronk" with Jack Palance seems to be the consensus.
Theme 2 - another generic actioner, with elements from themes like 'Ironside' and 'Kojak'. 'The Blue Knight' with George Kennedy has been guessed.
Theme 3 - "It's gonna to be terrific" is the hook - sung with an Hispanic flavor. Identified as 'Popi' (Jan-Aug 1976), a sitcom starring Hector Elizondo.
Theme 4 - this one's nice, recorded with a brass band. Identified as: 'Doc' (MTM show), the SECOND version of the theme. The first was a song called, "My Friend" by musician Ray Vitte, who played with Stevie Wonder and also was in Cheech and Chong's "Up In Smoke". - Brian P.
Not Returning From 1976-77 ABC
The Bionic Woman (moved to NBC)
Blansky's Beauties
The Brady Bunch Variety Hour
The Captain and Tennille
Cos
Dog and Cat
The Feather and Father Gang
Holmes & Yo-Yo
Mr. T and Tina
Most Wanted
The Nancy Walker Show
Rich Man, Poor Man Book II
The Streets of San Francisco
The Tony Randall Show (moved to CBS)
Westside Medical
Wonder Woman (moved to CBS)
CBS
All's Fair
The Andros Targets
Ball Four
The Blue Knight
Code R
Doc
Delvecchio
Executive Suite
Hunter
The Jacksons
The Keane Brothers Show
Loves Me, Loves Me Not
The Marilyn McCoo and Billy Davis, Jr. Show
The Mary Tyler Moore Show
Nashville 99
Phyllis
Spencer's Pilots
The Sonny and Cher Show
Starland Vocal Band Show
The Tony Orlando and Dawn Rainbow Hour
Who's Who
A Year at the Top
NBC
Emergency!
The Fantastic Journey
Gemini Man
Gibbsville
The Kallikaks
Kingston: Confidential
Lanigan's Rabbi
McCloud
The McLean Stevenson Show
McMillan & Wife
NBC's Best Sellers
The NBC Sunday Mystery Movie
Police Story
The Practice
The Quest
Sanford and Son
Serpico
Sirota's Court
Quinn Martin's Tales of the Unexpected
Van Dyke and Company
Program Profile
Quark
Friday nights at 8:00
ABC / Feb. 1978 - April 1978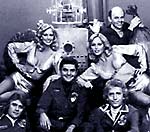 'Star Wars' was an unparalleled motion picture phenomenon in late 1977 and the TV networks were sure that science-fiction was back for them as well.
Rather than risk a huge investment on a hour-long serious science-fiction project (like CBS's flop Logan's Run), NBC wanted a half-hour comedy that was set in outer space. A perfect vehicle to replace the under-performing 'Sanford Arms' that was killing their winning Friday night line-up of Chico, Rockford, and Quincy.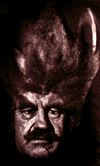 Richard Benjamin starred as Adam Quark, commander of the garbage scow for the United Galaxy Sanitation Patrol space station 'Perma One'. His assistants were: Ficus (Richard Kelton), the plant organism science officer, Otto Palidrome (Conrad Janis from 'Mork and Mindy'), the ships persnickety architect, Betty I and Betty II (Trisha and Cyb Barnstable), identical gorgeous cloned twin sisters, and Andy (Bobby Porter), a malfunctioning, cowardly robot that was more trouble than he was worth.
First mate Gene/Jean (Timothy Thomerson) was a half-man half woman person that was constantly fighting with him/herself. Orders for the missions would come from a disembodied head known as 'The Head' (Alan Cailou), appearing on the ship's video screen. Well-liked but little watched.
1977 will be remembered for:

Marie Osmond, star of Donny and Marie, got a make-over by Bob Mackie now that Cher was off the air. She and Donny Osmond performed on the ABC fall Preview Special in August, 1977. The special starred magician David Copperfield.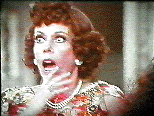 Last seasons for -The Bob Newhart Show, Six Million Dollar Man, The Carol Burnett Show, Maude, Police Woman, Barretta, the 'Barney Miller' spin-off Fish, Life and Times of Grizzly Adams, Kojak, Chico and the Man, Mary Hartman, Mary Hartman and the Bionic Woman.

What's Happening!! debuted in August, 1976 and ran until April, 1979 featuring a young cast of unknowns.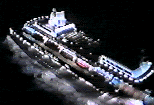 First season for two long running hits, The Love Boat (based on a very popular series of 1976 TV-movies) starring MTM's Gavin McLeod and CHIPS with Eric Estrada.

Nancy Walker returned to Rhoda after two flops - The Nancy Walker Show and Blansky's Beauties were both aired then canceled on ABC during the 76-77 season.

Chico and the Man and Eight is Enough return despite stars that died the previous season. Freddie Prinze (Chico) committed suicide and Diana Hyland (who played the mom on 'Eight is Enough') died of Cancer. Scott Baio joins Happy Days as Fonzie's cousin Chachi.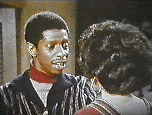 Ester Rolle left Good Times because too much focus was put on Jimmie Walker (she returned a year later for a last season) and Larry Linville (Maj. Frank Burns) quit M*AS*H and disappeared into obscurity.
The Bing Crosby Christmas Specials come to an end, the last one (with guest David Bowie) was taped five weeks before Bing's death.
Program Profile
James at 15
Thursday nights at 9:00
NBC / Oct. 1977 - July 1978
Why someone hasn't snatched this series up for a revival is beyond me, it's the 'Malcolm in the Middle' of the polyester decade, 'That Seventies Show' for real.
Lance Kerwin starred as James Hunter, a displaced high school student in this semi-realistic hour long drama about growing up in the Seventies. James' hobby was photography and he would often have elaborate daydreams ala Walter Mitty.
Typical plot: James' friend from school is distraught over her affair with a professor. Late in the season, this show was renamed 'James at 16' - this was when James had sex with a Swedish exchange student, a first for a teen TV character. There were protests, but light ratings (despite critical accolades) made cancellation inevitable.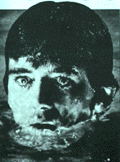 FLOPS AND FAILURES
The Man From Atlantis was an embarrassment for NBC in the fall, but series star Patrick Duffy gained success on a CBS show that debuted on CBS just weeks after 'Man From Atlantis' was cancelled - Dallas.
A young Stuart Pankin is one of five moronic frat guys living in a houseboat onThe San Pedro Beach Bums. This toxic beach was cleared in December.

Patrick McGoohan ('Secret Agent Man', 'The Prisoner') stars as Rafferty, an unconventional doctor. The series, the only medical show on the schedules, lasted only a few weeks.

Young Dan'l Boone on CBS is trumped by Little House on the Prairie (then in a fourth season on NBC). The Fitzpatricks, Richard Pryor Show, Rosetti and Ryan, Busting Loose, The Oregon Trail, Mulligan's Stew, Big Hawaii and Sanford Arms all went down quickly in 1977.
---
Popular in syndication in the South - World Wide Wrestling.

Program Profile
The Incredible Hulk
Friday nights at 9:00
CBS / March 1978 - June 1982

Dr. David Banner experiments with gamma Rays and finds himself morphing into a raging, green alter ego, The Incredible Hulk, when he gets angry.
Bixby was firm in his contention that Banner was the focus of the show, not the monster. The formula followed those of previous hit shows like 'The Fugitive', 'The Invaders', and others. Dr. Bruce Banner must stay on the run for a murder he didn't commit, looking for a cure and avoiding newspaperman Jack McGee (played by Jack Colvin) who follows him from town to town.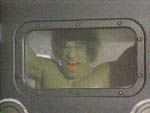 It wasn't long before Lou Ferrigno began to have a problem with his second banana status. After all, the show was called The Incredible Hulk and he played the title character - he deserved more airtime, and the Hulk should have some lines now and then, he reasoned. This led to behind the scenes battles later in the series run.
Program Profile
Soap
Tuesday nights at 9:30
ABC / Sept. 1977 - April 1981

One of the few hit shows of the 1977-78 season - the first TV show to be controversial before it even debuted. Religious and family groups were up in arms that adulterers and homosexuals were being paraded before the home audience, and that was just on the pilot.

Advertisers pulled out and some ABC affiliates refused to carry the show - at first. Big ratings changed that.